Simple Tuna Melt Recipe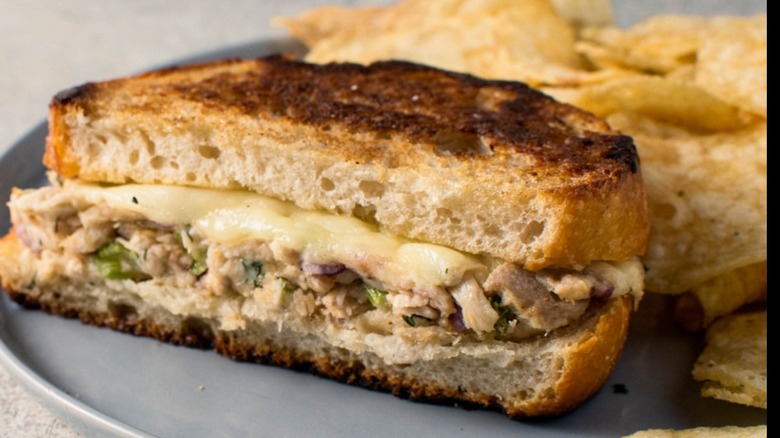 Michelle McGlinn/Mashed
Tuna salad on its own makes a serviceable sandwich, and grilled cheese is another solid lunchtime choice. When you combine the two, however, you get an amazing sandwich that is far greater than the sum of its parts: the tuna melt.
Recipe developer Michelle McGlinn tells us that she eats tuna sandwiches every week, going so far as to call them her "favorite lunch." But she doesn't always make them into melts, citing her infrequent cheese consumption. Every once in a while, though, she allows herself to indulge in one of these "warm and gooey" toasted sandwiches. When she does, she tells us, her cheese of choice is often provolone. She's been known to create these deliciously creamy sandwiches in a panini press (and you can, too), but tells us that for this particular version, she opted for a greased skillet to give it that true melt look and feel (as opposed to a pressed sandwich).
Assemble the simple tuna melt ingredients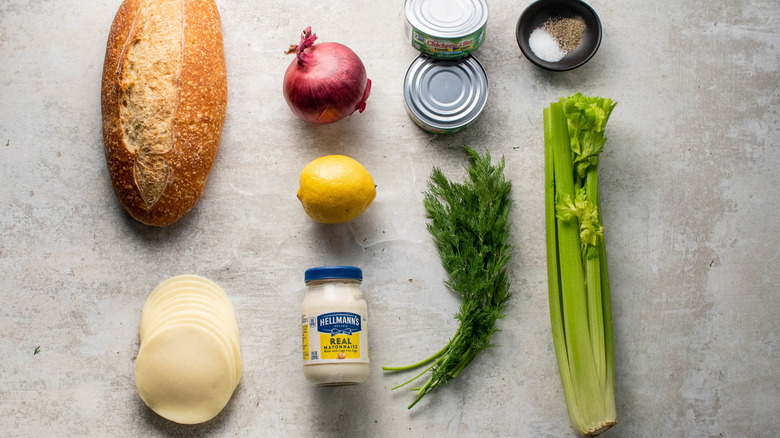 Michelle McGlinn/Mashed
You can't make a tuna melt without tuna salad, so you'll need some canned tuna and mayonnaise for this. McGlinn also likes to add a little crunch to her salad with red onion and celery, and she flavors it with lemon juice, dill, salt, and pepper. (You might even want to add a teeny pinch of sugar, too.)
Thinking beyond the tuna, you'll need nice, thick slices of bread. McGlinn favors sourdough, but if you're not a fan, you can use French, Italian, or even rye bread instead. The last component (but a very important one) of a melt sandwich is the cheese. As previously mentioned, McGlinn is partial to provolone, but sharp cheddar would be another good choice.
Make the tuna salad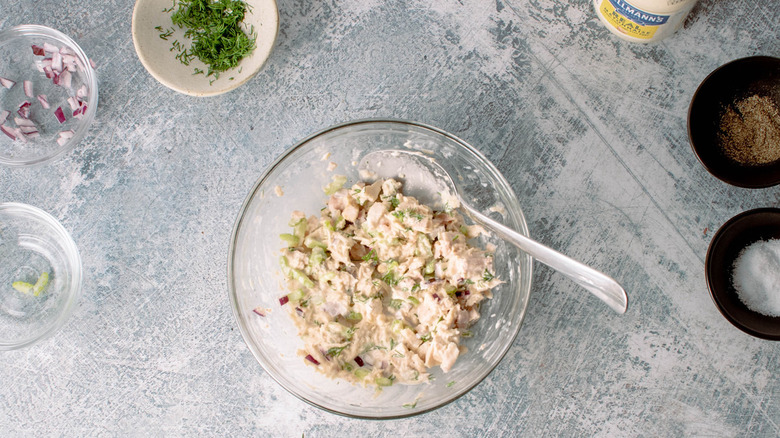 Michelle McGlinn/Mashed
Mix the tuna, red onion, celery, and mayo together in a bowl. Stir in the lemon juice and dill, then season with salt and pepper. "If you'd like [your tuna salad] more creamy, add more mayonnaise, ½ tablespoon at a time," McGlinn advises.
Build the sandwiches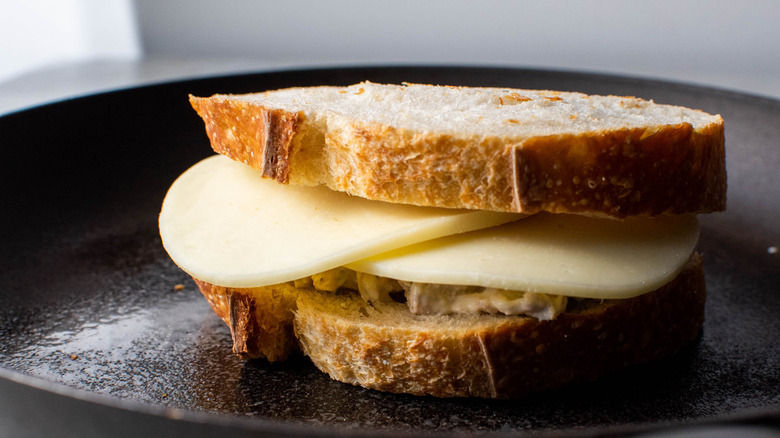 Michelle McGlinn/Mashed
Spray one side of each slice of bread with cooking spray (alternatively, spread one side of each with butter or mayo). Divide the tuna salad between two slices, piling it onto the ungreased side. Top the tuna salad with the cheese (two slices for each sandwich), then place a remaining slice of bread on top of each (again, the greased side should be on the outside).
Melt the cheese and toast the bread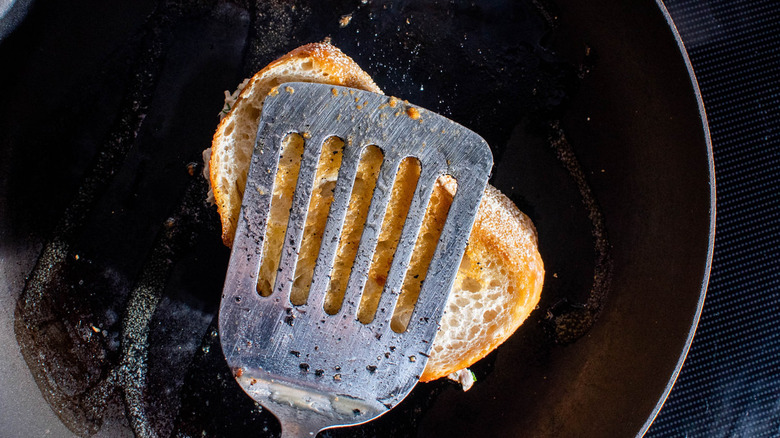 Michelle McGlinn/Mashed
Lightly grease a frying pan with cooking spray and heat on medium. Add the sandwiches to the pan (depending on the size of the bread, you may have to cook them one at a time) and heat until the bottoms are golden-brown and the cheese is beginning to melt. Flip them over and cook until the other side is also browned, and the cheese is melty.
Potato chips or fries would be an appropriate accompaniment for this diner classic, but you could opt for a slightly healthier green salad or bowl of soup.
Simple Tuna Melt Recipe
It's the best of both worlds: Creamy, crunchy tuna salad meets the gooeyness and golden-brown crust of grilled cheese. Find out how to make this diner classic.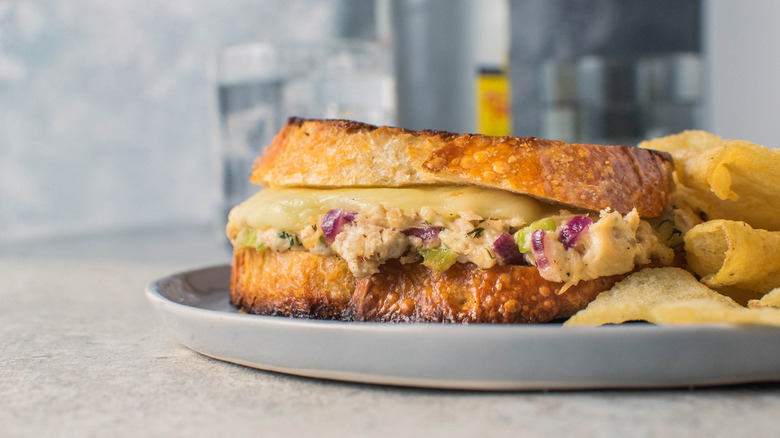 Ingredients
2 (5-ounce) cans water-packed tuna, drained
4 tablespoons finely diced red onion
2 celery stalks, finely diced
2 tablespoons lemon juice
2 tablespoons roughly chopped fresh dill
¼ salt (or more, to taste)
¼ black pepper (or more, to taste)
5 tablespoons mayonnaise
4 thick slices of bread
4 slices provolone cheese
Directions
Combine the drained tuna, onion, celery, lemon juice, dill, salt, pepper, and mayonnaise in a bowl. Stir to combine and set aside.
Spray one side of each slice of bread with cooking spray. Evenly spread tuna mixture onto the ungreased sides of two bread slices.
Top the tuna with two slices of cheese per sandwich.
Close the sandwiches with the remaining slices of bread (greased side facing out).
Grease a skillet with cooking spray and heat over medium.
Place the sandwiches onto the skillet. (Cook one at a time if both sandwiches will not fit without overlapping.)
Heat the sandwiches until the undersides are golden brown. Carefully flip and toast on the other side.
Transfer to plate and serve while hot.
Nutrition
| | |
| --- | --- |
| Calories per Serving | 247 |
| Total Fat | 15.4 g |
| Saturated Fat | 4.8 g |
| Trans Fat | 0.0 g |
| Cholesterol | 34.6 mg |
| | |
| --- | --- |
| Total Carbohydrates | 11.2 g |
| Dietary Fiber | 1.1 g |
| Total Sugars | 1.8 g |
| Sodium | 459.0 mg |
| Protein | 16.2 g |