How Subway's Franchising Was The Key To Its Success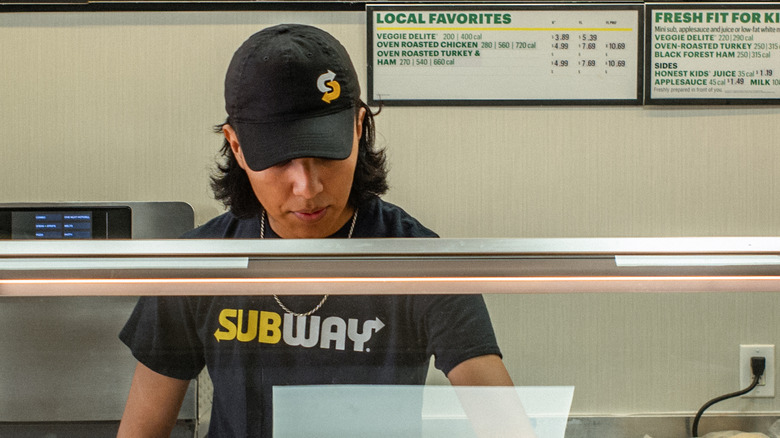 Brandon Bell/Getty Images
Subway's 12-inch submarine sandwiches have become so popular, they now keep company with such beloved fast foods as McDonalds' Big Mac hamburger and Chick-Fil-A's chicken sandwich. Subway was a victim of its own success when the company made the limited-time promotion permanent in response to customer demand, and franchises began losing money (via Statista).
While select locations currently offer five "footlong faves" for $4.99, Subway officially discontinued the $5 footlong in 2018. Last year, the company unveiled its "Refresh" campaign to introduce the Turkey Cali Fresh, Steak Cali Fresh, and All-American Club, with some of the biggest names in sports representing the brand. Ad Age reported that the powerhouse ambassadors included Tom Brady and Serena Williams.
However, the company's success is quantifiable by more than just the simplicity of its advertising campaigns and the wattage of its celebrity spokespeople. Subway locations can be found in more than 100 countries, totaling more than 37,000 stores. Furthermore, Subway released a statement saying that three-quarters of its franchise owners reported same-store sales increases of 7.5 percent in 2021 compared to 2019.
To what, then, might one attribute to the company's enduring success? The answer is simple: franchising.
Franchising allows for Subway's explosive growth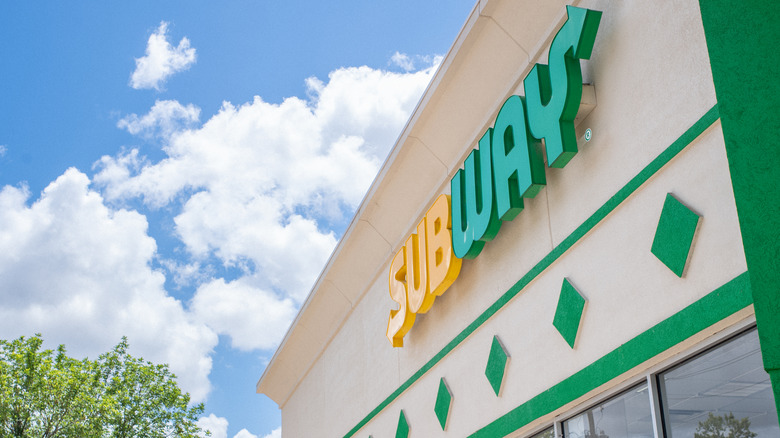 Brandon Bell/Getty Images
The story of Subway's explosive growth lies in its franchise business model, which was born of founder Fred DeLuca's struggle to keep up with demand for his submarine sandwiches. Forbes reports that the first Subway opened in Bridgeport, Connecticut, in 1965. Only three years later, DeLuca managed five locations – a challenging endeavor, especially for restaurants further away from the Bridgeport location.
Thanks to DeLuca's decision to allow folks to buy the rights to open and operate their own franchises, by 1975, Subway had become a regional fast-food chain with locations across Connecticut and New York. By 1978, Subways were popping up on the West Coast, with more than 100 total locations, and in 1984 the first overseas franchise opened in the Middle Eastern country of Bahrain (via Franchise).
The prevalence of Subways around the world can be partially attributed to how cheap they can be to operate. According to Franchise, Subway has some of the lowest franchise costs in the industry, with an initial $15,000 franchise fee and an estimated total investment between $116,000 and $263,000 in the U.S. Franchise owners are charged a 12 percent weekly rate, which comprises of payments for royalties and advertising.
Subway's recipe for enduring success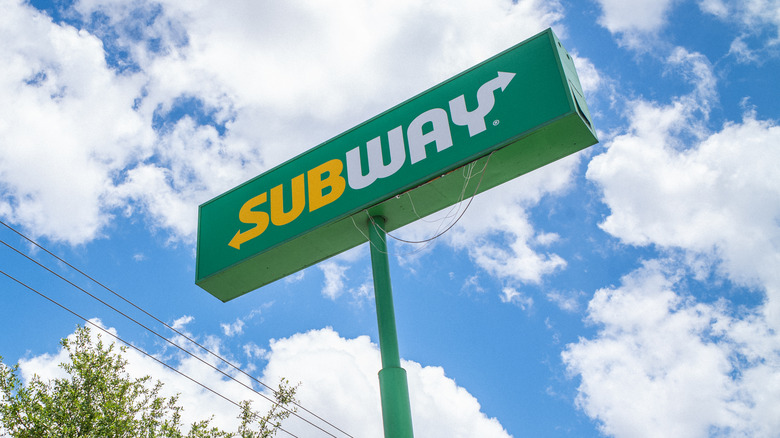 Brandon Bell/Getty Images
Franchises can be very attractive because they allow would-be business owners to become sole proprietors of their own restaurants while assuming less risk due to Subway's popularity and reputation. All of the company's 20,000 locations in the US are franchise-owned, cementing it as an intriguing opportunity for anyone wanting to open a quick-service restaurant.
As the company experienced with the $5 footlong, it is not always possible to predict which promotions are going to have runaway success (nor what that runaway success might mean for the company's bottom-line profits). Challenges wrought by the pandemic have only intensified the uncertainties and risks incurred by the restaurant industry.
At the same time, even if the company's Refresh campaign fails to recapture the success of its $5 footlong promotion, Subway can rely on the franchising business model that allowed the company to build a transnational fast-food empire while empowering business owners to run their own restaurants.