The Hack That Will Take Your Garlic Bread To The Next Level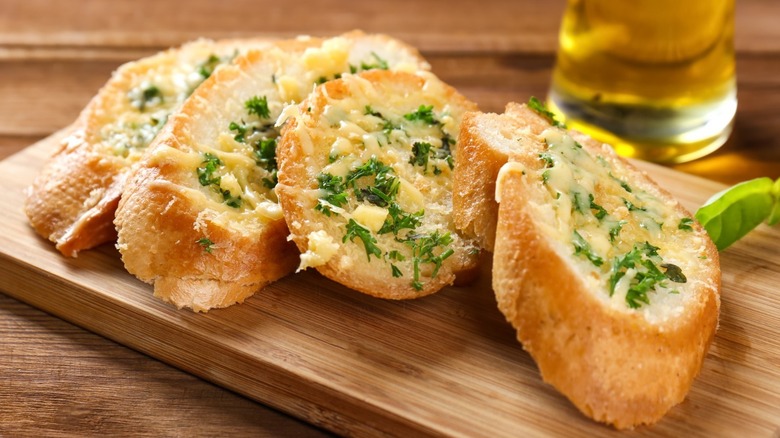 Africa Studio/Shutterstock
Garlic bread is one of the simple pleasures of life. It provides a justification for eating a larger than normal portion of bread, and for that, we are forever grateful. In theory, garlic bread is easy. The least bougie version is a combination of three ingredients — butter, bread, and minced garlic. If you're really lazy, it may just be warm bread straight out of the toaster, butter, and garlic powder, which is somehow almost as good as a more effortful recipe. Almost.
If you're looking to impress guests with a flavorful loaf, the New York Times suggests sprucing up a recipe with the addition of Parmesan, mozzarella, and fresh parsley. Rachael Ray recommends a mix of olive oil and butter for optimal toastiness and using the broiler, which will get the garlicky goodness on your plate much faster. Many recipes suggest cutting a large loaf of bread in half and spreading the garlic butter mixture on both sides, but this hack from TikTok employs a different technique that may result in a better final product.
One TikToker recommends buttering the bread on all sides
Garlic bread is typically made in the oven unless you go for the extra lazy toaster route that we mentioned above. After learning this garlic bread hack on TikTok, there might be a new standard way to make the buttery delight. In the video, @readycedcook (AKA Chef Ced) removes the crust from a loaf of bread and cuts it into "rectangular blocks," via The Kitchn.
Instead of a generous smear of the garlic butter mixture on one side of the bread, he carefully brushes it onto every side of the bread block. Boys Like Girls and Taylor Swift said that "Two is Better Than One," but in this case, four sides of buttery bread are certainly better than one. Instead of throwing the bread in the oven, this version is seared in a pan for maximum crunch. While that sounds like more effort than baking it in the oven, The Kitchn explains that in reality, it's probably the same or less of a time commitment.
Many seem to agree, as the viral video has, at the time of this writing, received an astounding 618,700 likes, 45,900 shares, and 4,994 comments. The only question we have is who else is making garlic bread tonight?