Yogurtland's New Soft-Serve Flavor Lets You Have Breakfast For Dessert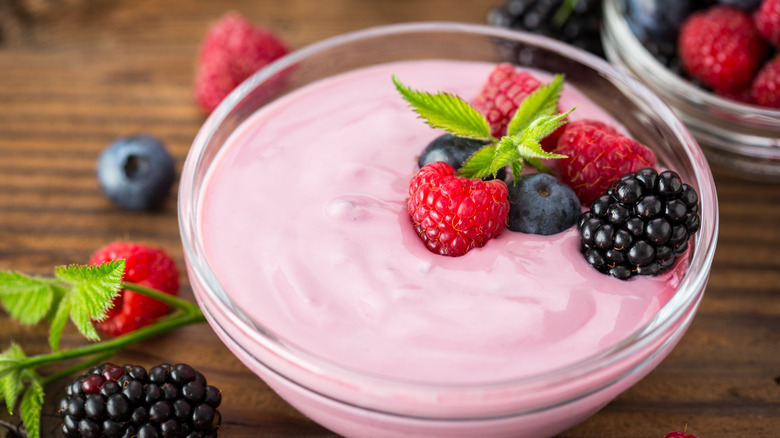 pilipphoto/Shutterstock
Admit it. You've had breakfast for dinner more than once. And we can't blame you because who doesn't love breakfast for dinner? Some eggs, sausage, bacon, and French toast can make the perfect evening meal. There's never a wrong time of the day to whip up some breakfast. 
Now, the Yogurtland chain of frozen yogurt shops invites you to enjoy breakfast for dessert. Well, sort of. They're not serving up whipped cream-dolloped omelets or eggs covered with chocolate sauce, but their latest yogurt flavor is meant to invoke one of the most delicious breakfasts out there, blueberry pancakes.
Of course, blueberry frozen yogurt has been around forever, but blueberry pancake-flavored yogurt? Although the Yogurtland website and the chain's Instagram account don't supply many details on the new offering, we imagine (or hope) there is some maple syrup in it to compliment the fresh blueberries that go into this limited-time-only offering. According to the Yogurtland website, anyone can enjoy the new flavor because it is plant-based and made from oat milk. It will be offered through June 5, 2022.
Make it a cup with fruit and fried egg shaped gummies
Idealphotographer/Shutterstock
As part of the promotion, Yogurtland is offering a Sunny Side Up Cup, available only via the Yogurtland website, its mobile app, and some third-party food delivery companies (via Chew boom). The Sunny Side Up Cup starts with the blueberry pancake flavor yogurt and adds fresh bananas, strawberries, and fried egg (shaped, not flavored) gummies. It's important to note that the company says the cup is not plant-based. Brand Eating speculates that this is because of the gummies, which likely contain animal-derived gelatin. This flavor, per an Instagram post from Yogurtland, is only available for a limited time at participating locations.
The dessert chain has offered more than 200 different frozen yogurt flavors over the last 15 years and according to a Mashed interview with Yogurtland's CEO Phillip Chang, these flavors include the likes of Alfonso Mango Tart, Toasted Coconut, Matcha Green Tea, and Blackberry Passion Fruit, and can be customized with a self-serve topping bar. Given the variety provided by the chain, Yogurtland's most popular flavor might surprise you. But after trying the new blueberry pancake frozen yogurt, perhaps there will be a new champ to top that list.