The Seasonal Chips Aldi Shoppers Can't Stop Buying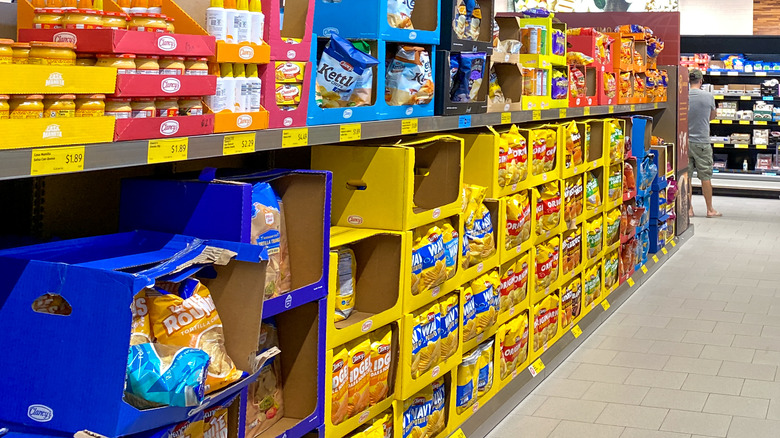 Joni Hanebutt/Shutterstock
Between picnics, barbecues, pool parties, and beach days, summer is when a lot of people do some serious snacking. And though you may have been preparing for the season by learning how to cook the best barbecue, at the end of the day, nothing hits the spot after a long day of sunshine-filled activities like a cold drink and a bowl of chips. And now, there's one chip flavor at Aldi that fans on Instagram say are so good, you might want to think twice about buying them because they're "very addicting."
The chips in question? Casa Mamita's Organic Mexican-Style Street Corn Flavored Big Dipper Corn Chips, which retail for $2.29 per bag and are one of Aldi's summer seasonal items. The shape of the chips is akin to Fritos scoops, and they're dusted with a Mexican street corn flavoring. Last year, Aldi's street corn dip had shoppers divided, but judging by the comments on a recent Instagram post by @AldiFavoriteFinds, people are anything but divided over this summery new chip flavor.
Fans have nothing but good things to say about these chips
If you're not familiar with the flavors of elote, or Mexican street corn, it's basically a pairing of corn with creamy ingredients like mayo or crema, salty cheese like queso fresco, tangy lime juice, and spices or Tajin, which contains dried granulated chiles and salt. Aldi fans on Instagram had lots of ideas of how to eat the chain's new street corn flavored chips.
"These are amazing with their guacamole," said one user, while another creative cook said they were "making Frito pie/straw hats with them this week," showing that the chips are more than just a snack. Another person said that they served the seasonal item with a Mexican street corn salad recipe, using the chips to scoop up the salad like a dip. "Amazing new fave snack," they added. Aldi's Mexican-Style Street Corn Flavored Big Dipper Corn Chips are among the chain's limited-time summer products, ranging from canned Pinot Grigio to marinated carne asada, so interested snackers only have until supplies run out to try the seasonal find.