Ben & Jerry's New Ice Cream Flavor Is Inspired By A Classic Summer Treat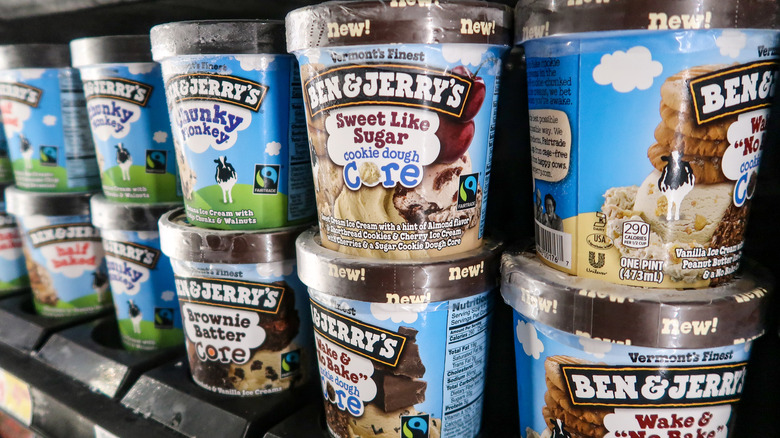 Arne Beruldsen/Shutterstock
While screams for ice cream can be heard all year round, it's unsurprising that they hit the highest number on the decibel scale during the warmer months. According to the International Dairy Food Association, peak ice cream production occurs from March to July in the United States, with July — a.k.a. National Ice Cream Month — being when ice cream makers churn out more of the frozen dairy treat than any other time of the year.
If you've ever perused the freezer section of your local grocery store (which we're willing to bet you have, considering the fact that the average American downs close to 23 pounds of ice cream and other frozen desserts per year), you know that there's no shortage of options when it comes to the summer staple. However, if you're looking to stock your freezer with the best of the best, most ice cream fanatics would probably tell you that Ben & Jerry's is some of the best store-bought ice cream around. With nearly 100 different flavors that range from timeless vanilla to decadent salted caramel brownie, the Vermont-based dessert giant has a treat for just about everyone, including fans who are vegan or dairy-free. According to a press release, the brand has just expanded its arsenal even further with the release of a new flavor featuring elements of another classic summer treat.
Ben & Jerry's new Cherry Crumble combines two beloved summer desserts into one
Gone are the days of having to choose between having ice cream or cherry crumble for dessert, as a press release notes that Ben & Jerry's newest flavor, Cherry Crumble, combines the two seasonal favorites together into a single pint. Featuring "buttery ice cream" that has been infused with cherries and oat crumble swirls, the scoopable sweet treat sounds like the perfect way to cool down on a hot summer day after spending hours at the pool. Plus, it's already making a splash within the chain's fandom.
Many people are raving about the new concoction online. Parker from the YouTube channel Fast Foodies gave the treat a score of 7.5 out of 10 in his review, where he specifically praised the texture and flavors that the cherries provide. YouTuber Tami Dunn found the dessert to be enjoyable as well, and despite it not quite living up to the "crumble" part of its name, said, "it's delicious and I would get it again and again and again." Unfortunately, however, she may not be able to, as the flavor will only be around for a limited time. Ice cream lovers hoping to snag a pint or two before it disappears can find it in stock now at grocery stores for the suggested retail price of $5.49 or can head to the Ben & Jerry's website to see if it's being served up at a "scoop shop" location near them.