The Best Store-Bought Ice Cream Brand, According To 28% Of People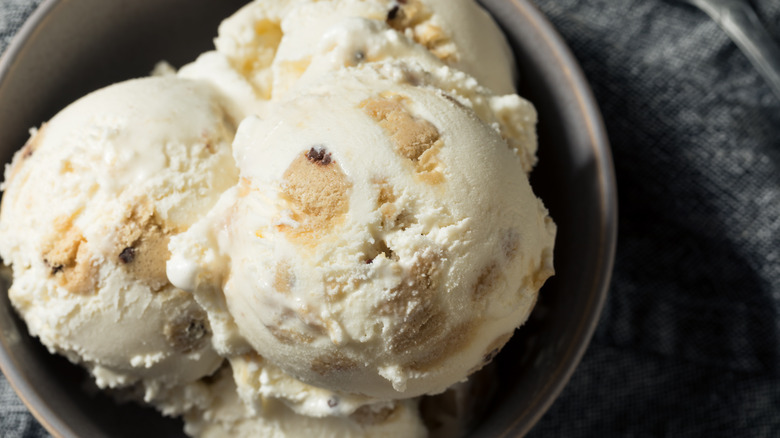 Brent Hofacker/Shutterstock
There's never a bad (or wrong) time to dig into a pint of ice cream. Maybe you're celebrating your kid's birthday. Maybe you're comforting your best friend after a bad breakup. Maybe you're treating yourself after a tough week at work. Or maybe it's just a random Tuesday night and you're craving something sweet. Whatever the occasion, ice cream is always the answer, and everyone has their go-to flavor. According to a YouGov survey, the most popular ice cream flavors in the United States are (in order) chocolate, vanilla, strawberry, mint chocolate chip, and butter pecan.
Regardless of your flavor of choice, it seems that we all have our preferred brands as well, whether it's a pint of Ben & Jerry's or a half gallon tub of Breyer's. To figure out what's worth buying the next time you find yourself wandering down the freezer aisle, Mashed polled more than 600 people across the country on their favorite store-bought ice cream brand. Here's which one more than a quarter of Americans dubbed their favorite.
Ben & Jerry's is the most popular choice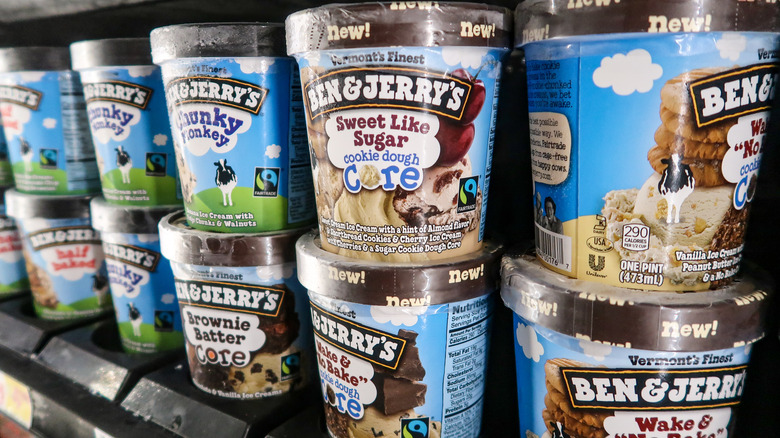 Arne Beruldsen/Shutterstock
Of all the store-bought ice cream brands out there, Ben & Jerry's is arguably the number one choice among Americans, according to Mashed's poll results. About 28% of survey respondents said it's the best brand you can buy. Vermont-based Ben & Jerry's has been around since 1978 and is famous for its unique flavors, which are only sold in pricey pints of frozen deliciousness. There are currently more than 50 Ben & Jerry's flavors, including non-dairy flavors, Netflix-themed flavors, frozen yogurt, and the brand's beloved "core" flavors, which feature a center of cookie dough or brownie batter. Thrillist ranked some of the classic Ben & Jerry's flavors and dubbed The Tonight Dough and Chunky Monkey as the best of the best.
How did the other popular ice cream brands compare to good old Ben & Jerry's? Second place went to Haagen-Dazs, which was close behind with 22% of respondents choosing it as their favorite. Breyer's received 14% of the votes, followed by Blue Bell with 11%. The final three brands were close together at the bottom of the pack: Blue Bunny with 9%, Baskin Robbins with 7%, and Edy's/Dreyer's with just 6% of the votes.