Costco Fans Can't Get Enough Of This Unique Barbecue Sauce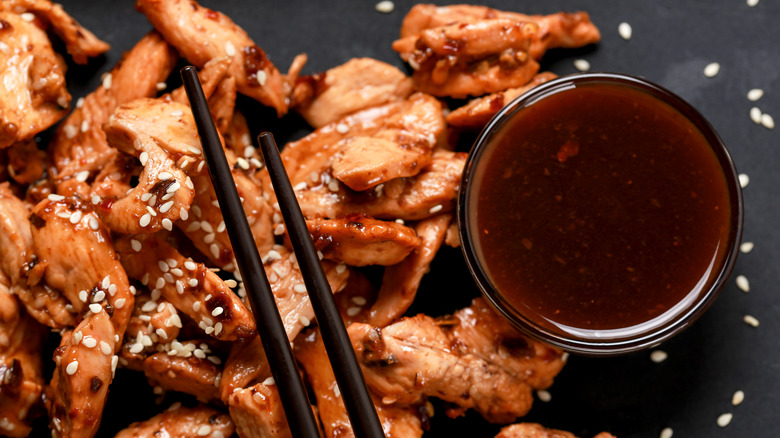 hryshai olena/Shutterstock
We may receive a commission on purchases made from links.
Summer is barbecue season. And though the best brand of barbecue sauce according to 48% of people polled by Mashed was Sweet Baby Ray's, there are so many varieties to choose from and so many new types that come out every year — it's hard to limit the pantry to being stocked with just one bottle. 
In the US, the most popular styles of barbecue sauce tend to be based on America's regional barbecues, like sticky-sweet Kansas City sauce or smoky and tangy Kentucky style. But we're not the only country that barbecues, and there's one Internationally-inspired barbecue sauce that Costco fans can't get enough of this year. It comes from the brand Bachan's, and it's called The Original Japanese Barbecue Sauce. Instead of a tomato and vinegar base, which is so common in traditional US barbecue sauces, this sauce has a base of mirin and soy sauce, and it's flavored with green onion, ginger, and garlic (via Bachan's). It's now available at Costco stores and fans on Instagram were raving about its uniquely delicious flavor.
Shoppers might have a limited time to buy
Bachan means "granny" in Japanese, and according to Bachan's founder Justin Gill the sauce is based on his grandmother's recipe for the "umami-filled, teriyaki-ish" sauce that his family would make during the holidays and give out as gifts because it was so good (via Bachan's). On Amazon, Bachan's Original Japanese Barbecue Sauce has 4.6 out of 5 stars from more than 5,000 ratings, and fans of the brand on an Instagram post sharing the product gushed compliments. Shoppers said, "This stuff is the bomb," and called it "literally the best sauce ever" and "a daily staple."
But fans of The Original Japanese Barbecue sauce may have a limited time to purchase it at Costco – some observant Instagram commenters noticed that the price tag for the item is adorned with an asterisk. This secret symbol on Costco price tags really means that once supplies run out, the product won't be restocked in stores. Luckily, it's currently being sold in a whopping 34 oz size for $9.79, which should last customers through several barbecues and give them plenty of time to source their Bachan's somewhere else if it disappears from Costco shelves.