The Best Microwaves Of 2022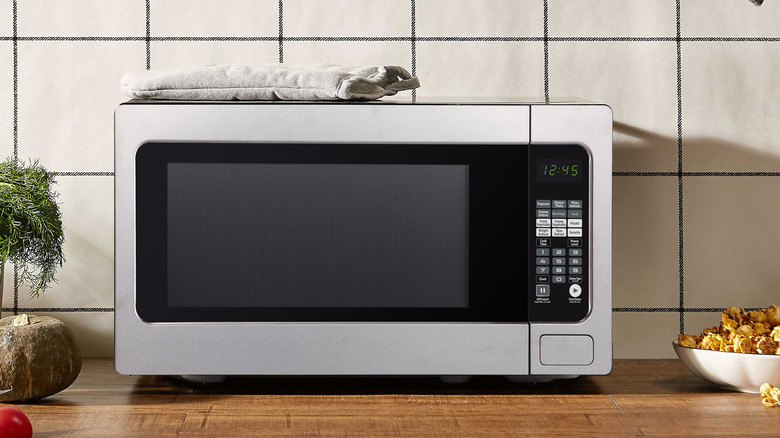 YozikKoshechkin/Shutterstock
We may receive a commission on purchases made from links.
Microwave technology was invented in the 1940s when an engineer named Percy Spencer discovered that a radar he was working on melted his candy bar. These days, virtually every household has a microwave oven in the kitchen. We use them for everything from heating up a cold cup of coffee to cooking entire meals. 
Some people have their doubts about an appliance that uses invisible waves to cook food, but most of the myths about microwaves have been fully debunked. Microwave ovens are perfectly safe and efficient tools for cooking and reheating food. Of course, there are still things you shouldn't put in the microwave, and some safety precautions do have to be taken, as with any method of cooking. More and more, technology in the microwave appliance world is taking all the guesswork out of cooking and making it literally as easy as pressing a button. If you're considering purchasing a new microwave oven or just curious about what's new on the market, read on. 
How we chose the products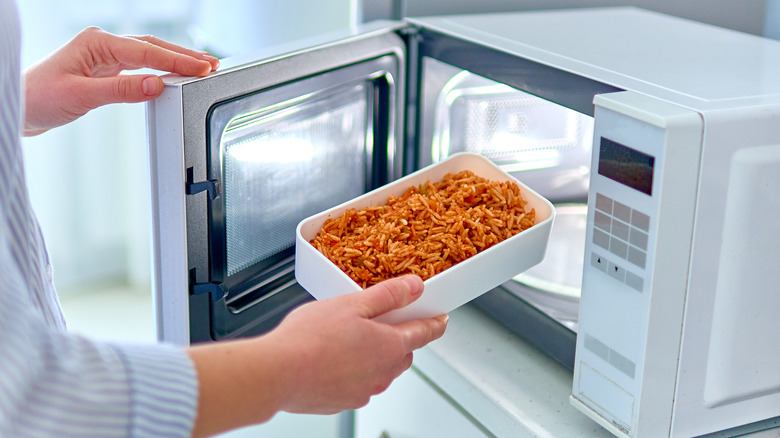 goffkein.pro/Shutterstock
Each year, new appliances hit the market with new technology, features, and functions. In 2022, the newest and best appliances are out amongst hundreds of others. We've rounded up the best of the best microwaves available this year for every type of kitchen, price point, and consumer. In order to discover which ones were the best, instead of just more of the same, we looked at top-selling and top-rated models across all major online retailers. We also listened to independent reviewers on social media sites like Youtube and TikTok to see which new models were generating buzz. 
When choosing the best models, we consider what the average buyer may be looking for. And when it comes to microwaves, people tend to have very different needs. Some people need something compact or large-capacity. Some people are looking for a budget model, while others want a splurge model that has all the best new bells and whistles. Whatever the case, we found the right pick for you.
Best overall
The Toshiba wins the award for best all-around with its combination of smart design, decent price, and impressive range of features in the ML-EM45P model. It's also the most purchased model across several internet retailers. With over 2,800 ratings on Amazon (85% of them four stars or higher), this is one of the most popular microwaves currently on the market. 
Reviewers love the smudge-free exterior, simple controls, and impressive capacity despite its compact size. One reviewer even noted that this unit popped popcorn two minutes faster than her old microwave. A handful of reviewers did find the controls hard to read depending on the lighting in the room around it. The Smart Sensor technology lets you put your food in and hit the "on" button. No more guessing how long to set the microwave for. Reheated meat and vegetables are "perfectly heated without destroying their look," according to that same reviewer. While this isn't the cheapest model on the market, it more than justifies the cost by being one of the most feature-packed units available today.
As of May 2022, this Toshiba Countertop Turntable microwave was available on Amazon for $169.99.
Best budget
For the most basic model in terms of price and function, the Proctor Silex is the best microwave out this year. It has all the basics covered at a fraction of the cost of other microwaves. In fact, it's one of the cheapest microwaves on the market, period. For a lot of consumers, price is all that matters. After all, in many settings, a microwave's main (or only) function is to reheat coffee, and a host of special functions and features would just go to waste. As one reviewer put it, this model is "perfect for a workplace." 
For a basic but functional model, the Proctor Silex is the best. It comes with a few simple and common presets, like popcorn, pizza, and potatoes, and also includes a handy child lock, kitchen timer, and a dishwasher-safe glass turntable. A few reviewers did comment on the model's shortcomings when it comes to longevity, but with a budget model that can be expected. 
You can pick up the Proctor Silex microwave from Target for the bargain price of $49.99.
Best over-the-range microwave
For those lucky enough to have a kitchen configuration that allows for it, an over-the-range built-in microwave is a great space-saving option. It isn't always a cheaper option, but most pull double-duty with hood vents for filtering cooking vapors. Often, they can boast a much larger cooking capacity because countertop real estate isn't an issue.
For a great over-the-range built-in microwave at a great cost, Whirlpool makes a double-decker option that can quickly and evenly heat food no matter how big or small the portion. This microwave includes the best features of 2022, such as a fingerprint-resistant surface, sensor cooking, custom microwave presets, and a dishwasher-safe turntable plate. Even better, it features a rack inside so you can cook three or four dishes on two levels. A lot of people use their over-the-range microwave as a light for the stove, and the majority of negative reviews on this model criticize the dim or ineffective light. 
At the time of this writing, the Whirlpool 2.1 Cu. Ft Over-the-Range Microwave was available for purchase at Best Buy for $398.99.
Best large capacity
For big families and those finding themselves constantly needing large amounts of food heated up, the LMC2075ST NeoChef 2.0' Cu. Countertop Microwave from LG is a great option. The whopping 1200-watt power is no match for even the biggest trays of food. With two cubic feet of space, you can heat full trays of homemade lasagna without issue. 
The turntable inside is 16 inches in diameter, more than big enough for a frozen pizza or large serving plate. Most reviewers attest to never having an issue with the capacity. LG's engineers came up with Smart Inverter technology that helps cook your food evenly, without leaving cold centers. The front has a flush panel with no buttons or handles for easy cleaning, just a push button to open the door.
At the time we wrote this article in May 2022, the LG NeoChef was available on Amazon for $258.96.
Best combo microwave
With so many new countertop appliances on the market these days, we all need models that can pull double-duty. Well, how about triple-duty? This combo microwave functions as a microwave, air fryer, and convection oven, all in one convenient package. While the unit itself may not be as small or compact as some others on the market, the fact that it can replace three different appliances in your kitchen definitely qualifies it as space-saving. 
Entire meals can be crafted in this microwave combo set, from air-fried sticky wings to corn on the cob and roasted vegetable panzanella. One reviewer called this the "perfect appliance" and praised its large surface area compared to other air fryers. One particularly handy and unique feature of this microwave is that some of the controls are programmable with 11 power levels. Some reviewers did find the buttons hard to operate, so this might not be the right choice if super simple is a priority. 
As of May 2022, the Cuisinart AMW-60 3-in-1 Microwave Airfyer Oven was available on Amazon for $215.64.
Best splurge
At almost $1,000, this microwave is a top-of-the-line, albeit, expensive option for your home. That price comes with cutting-edge technology though, such as wireless and voice-activated commands, sensor cooking that automatically adjusts time and temperature, and a sleek, modern design perfect for the most upscale kitchen. 
The buttonless, touchscreen-only control panel is high-tech and super easy to clean. This unit is designed to disappear seamlessly into the background of your kitchen ... until you need it, of course. The microwave's smart scan technology lets you simply scan the barcode on dozens of integrated products and the unit automatically cooks your food perfectly. Hundreds of reviews love the beautiful and functional design, and appreciate the voice-activated controls. That's certainly helpful for over-the-range microwaves which can be annoyingly just out of reach for shorter users. 
As of May 2022, you can grab the Cafe Smart Sensor microwave at Home Depot for $908.
Best voice-activated microwave
Amazon has several cost-effective countertop appliances sold under the house name, and this price-conscious model also features voice-activated controls supported by Alexa. Aesthetically speaking, this unit stays true to the AmazonBasics brand and comes in a basic, simple black plastic housing. This is a great option for those who just want something easy to clean without a lot of nooks and crannies.
The main draw of this particular model is the functionality of Alexa (though you will need to buy an Echo device which is not included). This microwave can hear a voice command, such as "microwave a bag of popcorn" and automatically set the unit to do that. Smart presets paired with the voice activation mean less guesswork when it comes to time and temperature. Compatibility with Alexa means that new presets and functions can be added constantly without you having to do a thing. Reviews praised this microwave's simplicity and impressive safeguards.
At the time of publication, the AmazonBasics microwave was available on Amazon for $74.99.
Best quiet microwave
For late-night snackers and parents of small sleeping children, the loud sounds of a microwave can mean the choice between enjoying a hot meal or suffering through an ice-cold dish out of desperation. Luckily, Breville sought to solve this issue with a microwave designed to minimize as many noises as possible. 
Cleverly engineered to be 80% quieter, with features like a mute button and a soft-close door, this microwave could just be the answer to your prayers. Many reviewers attest to its ultra-quiet operation as well as ease of use and sleek looks, however, some buyers did criticize its longevity, so hold onto that warranty! A brushed stainless steel exterior is as pleasing to the eye as it is easy to clean. One-touch presets for commonly used settings take the guesswork out of simple tasks like popping popcorn or reheating coffee. 
As of May 2022, the Breville Compact Wave was available on Amazon for $249.95.
Best aesthetically pleasing microwave
These days, more and more consumers are choosing form over function, and luckily, that doesn't necessarily come at the cost of usability. The new line of microwaves by Haden is gorgeous and practical. This British-made appliance comes in attractive, naturally-inspired, matte colors like silt green, pebble gray, and stone blue with faux bois finish on the buttons and dials.
Functionally, it comes with five different power levels and eight unique cooking menus, including convenient pre-sets like express cooking and defrost. It hits the sweet spot between covering all the most necessary functions without offering an overwhelming amount of buttons and settings. One reviewer even wrote that it is the "easiest microwave to use ever." This unit is on the compact side, making it perfect for smaller kitchens, yet still boasts a 10 1/2 inch glass turntable inside. Some reviewers did note that the small size may equate to a longer cook time. Complete the set with a matching coffee machine and toaster, both equally are deserving of a space on your countertop.
In May 2022, the Haden Silt Green Dorchester microwave was available exclusively at Crate and Barrel for $129.99.
Best small-space microwave
For a micro microwave (with a cute design to match), check out the Galanz Retro. It is "retro" in name and design only, as it still comes with a bevy of great features- most importantly compact size. With just a 0.7 cubic foot capacity, this is one of the smallest microwaves on the market, making it perfect for those with small kitchens or who typically only need to reheat the odd cup of coffee. 
Even still, one reviewer pointed out that there is ample room for a full-sized plate for whatever food you need to reheat. Other than size, the microwave comes with the standard host of time-saving functions, such as defrost, a child safety lock, and an easy-to-read LCD display. Some reviewers did note that if the child safety lock isn't used, a potentially dangerous situation could happen accidentally with the microwave running for a long time and causing damage.
As of May 2022, the Galanz Retro microwave was available on Amazon in various colors starting at $59.98.