Roasted Vegetable Panzanella Recipe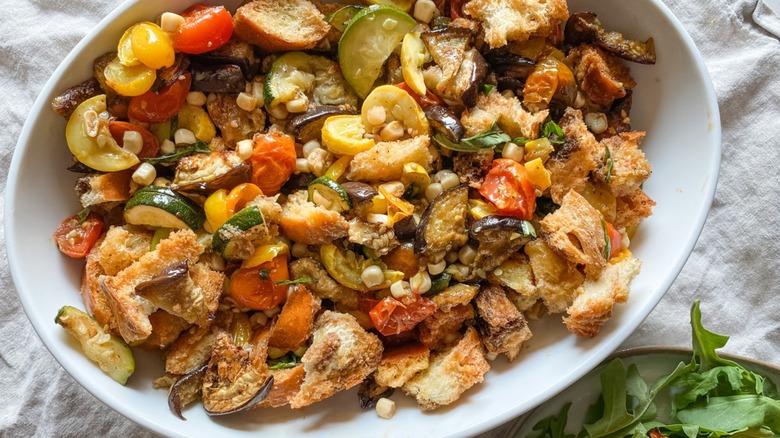 Kristen Carli/Mashed
We've all been there — having stale bread and about-to-go-bad vegetables hanging out in the kitchen and wondering, "What can I do with all of this food?" Recipe developer Kristen Carli to the rescue! She has an easy, healthy idea for dinner tonight that utilizes produce you don't want to waste and a baguette you'd otherwise throw out. The recipe is called roasted vegetable panzanella. 
"Panzanella means bread salad," she explained, adding, "It is typically a great way to use stale bread." Carli prepared this meal at her home, which also incorporates a simple dressing, and told Mashed, "It was delicious." Carli also notes, "This is a great summertime weeknight meal that uses summer produce." 
We're talking zucchini, squash, eggplant, and tomatoes. Plus, you can add arugula for serving, if you'd like. Meanwhile, you can always substitute other veggies that are plentiful during the fall, spring, and winter once you master this recipe — something anyone with a stove can do.
Gather your fresh ingredients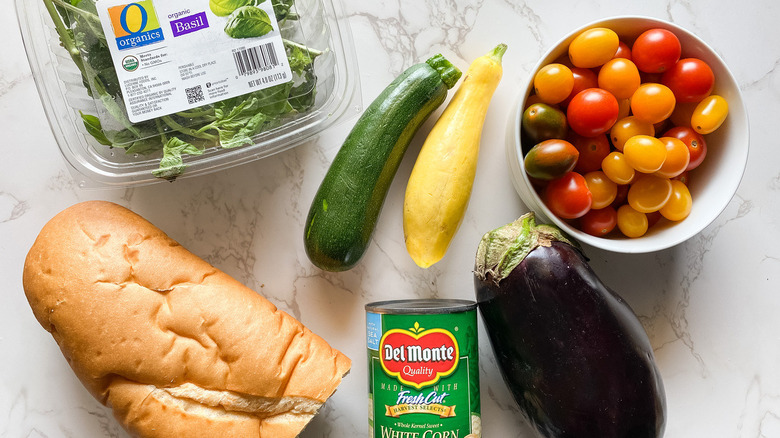 Kristen Carli/Mashed
To get this meal off the ground, er, out of the fridge, you will gather the following ingredients from your kitchen or add them to your shopping list: one eggplant, zucchini, and yellow squash each. The recipe calls for grape tomatoes as well, but you can always use the cherry variety if you have them on hand. Pick up some fresh basil as well.
Roasted vegetable panzanella will require your favorite olive oil, salt, and pepper, as well as a can of white corn — this is so much easier to use than frozen because all you have to do is drain it.
Finally, grab that French baguette and balsamic vinegar, plus arugula if you'd like to serve your bread salad over this bright green with a bite. And that's it! You'll be serving up a filling meal with only these simple, affordable ingredients available at any market.
Prep and roast the vegetables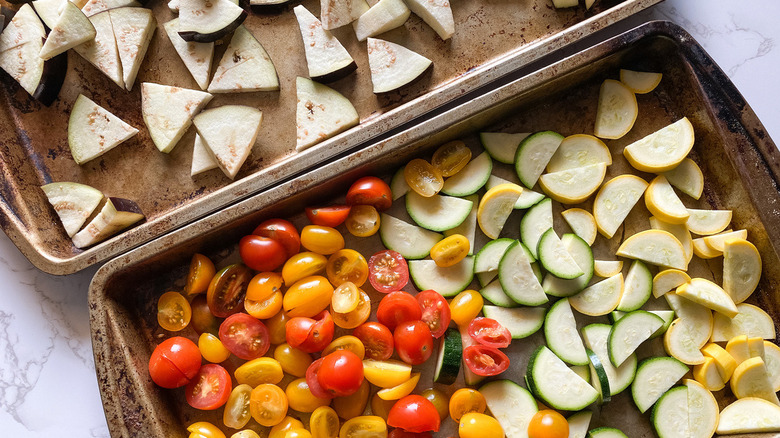 Kristen Carli/Mashed
Step one is to prep the veggies and the bread for roasting. So, go ahead and chop the eggplant, zucchini, and yellow squash. Note that the vegetables will shrink as they roast, so you want to cut them into pieces that are larger than bite-size. Meanwhile, Carli adds you should keep the skin on the veggies. 
Now, halve your grape tomatoes, and prepare the basil chiffonade. Set the basil aside. Your bread gets torn into chunks. You'll use half of a French baguette or about 2 cups. Set that aside when you're done tearing.
Next, preheat the oven to 350 degrees. You'll need two large baking sheets for your chopped vegetables. Drizzle the veg with a quarter cup of olive oil. Sprinkle the mixture with a teaspoon of salt and half a teaspoon of pepper. Bake the veggies for 40 minutes, with Carli advising, "Be sure to roast the vegetables enough. We want them to be shrunk in size a bit and the tomatoes to be blistered."
Bake the bread and combine your elements for the panzanella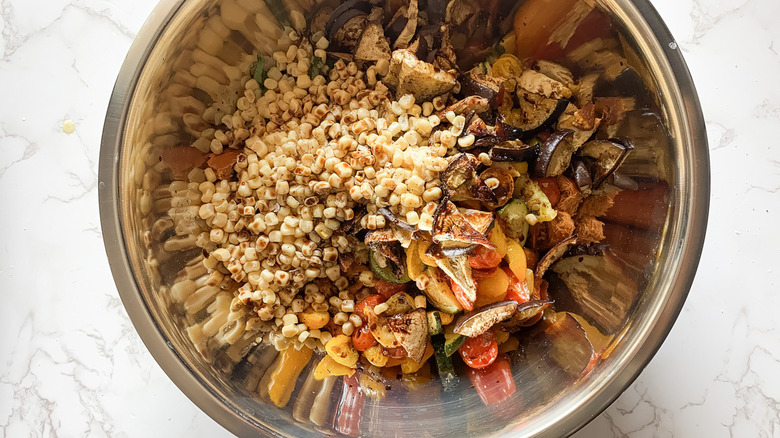 Kristen Carli/Mashed
You will now need another baking sheet — a small one should be fine. Add your bread chunks and drizzle two tablespoons of olive oil on top. Bake the bread for 40 minutes just like the veggies. "Be sure to check on the bread to avoid burning," Carli advises. And this is really the only way you can mess up this super-simple recipe: burning your bread. That, and under-roasting your veggies. Otherwise, it's almost impossible to make a mistake cooking roasted vegetable panzanella.
Once your veggies are sufficiently roasted and your bread is nice and toasted, you'll combine these elements in a large bowl. Add the drained can of corn and the basil. Toss everything gently to combine. The final step is to dress your bread salad.
Dress and serve your dish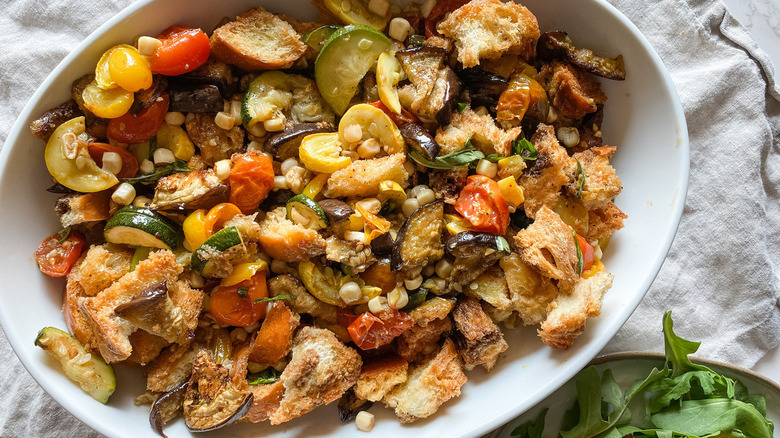 Kristen Carli/Mashed
At this point, you can dress your roasted vegetable panzanella right in the bowl or transfer the bread and veggies to a serving platter before dressing the dish. You will drizzle your remaining half cup of olive oil and a quarter cup of balsamic vinegar onto the bread and veggies, then sprinkle on a teaspoon of salt and half a teaspoon of pepper. Stir everything to combine. Adjust the dressing and seasoning to taste, and, oh yeah, dig in! The dish will taste exceptional over arugula or on its own.
But home cooks should know that as Carli told Mashed about the meal, "Leftovers do not store great because the bread gets soggy." So, you will want to enjoy the dish right away rather than storing it for another day. The good news is that this recipe is so yummy, you will likely clean your plate without a problem — and perhaps even go back for seconds!
Roasted Vegetable Panzanella Recipe
This is a great summertime weeknight meal that uses summer produce. Learn how to make this easy panzanella at home — it'll be a hit.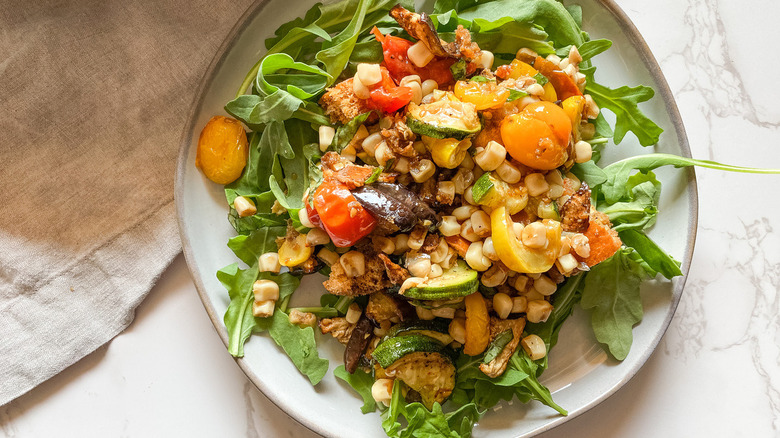 Ingredients
1 eggplant, chopped
1 zucchini, chopped
1 yellow squash, chopped
1 ½ cups grape tomatoes, halved
1 cup olive oil, divided
2 teaspoons salt, divided
1 teaspoon pepper, divided
½ large French baguette, sliced and torn into chunks (about 2 cups)
1 15-ounce can white corn
¼ cup basil, prepared chiffonade
¼ cup balsamic vinegar
Optional Ingredients
Directions
Preheat oven to 350 degrees.
On 2 large baking sheets, add eggplant, zucchini, squash, and tomatoes. Drizzle with ¼ cup of olive oil. Sprinkle with 1 teaspoon salt and ½ teaspoon pepper. Bake for 40 minutes.
On a small baking sheet, add bread chunks and 2 tablespoons olive oil. Bake for 40 minutes.
In a large bowl, add corn, basil, bread, and roasted veggies. Drizzle with remaining ½ cup of olive oil, ¼ cup balsamic vinegar, 1 teaspoon salt and ½ teaspoon pepper. Stir to combine.
Serve and enjoy.
Nutrition
| | |
| --- | --- |
| Calories per Serving | 735 |
| Total Fat | 56.7 g |
| Saturated Fat | 7.9 g |
| Trans Fat | 0.0 g |
| Cholesterol | 0.0 mg |
| | |
| --- | --- |
| Total Carbohydrates | 55.6 g |
| Dietary Fiber | 10.2 g |
| Total Sugars | 13.9 g |
| Sodium | 1,308.9 mg |
| Protein | 8.7 g |