Easy Microwave Corn On The Cob Recipe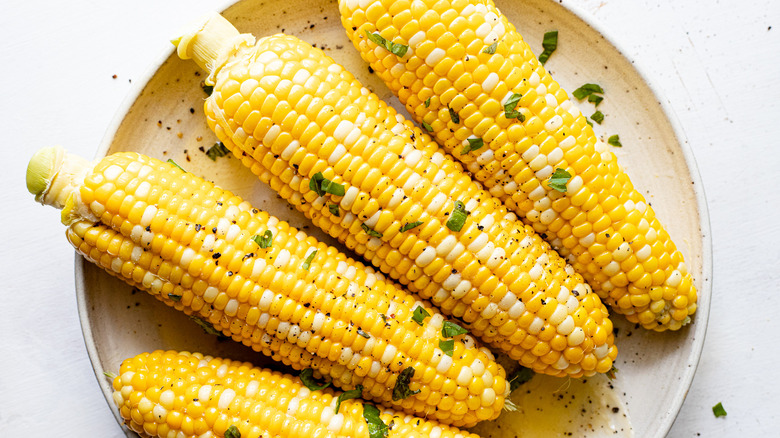 Sher Castellano/Mashed
Corn on the cob is one of the most popular side dishes for the summer. There's just something about the taste of it that's not only amazing, but also incredibly comforting. We're pretty sure just about everyone has a nostalgic feeling from childhood when they bite into an ear of corn. You can cook this veggie in a variety of ways, but one of the most popular ways too cook it is by grilling it. However, if you don't have a grill, or if you're looking for an alternative way to prepare it, the microwave will do just fine. That's right — what you thought was impossible is possible, and guess what? The corn tastes just as good!
Recipe developer Sher Castellano came up with this delightful recipe that is super simple and super yummy. Whether you're looking to serve the corn as a side dish for a family dinner, or you're cooking it for a crowd, this recipe is a no-brainer. Castellano shares microwaving the corn is a great option because it's "accessible, convenient, and frees up stovetop and/or grill space." So, keep reading to find out how to make this yummy side.
The benefits of corn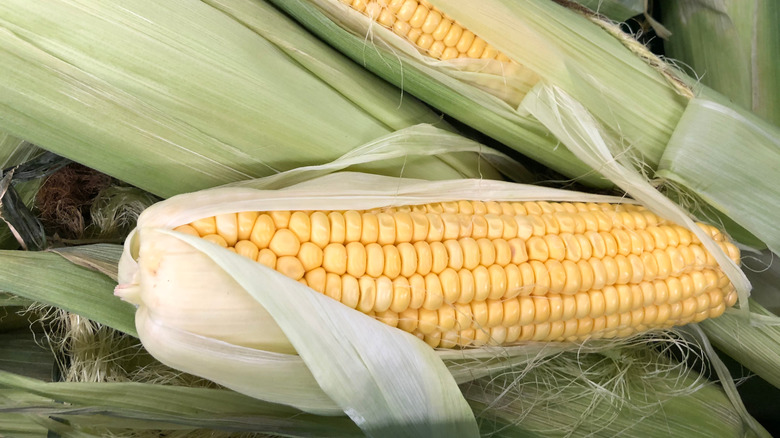 ShadeDesign/Shutterstock
Like most veggies, corn has a lot of great benefits, and it's one of those things that you don't feel guilty about eating. Health reported that corn is full of minerals and vitamins, specifically vitamin A and B. It also has a ton of fiber. If you're on a gluten-free diet or have a gluten allergy, corn is a solid choice to prepare, because it doesn't contain any gluten. This tasty veggie is also pretty stellar, because it helps your immune system, and it's thought to prevent muscles from cramping. Of course, the other benefit is that it just tastes really, really good.
Gather the ingredients to prepare this easy microwave corn on the cob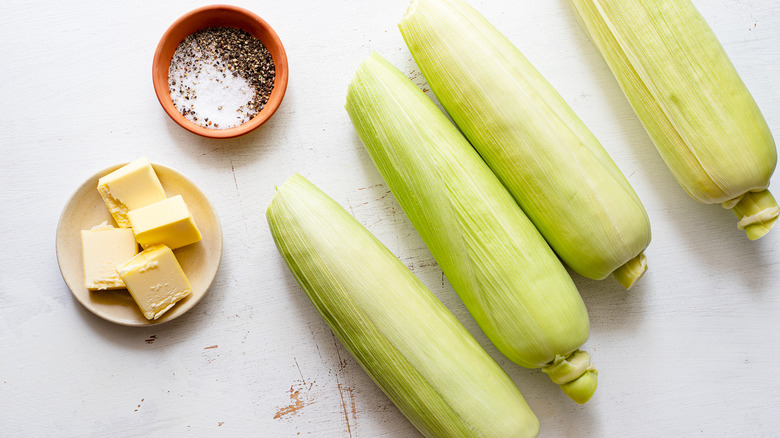 Sher Castellano/Mashed
To start things off, gather all of the ingredients necessary to whip up this tasty dish. The first item on your list should be four ears of corn, which are undoubtedly the star of the recipe. You will also need some butter because, let's be honest: Corn and butter go hand-in-hand. In addition, add minced basil to your shopping list. Please note that this item is optional, so you can leave it out if you don't like it. Last but not least are two items you should already have in your pantry — fine sea salt and black pepper.
Trim and microwave the corn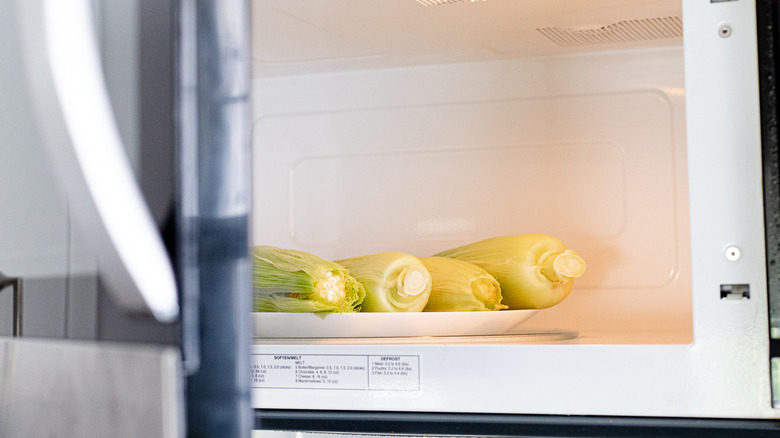 Sher Castellano/Mashed
Once you have all of your ingredients gathered, it's time to begin! The first order of business is to prep the corn. Place the four pieces on the counter in front of you, and trim the ends and the top from the corn. You will also want to remove a few layers of the husk, but not all of them. Corn cooks better in the husk, so be sure to leave a few layers on. Next, place the corn in its husk in the microwave, and cook on high for five minutes. After five minutes, flip the corn, and cook it for three more minutes.
Let the corn cool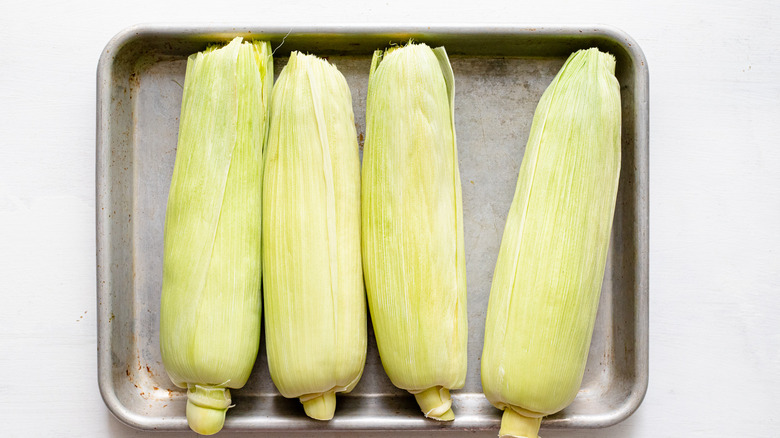 Sher Castellano/Mashed
Once you've cooked all of the cobs of corn in the microwave, it's time to let them cool off. Place each piece on a tray, and be sure to leave them in their husk. Set your timer for five minutes, and allow the corn to cool off. At this time, the corn will continue to cook, so this part of the process serves a double purpose. In the meantime, you can grab the plates or side dishes that you will be using to serve the corn.
Dress up the corn, and serve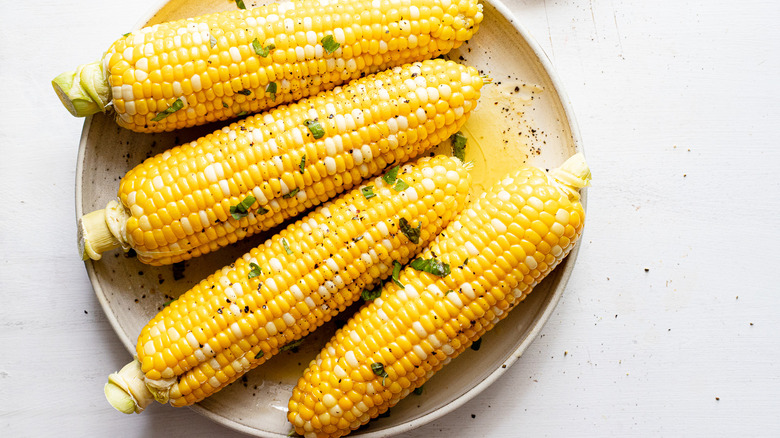 Sher Castellano/Mashed
Once you've allowed the corn to finish cooking and then cool off, you can remove it from its husk. Place the corn on a plate or in a corn dish, and lather it with butter, salt, and pepper. If you choose to use basil, this is the time to put it on. "Any butter can be used (vegan, etc.). And other herbs that would be delicious are cilantro and mint," Castellano says.
This corn is a great addition to any protein from a juicy hamburger to grilled chicken. As a matter of fact, according to Castellano, "This corn would be a lovely part of any summer meal — a perfect accompaniment to grilled meat and nice green salad." So invite some friends and family over to celebrate the sunny season with good food, and enjoy!
Easy Microwave Corn On The Cob Recipe
Whether you're looking to serve corn on the cob as a side dish for a family dinner, or you're cooking it for a crowd, this recipe is a no-brainer.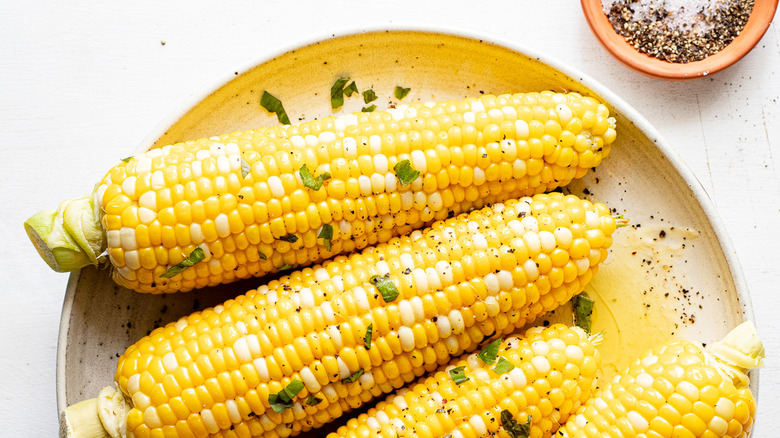 Ingredients
4 ears corn
4 tablespoons butter
fine sea salt, to taste
black pepper, to taste
Optional Ingredients
1 tablespoon basil, minced
Directions
Trim the ends and tops from the corn, and remove a few layers of the husk.
Place the corn (in its husk) on a plate, and stick it in the microwave. Cook on high for 5 minutes. Then flip, and cook for 3 more minutes.
Take the corn out of the microwave, and place it on a tray. Leave it untouched to cool (and continue cooking) for 5 minutes.
Remove the husk, and serve corn on the cob with butter, salt, pepper, and optional basil.
Nutrition
| | |
| --- | --- |
| Calories per Serving | 190 |
| Total Fat | 12.9 g |
| Saturated Fat | 7.6 g |
| Trans Fat | 0.5 g |
| Cholesterol | 30.5 mg |
| | |
| --- | --- |
| Total Carbohydrates | 19.3 g |
| Dietary Fiber | 2.1 g |
| Total Sugars | 6.4 g |
| Sodium | 271.0 mg |
| Protein | 3.5 g |