Bobby Flay's Cat's Taste In Music Is So Relatable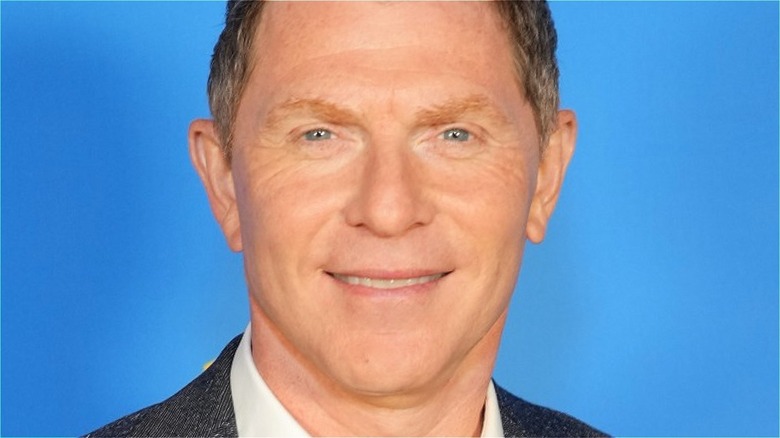 Kevin Mazur/Getty
Bobby Flay is so busy being a celebrity chef that his family is in on his business endeavors. Flay hosts a podcast and authored a cookbook with daughter Sophie, and his four-legged children haven't been excused from duties, either. Flay's orange Maine coon cat, Nacho, is the "founder" of Made by Nacho, a line of "cat-crafted cat food" made with "premium, flavorful ingredients." While we're sure Nacho probably had some help from his dad and other cat food professionals when collaborating on his cat food line, one thing's for sure: Nacho is the face of the company.
Nacho spends his days being a very serious business cat by helping to promote new and existing items on the Made by Nacho product line. Most recently, the company launched its summer collection with foods like Paella-Inspired Whitefish & Chicken Kibble and Freeze-Dried Ahi Tuna Treats (via Instagram), so it's no surprise that today Nacho is feeling a bit tired and just wants a day off. But what does he do on his days off? He listens to his favorite, incredibly relatable playlist.
Nacho Flay is a Taylor Swift fan
Nacho Flay's Instagram post about his day off was nothing short of a mood to which we can all relate. The post features a video of Nacho looking out a window with a raindrop overlay and text reading, "Taking the day off as Founder to listen to Taylor's Version and longingly look out the window. Don't text." Taylor Swift's song "All Too Well" plays in the background. "#Swiftie for life," Nacho partially captioned the picture while also offering congratulations to Swift, who spoke today at New York University's commencement ceremony — during which she received an honorary doctorate degree, an occasion which marked the "very first time" she has ever worn a cap and gown.
Fans took to the comments of Nacho's post to applaud him for taking a day off and for appreciating the finer things in life, such as good music, in the process. "Bravo @nachoflay you have great taste," wrote one Instagrammer, while another chimed in, "Nacho is a Swiftie, why is this so amazing." Still, a third user summed it all up succinctly and perfectly, writing, "A cat with food and music taste, we stan!"