Bobby Flay Just Teased A New Cookbook With Daughter Sophie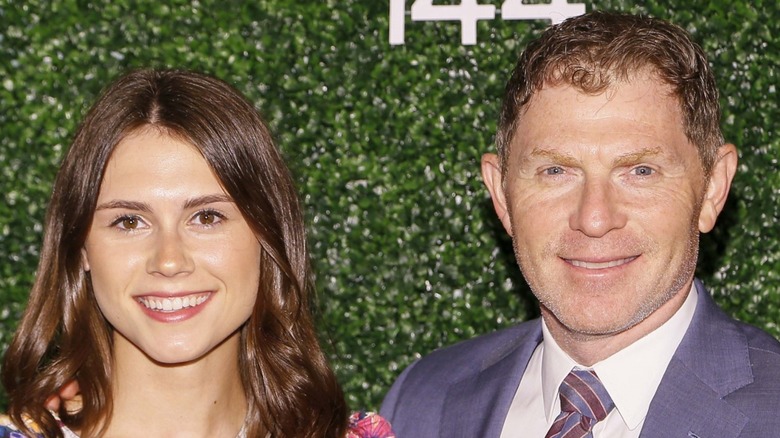 Paul Morigi/Getty
Celebrity chef and television personality Bobby Flay is super proud of his only child, Sophie Flay, a daughter he shares with ex-wife Kate Connelly. Sophie is a budding community journalist at ABC7 in Los Angeles, a job she snagged after graduating from the University of Southern California (via People). Flay isn't shy when it comes to bragging about Sophie, telling Parade, "I think Sophie is going to eclipse me in every part of her life. She has a special way about her. She's well-liked, and she's very inclusive to everyone around her. She is savvy and an extremely hard worker." 
It's no surprise, then, that Flay has invited Sophie to participate in some of his professional projects, including "The Flay List," a TV series in which the two go on the hunt for some of the best dishes in various New York City locales (via Food Network). The pair also appear together on their podcast, "Always Hungry with Bobby Flay and Sophie Flay." Based on their conversation in a recent episode, available on iHeart, the two are embarking on yet another food-themed collaboration.
The Flays' new cookbook will be entitled, "Sundays with Sophie"
On their podcast, Bobby Flay usually cooks while Sophie interviews him, and then the two enjoy the meal together. On one recent episode, "The Making of a Cookbook," Flay discussed what goes into the production of his many cookbooks, from the types of recipes he includes in each distinct collection to honoring those who help him author the stories (via iHeart). The chef's most recently released cookbook, "Beat Bobby Flay," was his 16th.
But then Flay dropped a culinary bomb none of us were expecting: He's authored a 17th cookbook — this time with the help of Sophie. "This next book that I'm doing with you is definitely a version of ["Bobby at Home"], except I got you. So it's better," Flay said. The pair joked about whether they were even allowed to break the news of the new cookbook, and yet Flay still revealed that it will be called "Sundays with Sophie." Sounds like this father-daughter duo is not only helping to embolden each other's careers, but they're also showing their fans the importance of family.