Classic Gimlet Cocktail Recipe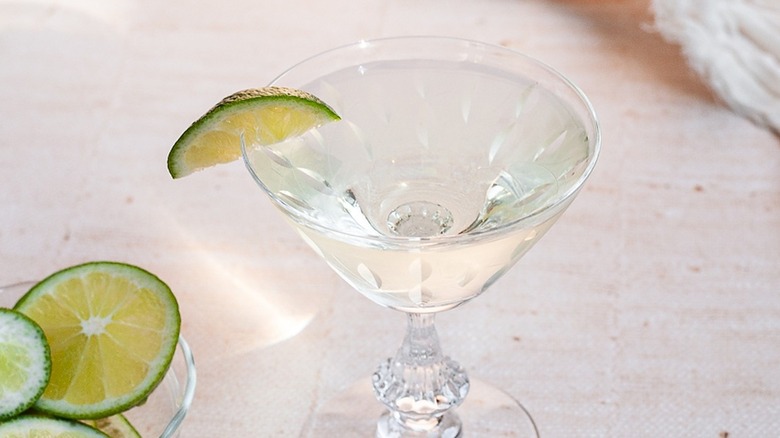 Christina Musgrave/Mashed
If you're reading this, chances are that you have tried a classic gimlet cocktail or you'd like to. There's so much to love about this classic cocktail, from its smooth taste to simple recipe, you really can't go wrong, especially if you're a gin lover. According to Diffords Guide, a classic gimlet consists of gin and lime cordial. In the 90s, some people switched it up, opting to make the drink with vodka instead of gin, but fear not — a classic gimlet lives on, and if it doesn't have gin and lime cordial, then it's not authentic!
To make an authentic gimlet, you'll want to follow recipe developer Christina Musgrave's classic recipe. "I love this cocktail because it's classic, refreshing, and delicious," Musgrave raves. "I wanted to include the classic ingredients of the cocktail in the drink." And that she did, but you'll just have to find that out for yourself once you make this cocktail. Grab your shaker and grab some ice, and let's make a gimlet that's bursting with gin and lime flavors.
Gather the ingredients for a classic gimlet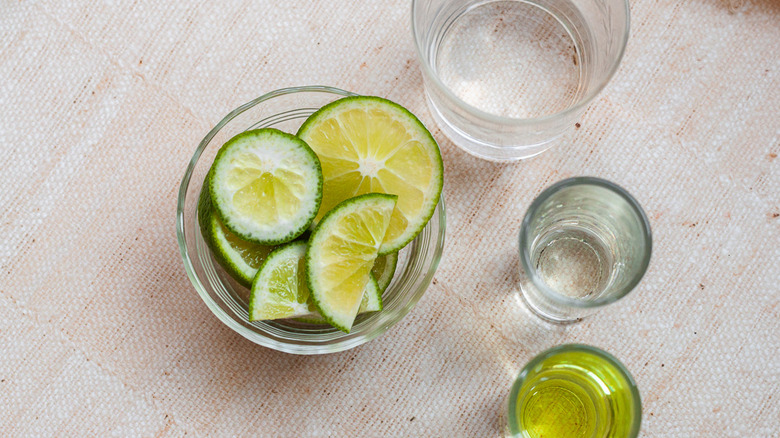 Christina Musgrave/Mashed
The first step in any recipe is to gather all the ingredients. You will need dry gin, lime cordial, simple syrup, ice, and a lime wedge for garnish. 
What makes Musgrave's version unique? "The lime cordial is the important ingredient for the gin gimlet," she shares. "Classic cocktails only have gin and lime cordial, but for my version, I also added simple syrup to balance out the flavors."
Add the ingredients to a cocktail shaker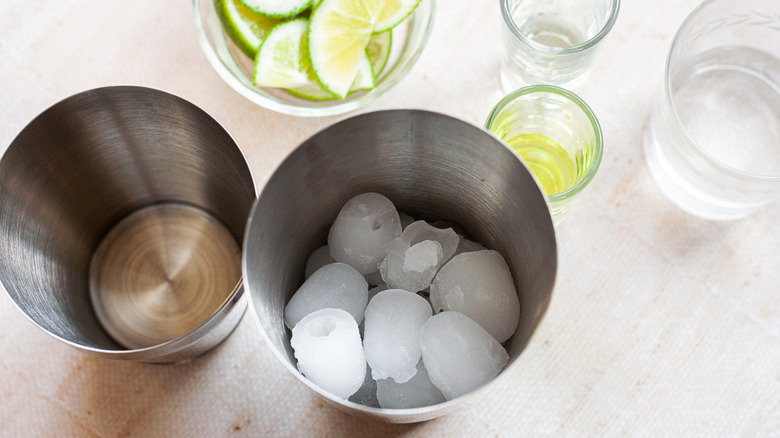 Christina Musgrave/Mashed
Grab a cocktail shaker and fill it up with ice. Next, add the dry gin, lime cordial, and simple syrup to the shaker. If you haven't heard of lime cordial, don't sweat it. "Lime cordial is a sweetened lime juice and can be found in most liquor stores," Musgrave says.
Now, it's time to practice your bartending skills. Shake the contents of the cocktail shaker vigorously. Continue shaking the drink to mix it  up. This should only take about 15 seconds or so to do.
Garnish and serve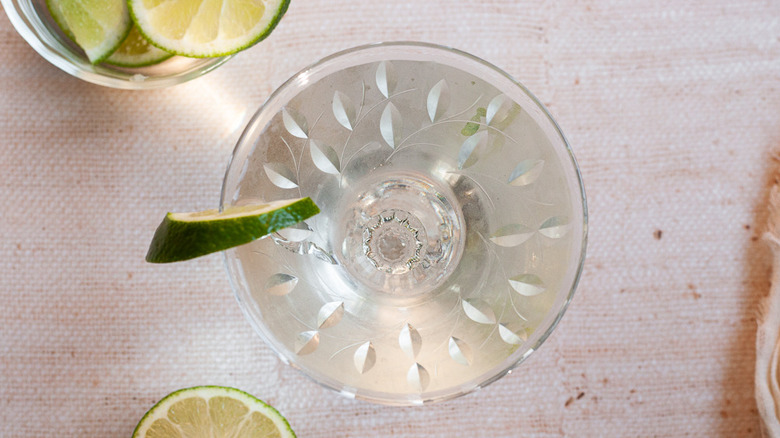 Christina Musgrave/Mashed
Once you finish shaking the drink, remove the lid from the cocktail shaker and strain the contents into a cocktail glass of your choice. The strainer helps keep the liquid nice and smooth. Garnish the drink with a lime wedge and serve at cocktail hour or any other occasion that you see fit.
This classic gimlet would be great on its own, but Musgrave also provides a few food pairing choices if you want to do apps and cocktails. "I'd pair this with appetizers like a charcuterie board and olives," Musgrave suggests. A cocktail and a charcuterie board — you definitely can't beat that combo!
Classic Gimlet Cocktail Recipe
This classic gimlet has gin, lime cordial, and a little bit of simple syrup, making for a smooth sipping experience.
Ingredients
2 ½ ounces dry gin
1 ounces lime cordial
½ ounce simple syrup
1 lime wedge, for garnish
Directions
Fill a cocktail shaker with ice. Add in the gin, lime cordial, and simple syrup.
Put the lid on the shaker and shake vigorously for 15 seconds.
Strain the drink into a cocktail glass. Garnish with a lime wedge and serve.
Nutrition
| | |
| --- | --- |
| Calories per Serving | 314 |
| Total Fat | 0.1 g |
| Saturated Fat | 0.0 g |
| Trans Fat | 0.0 |
| Cholesterol | 0.0 mg |
| | |
| --- | --- |
| Total Carbohydrates | 20.4 g |
| Dietary Fiber | 0.2 g |
| Total Sugars | 19.6 g |
| Sodium | 12.1 mg |
| Protein | 0.1 g |