Crusted Baked Red Snapper Recipe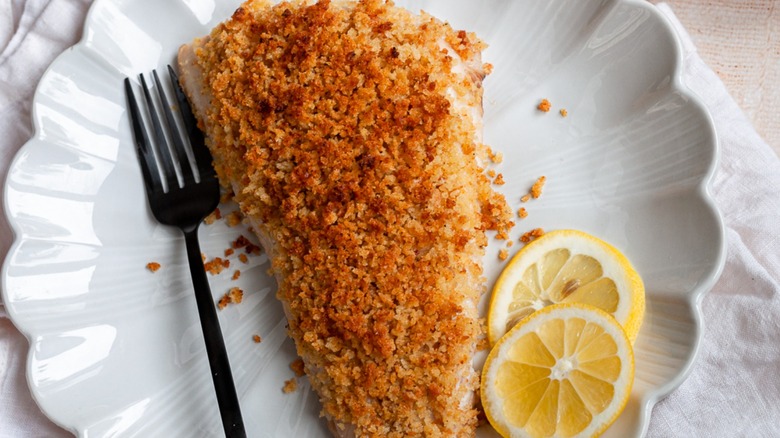 Christina Musgrave/Mashed
Red snapper is a pretty popular fish at present, and for pretty good reason. Recipe developer Christina Musgrave describes snapper as "a very mild fish that is delicious with a wide variety of different seasoning options," so how can you go wrong with such a versatile option? Musgrave feels that both baking and pan-frying are great ways to cook this fish, telling us that "it's entirely based on your preference and what you serve the fish with," but here she chooses the former and describes it as "one of the easiest and most delicious ways to make fish at home."

This method of preparation isn't just for red snapper, either, as Musgrave says that "this recipe can definitely work with other fish." She suggests that cod or sea bass would also be great choices. As for the crumb crust Musgrave uses to top the baked fish, she, like Bobby Flay, is a fan of panko breadcrumbs. She notes that the special ingredient "gives each bite a delicious crunch," and it also happens to provide the perfect textural contrast against the soft and flaky fish.
Assemble the ingredients for crusted baked red snapper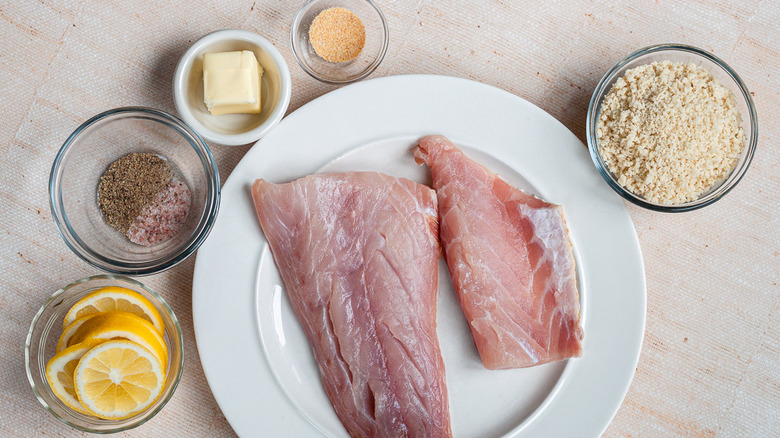 Christina Musgrave/Mashed
For this recipe you'll need a couple of red snapper fillets. To make the crumb topping, you'll be using breadcrumbs — panko, of course, being Musgrave's preference — seasoned with salt, pepper, and garlic powder and browned in butter. You may also wish to have some fresh lemon on hand to squeeze over the fish once it's cooked.
Musgrave does note that you can "DIY your own breadcrumbs" by blitzing some stale bread, but she adds that "the crispiness of the panko is one of the best elements of the dish," so if you don't have any on hand, it's definitely worth the trip to the grocery store!
Cook the crumb topping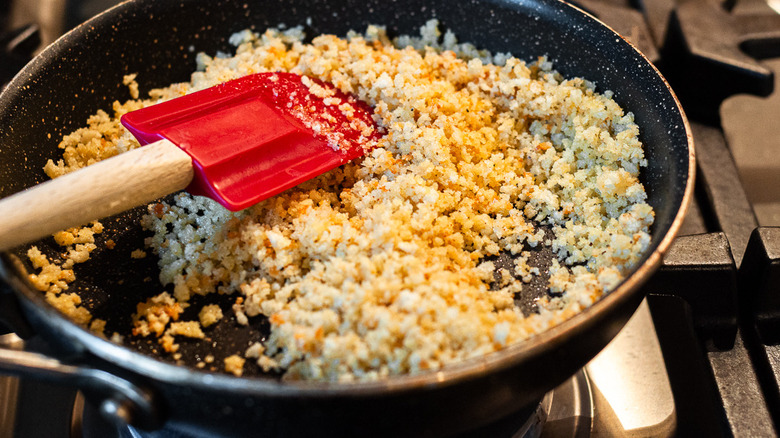 Christina Musgrave/Mashed
Before you start with the topping, you might as well preheat the oven to 400 F since the fish will probably be ready to bake more quickly than your oven can heat up. Speaking of heating things up, put a pan on the stove and turn the burner to medium. Melt the butter and add the crumbs and seasonings. Cook all of these ingredients until the crumbs turn golden brown, which is something that should take 2 to 3 minutes.
Bake the snapper fillets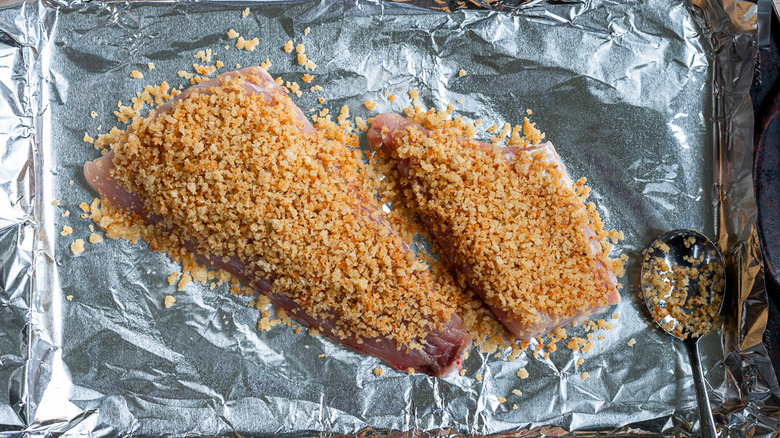 Christina Musgrave/Mashed
Put the fish on a baking pan lined with aluminum foil, a silicon sheet, or parchment paper. Once the oven has finished preheating, cook the fish for about 10 minutes or until the internal temperature reaches 137 F. Another wonderful thing about working with snapper — it bakes in a jiffy!
Serve and enjoy your crusted baked snapper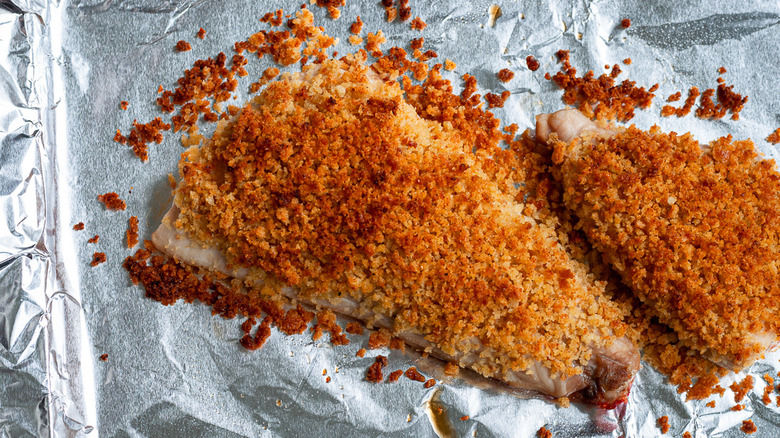 Christina Musgrave/Mashed
Once the snapper is done, you can serve it with lemon slices for garnish. If you're looking for a complete meal suggestion for this fish, Musgrave's preference is for "a lemon white wine sauce, an arugula salad, and a starch like rice or risotto." You can't go wrong with a citrus-y side dish here, or you can keep things simple and enjoy the crusted baked red snapper on its own.
Crusted Baked Red Snapper Recipe
This crusted baked red snapper combines light and flaky fish with a deliciously crunchy, panko-based topping.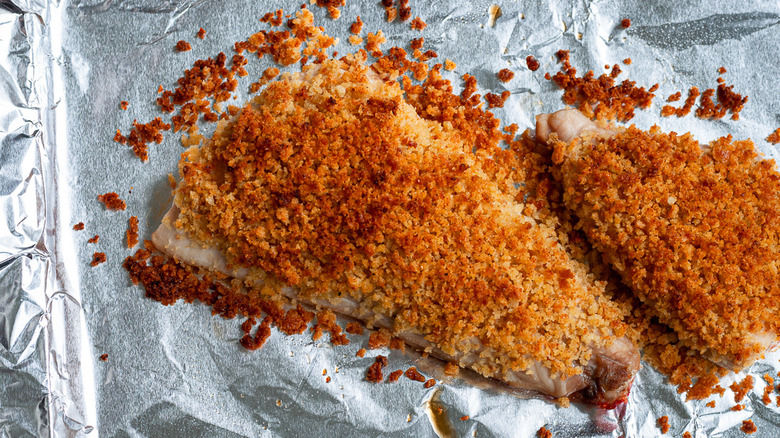 Ingredients
2 red snapper fillets
2 tablespoons butter
½ teaspoon salt
½ teaspoon black pepper
1 teaspoon garlic powder
¼ cup panko breadcrumbs
Optional Ingredients
lemon slices, for serving
Directions
Preheat the oven to 400 F.
Heat a pan over medium heat, and add in the butter, seasonings, and breadcrumbs.
Cook the breadcrumbs for 2 to 3 minutes, until they are golden brown.
Place the red snapper fillets on a foil-lined baking sheet and top with the breadcrumbs.
Bake the fish for 10 minutes, or until the internal temperature reaches 137 F.
Serve the fish with lemon slices, if desired.
Nutrition
| | |
| --- | --- |
| Calories per Serving | 353 |
| Total Fat | 14.7 g |
| Saturated Fat | 7.9 g |
| Trans Fat | 0.5 g |
| Cholesterol | 111.2 mg |
| | |
| --- | --- |
| Total Carbohydrates | 6.8 g |
| Dietary Fiber | 0.6 g |
| Total Sugars | 0.3 g |
| Sodium | 562.7 mg |
| Protein | 45.9 g |