Why The Chocolate Martini Should Be Your New Go-To Cocktail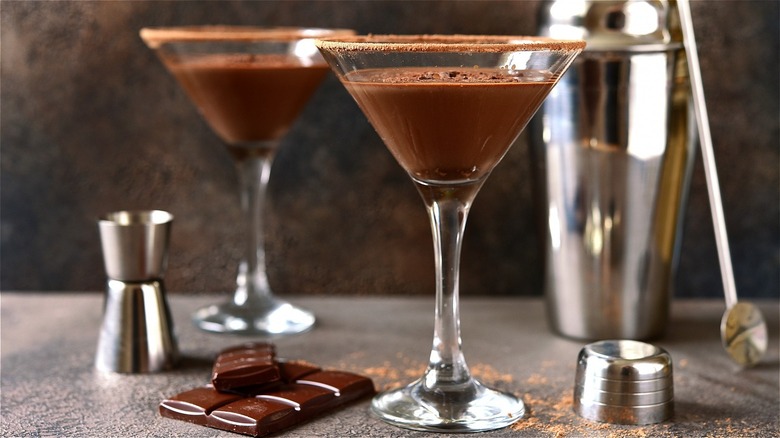 Liliya Kandrashevich/Shutterstock
Every once in a while, we all deserve a little treat to cap off a long day. Sometimes, we just care to celebrate a special occasion with an indulgent drink or two. Throughout history, cocktails have been sipped by restaurant diners, bar patrons, and partygoers far and wide (via VinePair). The intoxicating medleys are made with a variety of spirits fit to any drinker's liking. From the rum-infused daiquiri to the tequila-forward margarita to the whiskey-based old fashioned, there's a seemingly endless array of quaffable possibilities. No matter someone's preferred palate, they're likely to discover a cocktail that best suits their tastes.
There is one particularly famous mixology category that comes with a widespread recipe book. The martini is a classic American cocktail that is believed to have been invented in Martinez, California during the Gold Rush, according to Food52. As legend states, a gold miner who wanted to toast to his newfound wealth was served a glass filled with a haphazard concoction of gin, vermouth, bitters, and maraschino liqueur, then garnished with a lemon slice. Since that revolutionary moment, the martini has taken on various forms. In addition to the traditional dry martini, the olive-marinated dirty martini, the mouth-puckering appletini, and James Bond's favorite, the Vesper, this iconic refreshment can be savored as a luxurious dessert all its own.
The chocolate martini offers a delightfully sweet twist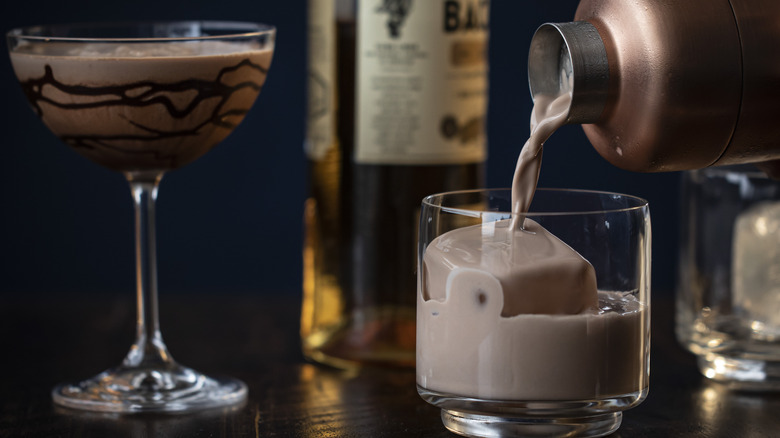 Sunday Night Foods
Chocolate fans, take note: Over the years, the beloved chocolate martini has become a popular dessert cocktail due to its elegant demeanor and pleasantly sweet character. If you're ever craving a homemade chocolate martini, you're bound to stumble upon multiple recipes that differ when it comes to the front-running ingredient, chocolate. For instance, many recipes involve chocolate syrup or cocoa powder, while others call for chocolate-flavored vodka, chocolate liqueur, or crème de cacao. Ree Drummond, for one, likes to add a splash of Baileys Irish Cream to her post-dinner potable for an extra posh texture and a subtly fruity hint of whiskey.
Des Moines, Iowa-based, woman-owned dessert sauce brand Sunday Night offers up a simple, slightly unorthodox recipe for a chocolate martini that calls for gold rum in lieu of the standard vodka for a smoother, more robust flavor profile with natural notes of caramel. The unique formula also uses a rich chocolate ganache made from pure, fine ingredients for a creamy, silky mouthfeel, according to the company's website. All you need to make this velvety, candy-esque martini is a couple of spoonfuls of the chocolate sauce, half and half or light cream, gold rum, and ice cubes. You can either whip up a single serving (or two) for yourself or grab a large mason jar to make a large-format batch of the chocolaty, boozy goodness.