What You Never Noticed About The Nestlé Logo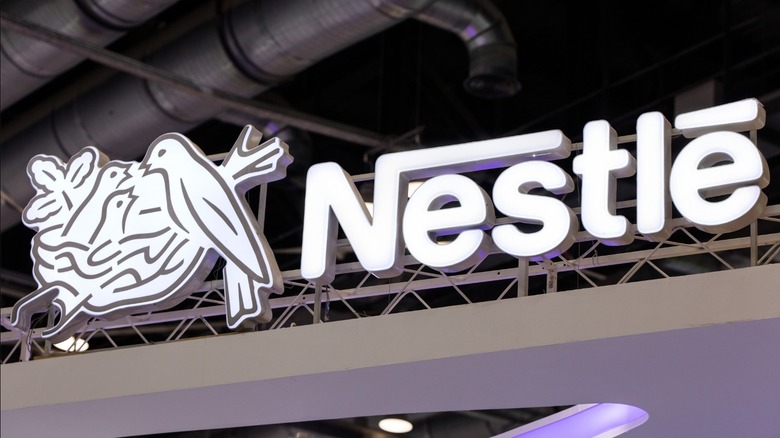 Allmy/Shutterstock
If you really look at a company's logo, it's often designed to cleverly deliver a subliminal message to help sell a product. For example, did you ever notice that the smile under the Amazon logo links the 'A' to the 'Z' — to represent the company's claim to provide everything — from A to Z?
When the initials B and R in the Baskin Robbins logo combine, they form a '31' to remind you of the number of the celebrated brand's flavors. In 2007, Dairy Queen changed its original logo  — a red ellipse shape to convey a set of lips — to include a small orange arch (to symbolize the company's hot food offerings) and an inverted blue arch below (for cold treats).
Did you ever wonder how the brand Nestlé's iconic logo came about? Henri Nestlé was one of the first entrepreneurs to recognize the importance of establishing a brand logo in 1868. He wanted to represent his family's name, which translates to 'nest' in German, per the Nestlé website, while also implying a sense of nurturing.
Henri Nestlé's company began in 1867, during a time when infant mortality was high and there was no reliable alternative to breast milk. A scientist who studied infant nutrition and believed in the benefits of breastfeeding, Nestlé came up with a milk-based baby food formula designed to mimic a mother's milk. He was lauded when his formula was said to save the life of a baby born prematurely.
From Toll House to Nespresso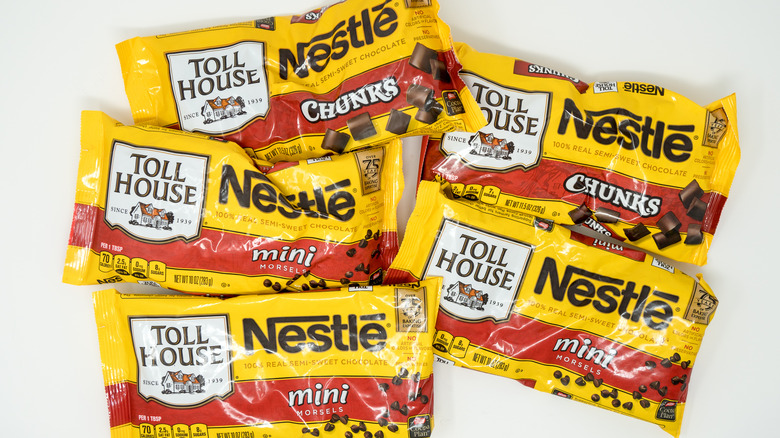 melissamn/Shutterstock
Henri's first logo, showing a mother bird feeding a worm to three chicks, is very similar to Nestlé's present-day logo, which includes two chicks (changed in 1988 to reflect an average household) and the worm was removed (via Famous Logos). It's followed by the company motto "Good Food, Good Life." In 2015, the design was simplified and modernized to be more easily read on digital devices.
You may not know the name Ruth Graves Wakefield, but you might be familiar with the results of her wonderful baking experiment in 1939. While making cookies for her guests at the Toll House Inn in Whitman, MA, Wakefield added pieces of Nestlé's semisweet chocolate. Hence, the great American Toll House chocolate chip cookie was born — adding Toll House to the list of Nestlé's notable products and inspiring another legendary logo.
From Toll House chips to Nesquik chocolate milk, from Pure Life water to Nescafé coffee, and even with famous brands like Gerber's baby formula and Häagen-Dazs under its umbrella, the Nestlé company provides numerous products to the world. The Swiss manufacturer has been around for 156 years, with a presence in 114 countries and nearly 300,000 employees worldwide.