The Hidden Meaning In The Dairy Queen Logo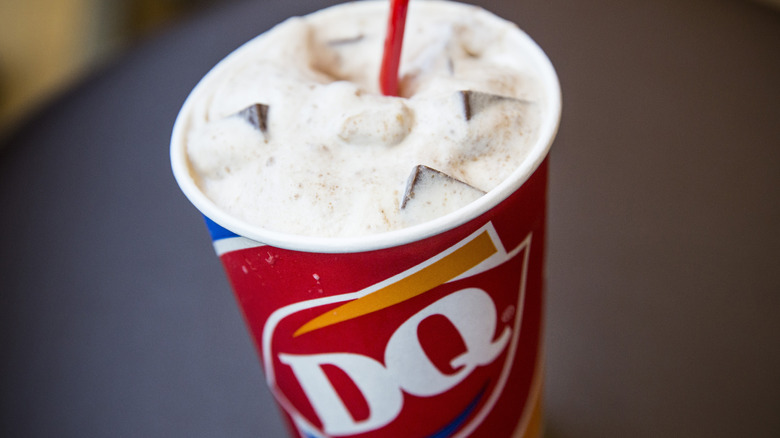 Andrew Burton/Getty Images
The Dairy Queen logo is instantly recognizable to anyone who has ever eaten the chain's frozen treats to cool down on a hot summer day. The iconic cherry-red ellipse shape graces the more than 7,000 DQ locations around the world (via Dairy Queen).
When the first Dairy Queen opened in Joliet, Illinois in 1940, now-classic treats like its famous Blizzards, Dilly Bars, and even malts and shakes weren't part of the menu. Originally, the two primary options were cones and sundaes — priced at 5 and 8 cents respectively, per Taste of Home. But once Blizzards were introduced, they hit it big. In 2005, one Dairy Queen even made the largest blended soft-serve dessert in the world, which weighed more than 8,000 pounds (via Guinness World Records).
As the chain's menu grew, some locations started serving fast-food staples like burgers, hot dogs, and even a breakfast menu. In 2007, Dairy Queen rolled out a new logo with hidden meanings to pay homage to both its classic and newer menu items.
The colors in the Dairy Queen logo are secretly symbolic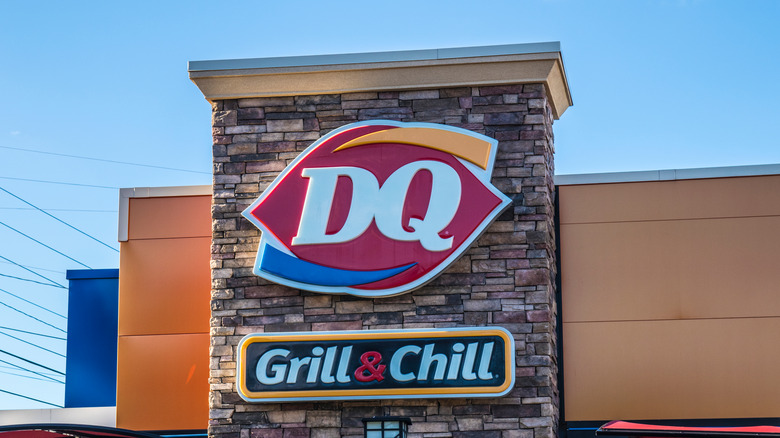 Billy F Blume Jr/Shutterstock
In 2007, Dairy Queen modernized its logo for the first time in decades — and introduced secret symbolism into its new look. The logo kept the red ellipse shape, representing lips, from the original 1960s version, while changing the font and shape of the letters (via Nation's Restaurant News).
The biggest change, however, was the introduction of two swooping lines with hidden meanings that represent the changes to its menu, according to Taste of Home. An orange arc atop the ellipse symbolizes hot foods, while a blue arc below symbolizes the cold treats like Blizzards and soft-serve cones that the chain is famous for.
Dairy Queen increased the grilled and toasted savory menu options after Warren Buffet's company took over the chain, per Insider, and rolled out the "Fan food. Not fast food" tagline (via QSR). Not everybody is a fan of DQ's fast food, though: Insider called the menu the "worst in the industry." 
But to stay true to the logo, the chain is continuing to innovate on both the hot and cold fronts. In fact, Dairy Queen recently made its biggest menu change in 20 years with the rollout of topping-loaded Stackburgers. Dairy Queen also dropped two new smoothie and shake flavors in time for spring.