The Reason Eric Ripert Won't Use Butter To Sear Fish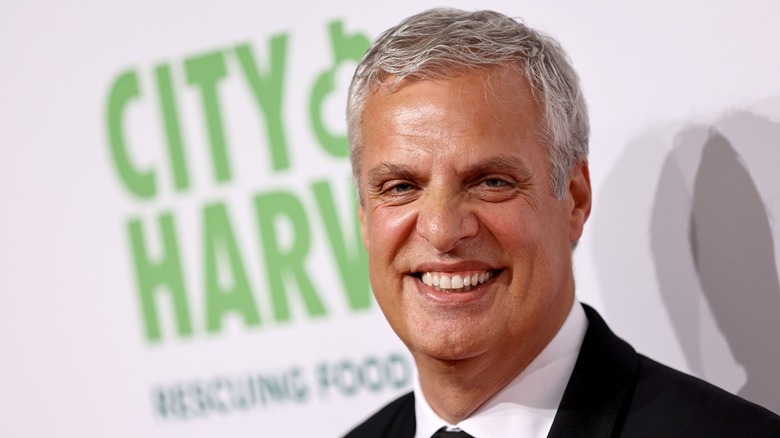 Dimitrios Kambouris/Getty Images
New York City is a mecca for the highest caliber of food. But among the more than 8,000 restaurants within the city's five boroughs, seafood-centric French eatery Le Bernardin stands apart, having received more James Beard Awards than any other restaurant in the city. Added to that distinction are three Michelin stars, repeated four-star ratings from The New York Times, and the highest ranking in every category in Zagat's guide to New York City.
Co-owner and chef of Le Bernardin, Eric Ripert, has won the James Beard Foundation's "Top Chef in New York" and "Outstanding Chef in the U.S." awards, authored five cookbooks and a memoir, and serves as vice chairman of the board of City Harvest. He's headed the kitchen at Le Bernardin since 1994.
If you've been lucky enough to score a reservation at the restaurant, you know that Ripert organizes the menu into three categories: "Almost Raw," showcasing items like oysters and caviar, "Barely Touched," where dishes are lightly seared and tartare is served warm, and "Lightly Cooked," featuring pan-roasted and steamed fillets of fish. Although the restaurant exudes elegance, Ripert's dishes are simple and can be prepared at home using quality ingredients and proper technique. In Bon Appétit's Cook Like a Pro series, Ripert shares tips for making a delicate fish dish, and he makes it look easy to achieve that coveted crispy skin.
Use vegetable oil only for the crispiest skin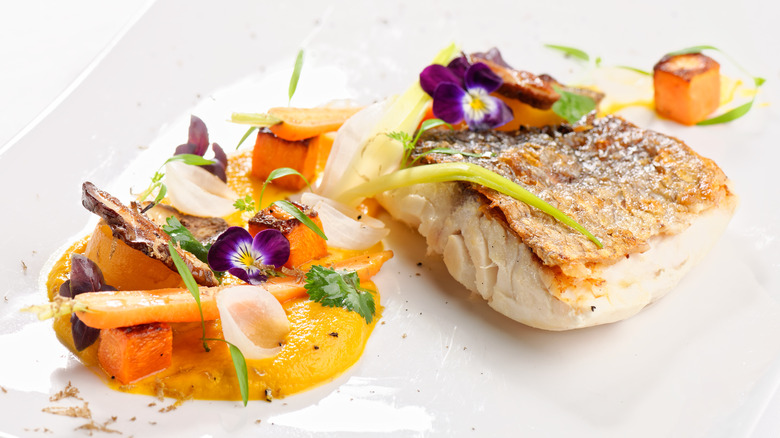 Visionsi/Shutterstock
Many chefs begin the fish-cooking process by drying the fillet, as it's essential to remove excess water from the surface so the skin can crisp versus steam. Thomas Keller uses a knife to gently scrape the skin and collect moisture on the blade, but patting the skin dry with a paper towel also works well (via Serious Eats). In his snapper tutorial, Ripert thoroughly seasons the fillet on both sides, which helps form a crust, he says.
Once the nonstick pan is smoking hot, Ripert shares his next tip: cooking the fish in vegetable oil only. He explains that butter will not allow the skin to crisp, while olive oil has too much flavor. We can assume his reasoning is based on the fact that butter can have around 18% water, per King Arthur Baking. While you might want to use butter to create a luscious pan sauce after the fish is done, you don't want its moisture to soften the skin while it's still in the pan.
Placing the fillet skin side-down, Ripert uses a fish spatula and gently presses down, making sure the skin makes direct contact with the hot pan so it crisps without curling. After just a few minutes, the fish should release from the pan's surface so you can flip it over and cook the other side briefly. Watching Ripert plate the snapper with morel mushrooms, asparagus, and a simple port sauce, you may feel inspired to head to your fishmonger this week.