How The Jif Peanut Butter Recall Is Tied To Concerns About Chicken Salads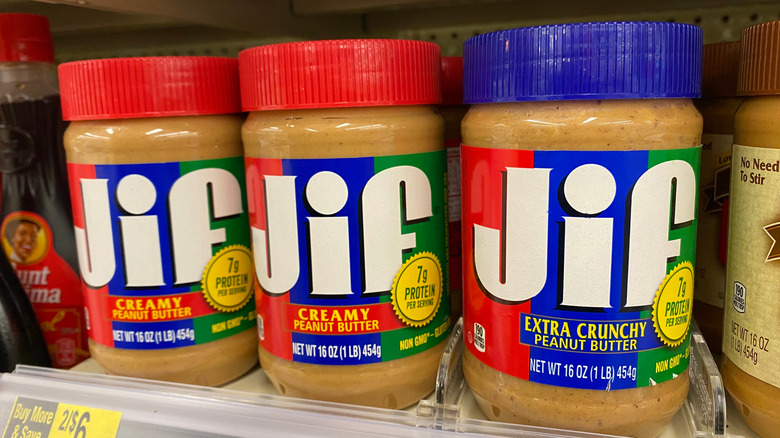 ZikG/Shutterstock
Unfortunately for peanut butter lovers everywhere, the implications of the Jif peanut butter recall Mashed reported on earlier this month have only grown. Initially, according to the Food & Drug Administration (FDA), Jif issued a recall for over 40 peanut butter products, ranging from creamy to natural to crunchy, all due to possible salmonella contamination. Consumers should double-check their fridges and pantries for these products, which contain lot codes 1274425 – 2140425. Additionally, shoppers should feel encouraged to read the general recall list from the FDA because so many products are being removed from supermarkets this month.
With efforts underway to clear shelves of all recalled Jif products mentioned in the initial report from the FDA, more products that contain Jif peanut butter have been added to the recall list, including chocolates from Euphoria Chocolate Company, apple and peanut butter dippers from Wawa, and even a chicken salad product made with the peanut butter.
Discard your Super Asian Chicken Salad ASAP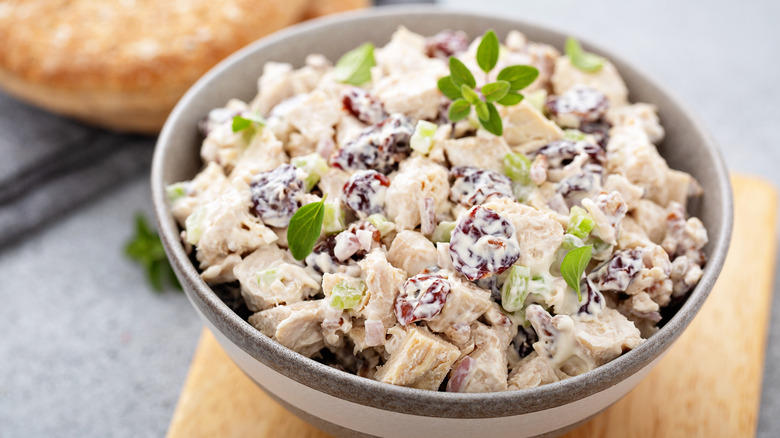 Elena Veselova/Shutterstock
The Food Safety and Inspection Service (FSIS) division of the U.S. Department of Agriculture issued a recall alert for ready-to-eat Super Asian Chicken Salads sold at an Amazon Go store in Washington. The salad was sold in 14.5-ounce plastic clamshell containers marked with a "Best Thru" date of May 16 through June 3. There is also a USDA mark of inspection on the packages with the number P-214. The notice was issued when the FSIS was made aware that the salad dressing on these Super Asian Chicken Salads was made with the recalled peanut butter. If you have purchased one of these salads, the FSIS states you should not eat it and instead throw it away or return it to the store.
Thankfully, as of the recall alert's release, no cases of illness in connection with the Super Asian Chicken Salads had been confirmed. According to the Centers for Disease Control and Prevention, salmonella symptoms and their severity may vary from person to person; however, the most common symptoms are diarrhea, fever, and stomach pain. The FSIS encourages anyone concerned about their health to consult their doctor.