Jif Peanut Butter Recalled Due To Potential Salmonella Contamination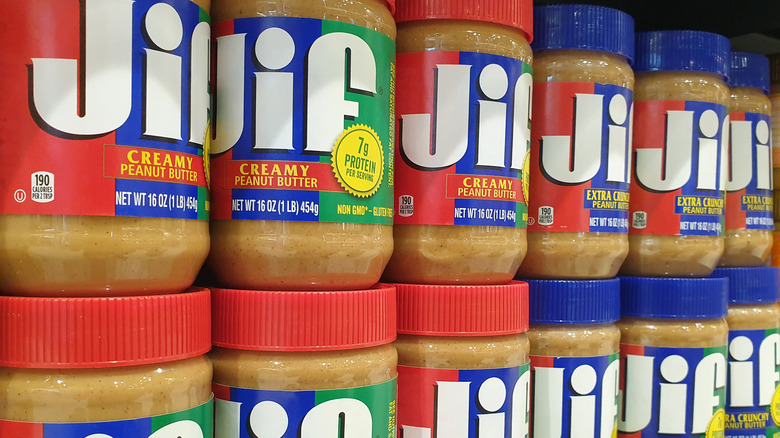 TY Lim/Shutterstock
Peanut butter may have started as a health food, per NPR, with its creator marketing it to people as a soft protein for those with less than perfect choppers, but today we spend about $800 million on peanut butter every year. Clearly, we have a real affection for this nutty butter. But if you're among those in the United States who can't go without peanut butter on your morning toast or afternoon crackers and are helping to collectively eat a whopping 700 million pounds of this spread on an annual basis, you might be interested to learn one of our favorite peanut butter brands has just issued a recall. 
According to the U.S. Food & Drug Administration, J. M. Smucker Co., the makers of Jif peanut butter, is recalling a variety of Jif food products due to what is being called a "potential Salmonella contamination." Regardless if you are a fan of creamy peanut butter — and 57% of us are — or the crunchy version, this is a significant recall when you consider that, per Statista, Jif is the most popular brand of peanut butter based on sales alone. To put this into perspective, in 2020, 117.31 million Americans bought Jif. Here's what we know about the Jif products affected by this announcement.
Over 40 varieties of Jif are affected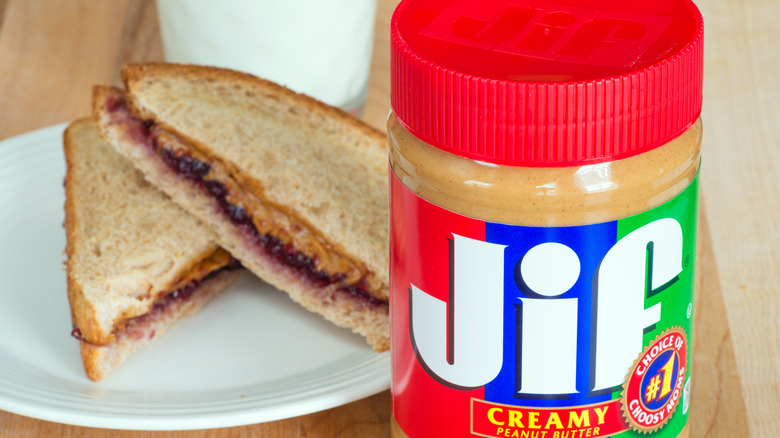 Rob Hainer/Shutterstock
According to the FDA's announcement, the Jif Peanut Butter in question was distributed in retail stores across the United States. The products include both crunchy and creamy peanut butter sold in various sizes. The squeeze pouch peanut butter, twin packs, reduced-fat Jif products, and no sugar added Jif peanut butter are all also possibly contaminated. For a complete list, we encourage you to visit the FDA's release, as there are more than 40 varieties affected by this recall. The agency says you should look for lot codes 1274425 – 2140425 which you can find right alongside the best-if-used-by date. If you find a jar or pouch of Jif that matches these numbers, they recommend you toss it. If this news places a cloud over your next peanut butter and jelly sandwich, we're with you. 
What can happen if you consume peanut butter that has been contaminated with Salmonella? The FDA explains that this bacterium can result in "fever, diarrhea (which may be bloody), nausea, vomiting and abdominal pain " in people who are otherwise healthy and do not have any underlying conditions. It can cause fatalities in the most vulnerable, younger, and older populations. Per USA Today, the CDC says 14 people in 12 states reported illnesses connected to eating peanut butter.