Chocolate Chip Banana Bread Recipe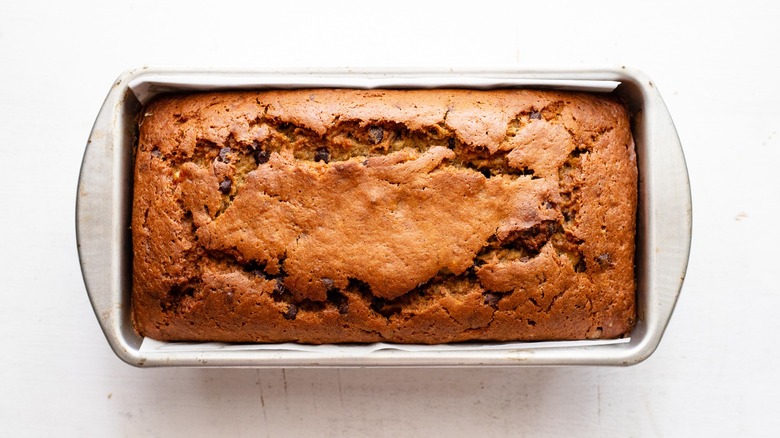 Sher Castellano/Mashed
Countless people spent the early days of quarantine baking banana bread, so it's quite possible feel a little tired of it by now. That's understandable, but ultimately, not very fair to banana bread. It didn't do anything wrong. In fact, there's a lot of things it does right. As recipe developer Sher Castellano says, "Banana bread is great for anytime you want something sweet!" It works as breakfast, as a snack, and as a treat at the end of the day. You're technically eating fruit (don't think too hard about that one). Plus, as Castellano's recipe for chocolate chip banana bread proves, it's endlessly customizable.
This recipe yields moist banana bread studded with chocolate chips, which add a sweet and slightly bitter indulgent twist to this classic loaf. It's also easy to make, and even better, it requires only one bowl, which means less time cleaning and more time enjoying the tasty fruits of your labor. What could be better?
Gather your chocolate chip banana bread ingredients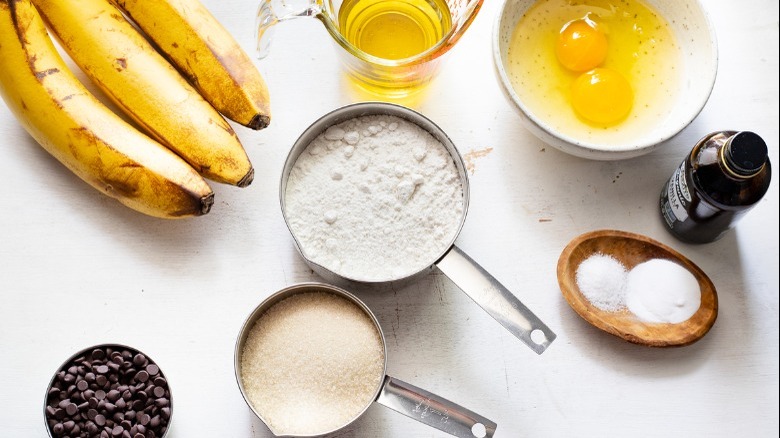 Sher Castellano/Mashed
Good banana bread starts with good ingredients. For this recipe, you'll need pantry staples like flour (you can either use all-purpose or a 1-to-1 gluten-free substitute, depending on your preference and dietary needs), salt, sugar, eggs, baking soda, vanilla extract, and olive oil. "Using olive oil instead of butter makes this recipe totally dairy-free," Castellano explains. "And I think the nutty [flavor] of the olive oil lends perfectly to a baked good that is used to having nuts in it."
And of course, you'll also need chocolate chips (semi-sweet, to be exact) and a few ripe bananas. As for equipment, you should have a standard loaf pan at the ready.
Mash the fruit and start the batter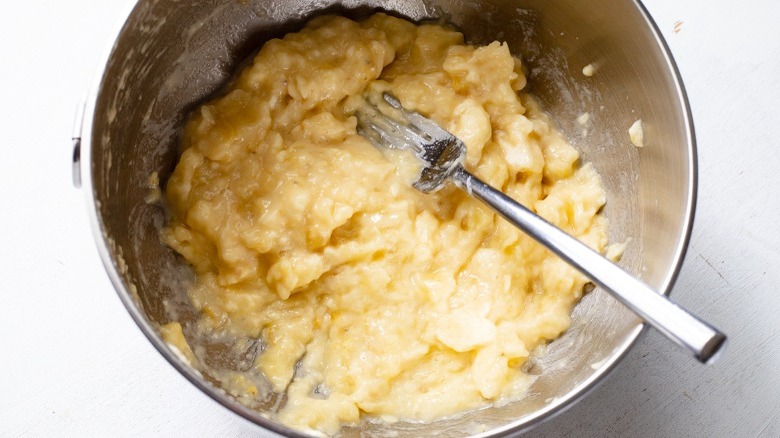 Sher Castellano/Mashed
Start by preheating your oven to 350 F and placing parchment paper in your loaf pan, which will prevent the bread from sticking and make it easier to remove once it's done. Peel the bananas and put them in a big bowl, then mash them up with a fork. The riper the bananas, the softer and easier to mash they'll be. Once the fruit is more or less puréed (some small chunks are fine), stir in the eggs, oil, and vanilla. After that, sift in your dry ingredients. Lastly, once your batter is combined, fold in the chocolate chips.
Bake the banana bread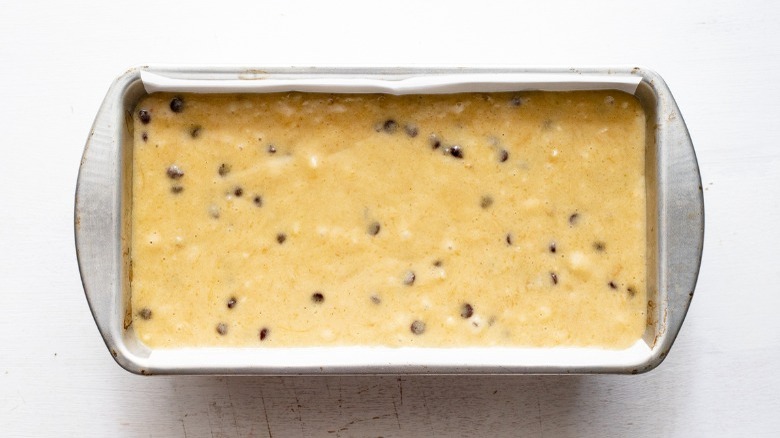 Sher Castellano/Mashed
Pour the finished batter into your loaf pan and pop it in the preheated oven. Rotate the pan halfway through the baking time; Castellano says this helps the bread bake more evenly. Bonus: You also get a sneak preview of that heavenly banana bread aroma.
It's time for some banana bread!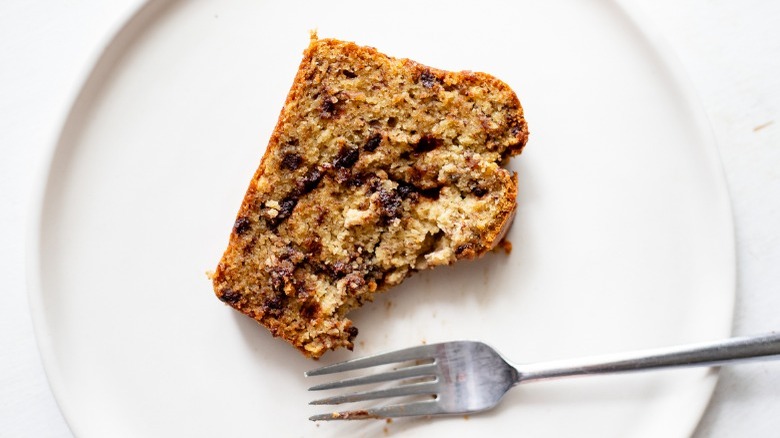 Sher Castellano/Mashed
Once your loaf is fully baked, take it out and let it cool. Yes, it'll be tempting to eat it straight away, but the wait will be worth it. Once it's cool, take the chocolate chip banana bread out, slice it up, and enjoy.
"This would be delicious served with coffee or tea, or with vanilla ice cream or whipped cream for dessert," Castellano says. If you're not planning on using up the whole loaf in one sitting, that won't be an issue. "I like to store my [banana bread] in an airtight container on the counter for up to 3 days. You can also freeze this loaf," she adds. That way, you'll always have delicious homemade banana bread available — even on days you don't feel like baking.
Chocolate Chip Banana Bread Recipe
What's better than banana bread? How about chocolate chip banana bread, and only one bowl to clean? Here's how to make this all-time classic baked good.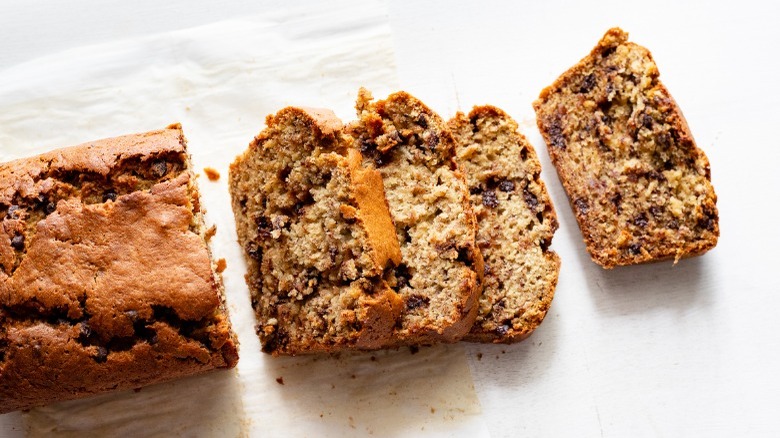 Ingredients
3 medium-sized, ripe bananas
2 eggs
½ cup olive oil
1 teaspoon vanilla extract
1 ½ cups all-purpose flour
1 teaspoon baking soda
½ teaspoon fine sea salt
⅔ cup cane sugar
½ cup mini semi-sweet chocolate chips
Directions
Preheat the oven to 350 F and line a loaf pan (approximately 9x5-inch) with parchment paper.
In a large mixing bowl, mash the bananas with a fork until it forms a purée. Then whisk in the eggs, oil, and vanilla extract.
Sift the flour, baking soda, and salt into the wet mixture, then add the sugar. Mix until well combined.
Gently fold in the chocolate chips.
Pour the batter into the prepared loaf pan and bake for 1 hour, rotating the pan halfway through. To check for doneness, insert a toothpick in the center of the loaf; if it comes out clean, the loaf is ready.
Allow the bread to cool completely in the pan before removing and slicing.
Serve while warm or at room temperature; leftovers will keep in an airtight container for up to 3 days. The loaf can also be wrapped tightly and frozen.
Nutrition
| | |
| --- | --- |
| Calories per Serving | 359 |
| Total Fat | 18.1 g |
| Saturated Fat | 4.2 g |
| Trans Fat | 0.0 g |
| Cholesterol | 40.0 mg |
| | |
| --- | --- |
| Total Carbohydrates | 46.9 g |
| Dietary Fiber | 2.4 g |
| Total Sugars | 23.2 g |
| Sodium | 269.6 mg |
| Protein | 4.7 g |