We Tried Burger King's New Cheesy Breakfast Melt. Here's How It Went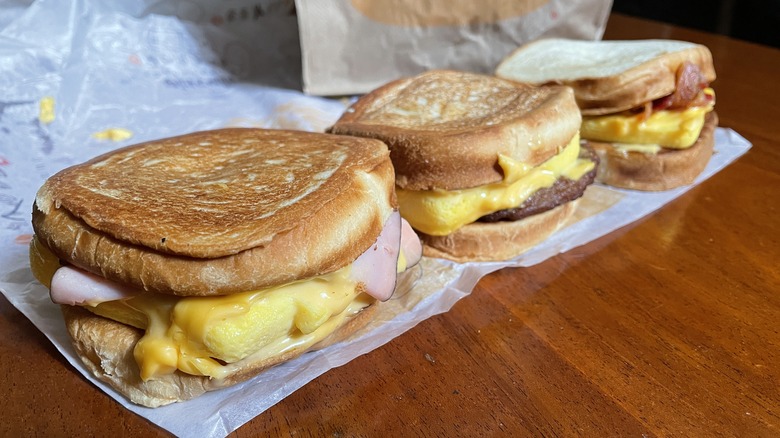 Jenny Kellerhals/Mashed
Never ones to turn down anything cheesy, we were excited to finally get our hands on the new Cheesy Breakfast Melts from Burger King. Launched mid-May, the three breakfast sandwiches are now offered at the top of the breakfast menu. The fast-food giant is known for coming up with creative new menu options, but some of its more recent breakfast items haven't exactly stood the test of time.
In 2010 the company launched the Breakfast Muffin sandwich, a typical breakfast sandwich on an English muffin created to compete directly with McDonald's egg McMuffin. Meanwhile, the BK Breakfast Bowl was launched at the same time and consisted of scrambled eggs, roasted potatoes, grilled onions and peppers, sausage, cheese, and a smoky cheese sauce (via South Florida Business Journal). Both have since been eliminated from the menu, along with the Enormous Omelet Sandwich which was only on the menu for part of 2005 before being retired. The Croissan'wich and biscuit sandwiches on the current menu are the only breakfast items that have stood the test of time, holding on to their spots since being introduced in 1983.
To make sure we got the full experience, we decided to order the new Cheesy Breakfast Melts with all three meat options: bacon, sausage, and ham. We took a look at the ingredients, nutrition, price, availability, and even how it compares to other breakfast options on the menu so you know what you're getting yourself into. Here's what we found.
What ingredients are in the Cheesy Breakfast Melts?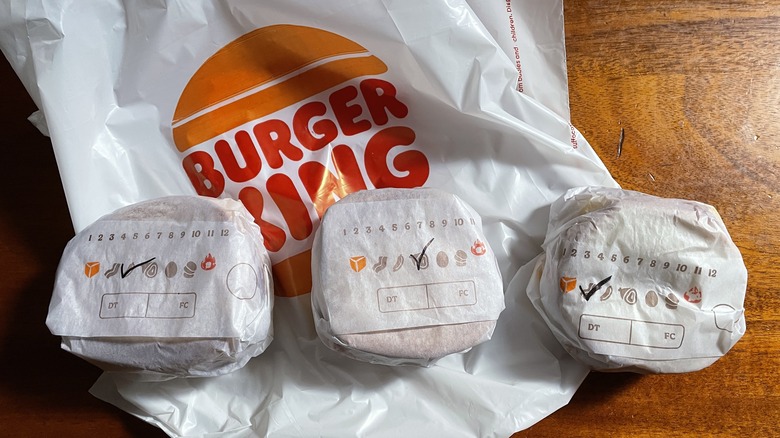 Jenny Kellerhals/Mashed
Each of the Cheesy Breakfast Melts is constructed with four primary components: an egg patty, two slices of American cheese, and breakfast meat (bacon, ham, or sausage), all sandwiched between two slices of lightly toasted white bread. While it's safe to assume the bacon and ham are made from pork, the sausage is a little more ambiguous. Unfortunately, specific ingredients aren't listed on the Burger King website, so it's a bit unclear. However, since most breakfast sausages are made of pork unless otherwise specified, we're assuming these sausage patties are too.
The egg patty is amusingly square-shaped and is a uniform yellow color, which suggests the eggs were completely scrambled before cooking. This is a noticeable difference from competitors like McDonald's, whose breakfast sandwiches showcase eggs that appear to be simply cracked on the griddle without blending the yolk and whites first. 
Our Cheesy Breakfast Melts came with packages of ketchup, which we didn't use but encourage those who like that sort of combination to slather on liberally. One of our tasters lamented the fact that the breakfast sandwiches didn't come with hot sauce. If you're into having extra sauce on your breakfast sandwich, Burger King does offer BBQ, Honey Mustard, Ranch, Zesty, Buffalo, and Sweet & Sour sauces, although you'll have to ask for them separately.
How does it score nutritionally?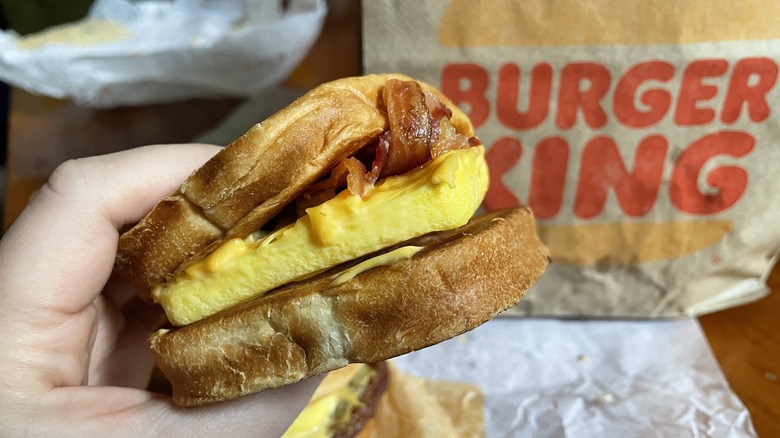 Jenny Kellerhals/Mashed
These breakfast sandwiches are a little smaller than a typical cheeseburger, and unless you're an expert calorie counter it can be difficult to gauge what the total might be simply by looking at them. Conveniently, the Burger King website lists the calorie counts for each sandwich so consumers are informed. The Sausage Cheesy Breakfast Melt is 544 calories, the ham version comes in at 407 calories, and the bacon sandwich totals 409 calories. Given your dietary needs, it's completely possible that one of these sandwiches is appropriate for your breakfast quota.
With that said, there are other nutritional considerations you might want to note. The sodium content in these sandwiches ranges from around 1,750mg to just under 2,000mg — which is a bit much, considering the CDC recommended daily sodium intake is 2,300mg. Depending on your personal health needs, you may not want to consume more than 200 to 300mg of cholesterol a day (via University of California San Francisco). That being said, the cholesterol count for these sandwiches ranges from 234 to 261mg, which may be an entire day's worth for many people. 
These sandwiches are likely a little too high in fat and carbohydrates for people following specialized diets that restrict these nutrients. On the upside, each sandwich supplies a reasonable amount of protein, ranging from 19 to 24 grams per serving. Many experts recommend eating a protein-dense breakfast for a strong start to the day, so count that as a nutritional win.
How much does a cheesy breakfast melt cost?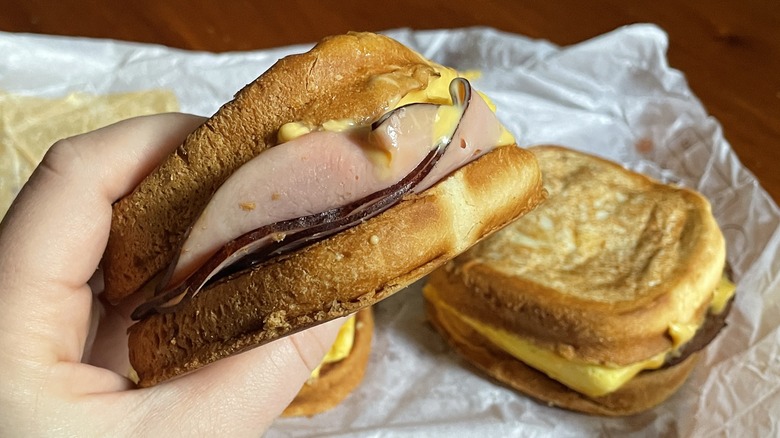 Jenny Kellerhals/Mashed
When we looked at the price of a Cheesy Breakfast Melt on the Burger King website for our local restaurant in Queens, NYC, they were listed at $3.99 each. But, when we ordered the sandwiches through the Seamless food delivery service, we were charged $3.89 per sandwich. The 10-cent difference may have been due to extra delivery fees added directly on the Burger King website, but that's just a guess. 
We also dropped zip codes into the Burger King website and Seamless app for Boca Raton, FL (33432), Omaha, NE (68117), and Los Angeles, CA (90017) to see if prices were any different. The Boca Raton location lists the sandwiches on Seamless for $5.44 each, similar to the Omaha location which charges $5.39 each on the app. In LA the sandwiches cost $5.49 each if ordered directly from the Burger King website, which leads us to believe that we got quite a deal with our sandwiches at $3.89. Clearly, the price of a Cheesy Breakfast Melt varies widely by location.
Before the sandwiches launched, Chew Boom estimated that the Cheesy Breakfast Melts would cost $2.99. While that may be true in some locations, it wasn't the case in any of the ones we investigated. Later, Fansided reported that the suggested menu price was $3.49 per sandwich, which is more in line with what we experienced.
Where can you find the cheesy treat?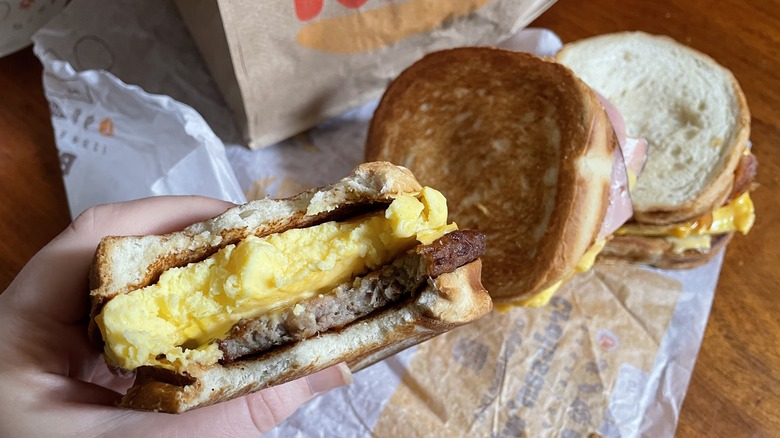 Jenny Kellerhals/Mashed
It appears that the Cheesy Breakfast Melts have been released nationwide, so just about any location in the U.S. should sell them. Since they're still pretty new, it may take a little longer for some locations to receive all of the ingredients, or there may be supply chain issues while the launch gets underway. But ultimately, you should be able to find them at any Burger King location that serves breakfast.
With that in mind, Burger King only makes breakfast until 10:30 a.m., and most locations follow that cutoff time very strictly. It's not personal though — the reason for the strict changeover has to do with the grills used to cook the food. The cooking temperatures for breakfast items and burgers are different, so once the temperature is changed to start grilling Whoppers, there's no going back to breakfast sandwiches (until tomorrow morning). Most locations open at 6 a.m., but you might come across those that open later or start serving breakfast earlier if they're open 24 hours. Delivery schedules may be different than restaurant operating hours, so you'll have to check with your local Burger King location for specific breakfast details.
What else does Burger King serve for breakfast?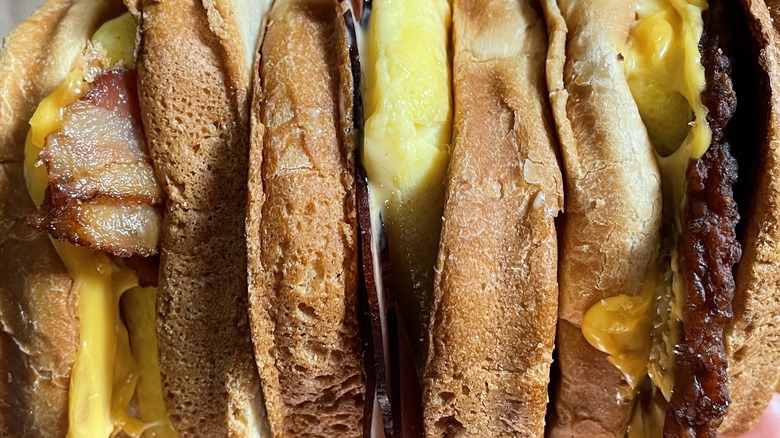 Jenny Kellerhals/Mashed
The Burger King website lists two other types of breakfast sandwiches, including the Croissan'wich and a biscuit sandwich. Both sandwiches are available with your choice of sausage, bacon, or ham, as well as eggs and cheese. You can also choose only egg and cheese, and the biscuit is available just with sausage. Additionally, the Croissan'wich is available with double the meat, or try the fully loaded biscuit if you're feeling especially hungry.
Other breakfast items include the Egg-Normous Burrito and a smaller Breakfast Burrito Jr. if you're appetite isn't as big. The popular French Toast Sticks served with maple syrup for dipping are still on the menu, or you could order a pancake and sausage platter if you want to sit down and use a fork and knife. Some locations might still sell the French Toast Sandwich, which includes egg, cheese, and meat fillings sandwiched between two slices of French toast. Hash browns and pancakes are available as breakfast sides nearly everywhere.
Amidst the classics, Burger King is getting awfully creative with its breakfast menu. In the works is a vegetarian version of the Croissan'wich made with Impossible plant-based meat, aptly called the Impossible Croissan'wich. There's also talk of a Crispy Chicken Toasted Breakfast Sandwich, made on toasted white bread like the Cheesy Breakfast Melts, but stuffed with a crispy breaded chicken filet with a smoky maple glaze. These options are limited release and not available at all locations.
Verdict: Cheesy and easy to eat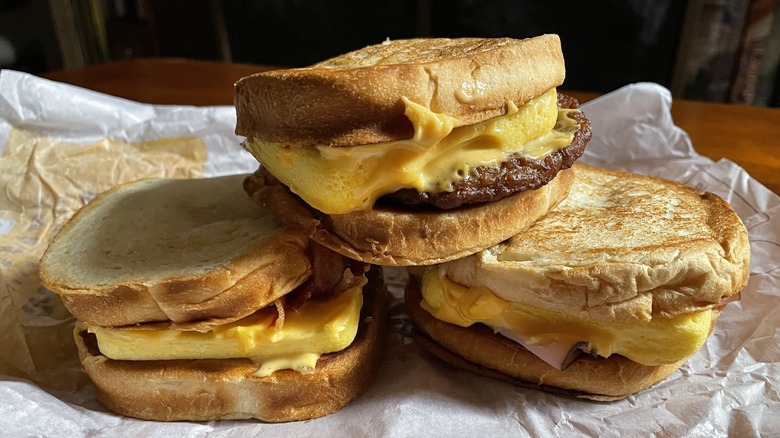 Jenny Kellerhals/Mashed
The word cheesy is right there in the name, so that was our biggest concern when trying these sandwiches. Luckily, we weren't disappointed. The sandwiches are relatively small, so the two pieces of American cheese manage to be plenty for the format.
Our testers were surprised about which meat options turned out to be their favorites. The ham sandwich came out on top, having the perfect ratio of meat to the rest of the sandwich. The ham was reasonably tender and looked like it had been ever-so-slightly grilled — a nice touch to heat it up and add a little more flavor. The bacon version took second place because of its smoky flavor, but everyone wished there was another piece of bacon. Finally, the sausage version was a little underwhelming. As far as breakfast sausages go, this one just didn't have a lot going on.
The square egg patty is funny to look at but tastes fine. It's fluffy and thick enough to hold its own in the sandwich — but to be honest, all fast food eggs are a little weird. They taste best when enjoyed fresh off the grill.
The lightly toasted white bread holding it all together has a nice golden brown color, but the texture is sort of missing the toasty crunch we were expecting. It's delicately sweet, but not as sweet as the French toast sandwich bread. Ultimately, it's an acceptable vehicle for transporting the cheesy breakfast sandwich goodness within.