Burger King Is Testing 3 New Breakfast Sandwiches. Here's What We Know So Far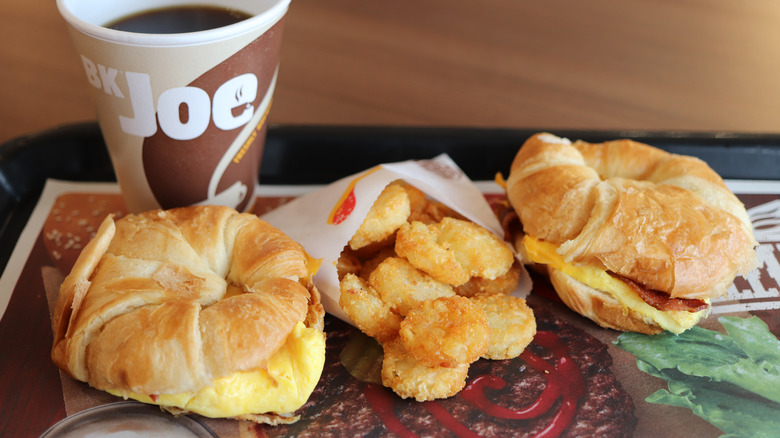 Deutschlandreform/Shutterstock
Fans of Burger King's morning offerings may soon have a new favorite portable breakfast, thanks to some extra toasty items hitting menus soon. According to Food Beast, the burger chain recently announced a brand-new lineup of tasty breakfast sandwiches being tested at a small handful of locations beginning on January 13 for a limited time only.
The new "Toasted" breakfast sandwiches come sandwiched between two golden brown slices of toasted bread. Two of the latest additions to the company's menu are classic breakfast flavor combinations: the Ham & Cheese Toasted Breakfast Sandwich, complete with melted American cheese and ham, and a Cheesy Sausage & Egg sandwich, which is topped with a sausage patty, fried egg, and American cheese.
The third new sandwich is a meatier Crispy Chicken Toasted Breakfast Sandwich. It has a crispy chicken fillet and smoky maple glaze, and represents Burger King's latest entry into the fast food fried chicken sandwich wars.
The chain also announced a trio of new Whopper sandwiches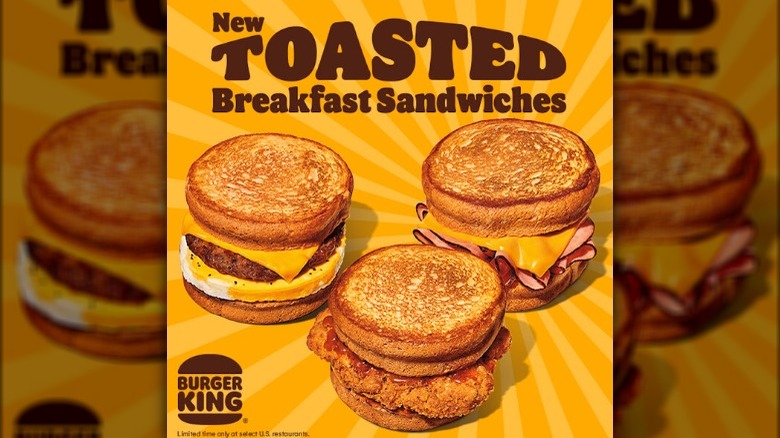 Burger King
In addition to these latest offerings, Burger King recently expanded its breakfast menu to include more vegan-friendly fare. In June, the chain released a buzzy new vegetarian breakfast sandwich made with a plant-based patty from Impossible Foods, which previously teamed up with the fast food juggernaut to make a meat-free variety of their famed Whopper.
For Burger King customers who prefer eating later in the day, the company also announced they are now testing three new Whopper sandwiches that'll all be served on the same toasted bread as the breakfast options — but you can only get them at select locations in Toledo, Ohio.
While it's unknown how well the new sandwiches will hold up against current popular BK morning items, like the Ham, Egg, and Cheese Croissan'Wich — our readers' favorite Burger King breakfast item — the tasty trio may hit menus nationwide soon depending on how the test audience responds. Currently, Burger King's Toasted Breakfast sandwiches are only available at select restaurant locations in Buffalo, New York, for a limited time.