Duff Goldman 'Just Can't' With His Daughter In An Adorable Pic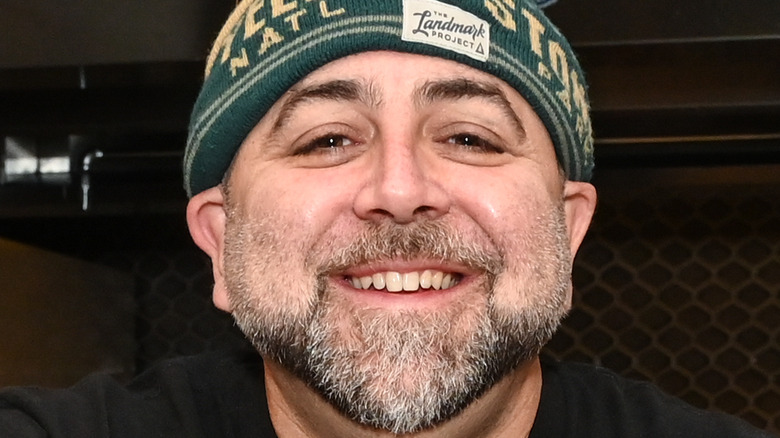 Daniel Zuchnik/Getty Images
When it comes to filming television shows or movies, actors will often have to leave behind their families for weeks or even months at a time until shooting is complete. However, for Duff Goldman, work has become a family affair. The baker, who People reports lives in Topanga, California with his wife, Johnna, and their daughter, Josephine, is in the midst of filming the next installment of Food Network's "Baking Championship" series in Knoxville, Tennessee, but instead of leaving his loved ones on the West Coast, he's brought the two leading ladies in his life along for the ride.
The trio appears to be getting in plenty of family time between the chef's work schedule and seems to be especially enjoying exploring the great outdoors during their downtime. And just like any doting husband and father, Goldman has posted a number of sweet photos to Instagram of his little clan during their extended stay in the Volunteer State, including one aww-worthy snap of him and his young daughter that fans are still swooning over three days after it was shared on Friday, June 3. The post featured a zoomed-in selfie of an orange sunglasses-sporting Goldman, who was carrying a sleeping Josephine on his back in a baby hiking backpack. "LOOK AT THAT FACE! I just can't with this kid," he captioned the snap. Based on the comments section, many of his followers are feeling the same way.
Duff Goldman's fans 'just can't' with this sweet photo, either
Duff Goldman has been melting hearts on Instagram with photos of his one-year-old daughter, Josephine, ever since he and his wife, Johnna, welcomed her to the world in January 2021, and the latest addition to the collection is no different. Taking to his account last week, the baker shared an adorable photo of a daddy-daughter moment captured during what appeared to be a family hike in Knoxville, Tennessee that fans of the "Ace of Taste" host have been gushing over since it made its internet debut. "OMG!! THE CUTENESS!!!" one follower commented. "Nothing more beautiful and angelic than a sleeping baby!" quipped another fan, while a third went as far as calling the photo "complete perfection!!!!"
Several followers commented on how much baby Josephine looked like her father in the adorable photo, including one Instagram user who wrote, "It's like you looking in the mirror." Others, meanwhile couldn't help but comment on the youngster's tiny baby teeth — or "teefers," as Goldman's wife called them in her comment — that could be seen in her gaping mouth as she napped. "Those little Teeth!!! Too much!!!!" wrote one Instagrammer. "It's the tooth gap for me," added another fan. We're sure it's the tooth gap and everything else for most of the baker's followers, who we're willing to bet are just counting down the minutes until another sweet shot of Goldman and baby Josephine shows up on their Instagram feeds.