How Ayesha Curry's 9-Year-Old Nearly Brought Her To Tears With Food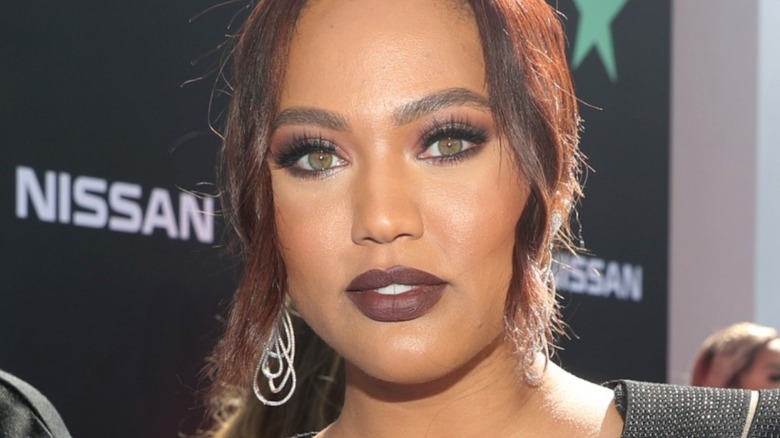 Johnny Nunez/Getty
In 2011, Steph and Ayesha Curry got married, and the couple has since welcomed three children: Canon, Ryan, and Riley. While Steph kills it on the basketball court, being celebrated by many for his sportsmanlike feats — one Boston restaurant even celebrated Steph's basketball record in a unique way — Ayesha spends her time on a pursuit more relatable to the everyday person: cooking. While she is not quite on par with the Anthony Bourdains of the world in renown just yet — in a Mashed poll, 29% said their favorite celebrity cookbook was one of Bourdain's — her cooking and cookbook have both earned quite the acclaim.
For Ayesha, one of the most important things about cooking is the familial aspect the activity promotes. As she said in an interview with Parade, "It's the perfect setting to build a great family foundation and relationship." And she puts her money where her mouth is by regularly cooking with her kids and husband. So it's not surprising that at least one of the Curry children in particular is taking mom's lessons to heart. Recently, their daughter, Riley, took to the kitchen on her own, working so diligently on a meal for the family that Ayesha was nearly brought to tears.
Riley Curry is a baller in the kitchen
Basketball season can undoubtedly be a stressful time around the house when you live with an NBA star — especially in the kitchen. But the Curry kids are always willing to help "chop something or prep something," making meal prep easier on her as the resident chef. As seen in a YouTube video uploaded to the 9MagTV account, Riley is a regular helper in the kitchen, and she has a pretty good idea of how mom, Ayesha Curry, operates. Plus, she's ready to grow her skills by not only helping her in the kitchen but also taking on some of the cooking responsibilities herself and graduating from sous chef to head chef.
In a People exclusive, Ayesha dished about her daughter's skills, noting "she can throw down in the kitchen already" and detailing a recent meal Riley made for the family. At the beginning of May, Riley made "a chicken piccata with mashed potatoes and honey-roasted carrots," a dish her mother was quick to note she had no hand in helping with, telling People, "I was so proud I could cry." 
And this was not just a case of a proud but biased mom as even fans on Instagram commented in approval and awe, with one saying, "It looks AMAZING," and another mentioning how impressed they are with Riley's comfort in the kitchen. Who else is shedding a proud tear?