Easy Jell-O Shot Recipe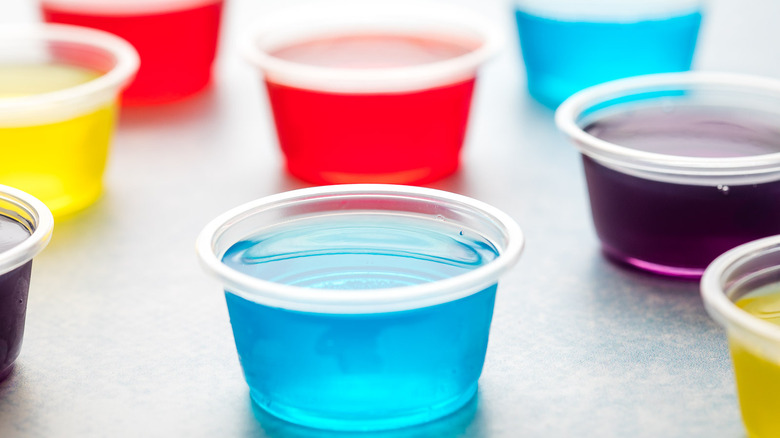 Molly Pisula/Mashed
Party drinks are always a recipe for fun, but party shots really take things to another level. That's especially true when it comes to Jell-O shots — colorful, wobbly, and misleadingly easy to ingest. Recipe developer Molly Pisula from Vanilla Bean Cuisine has created a quick and simple recipe for these flashy rainbow shots that you can whip up in 5 minutes. Keep in mind that you'll need to set aside a few hours for them to set (they are made with Jell-O after all). 
The great part about these celebratory shots is that you can get creative with different colors and even garnishes. As Pisula points out, "Everyone smiles when you bring out a tray of multicolored Jell-O shots!" Whether you are planning a blue-themed event or want to show off an array of hues, Jell-O shots are the answer. That being said, you'll enjoy the party far more if you consume them in moderation. Know your limits and be sure to share!
Gather the ingredients for this easy Jell-O shot recipe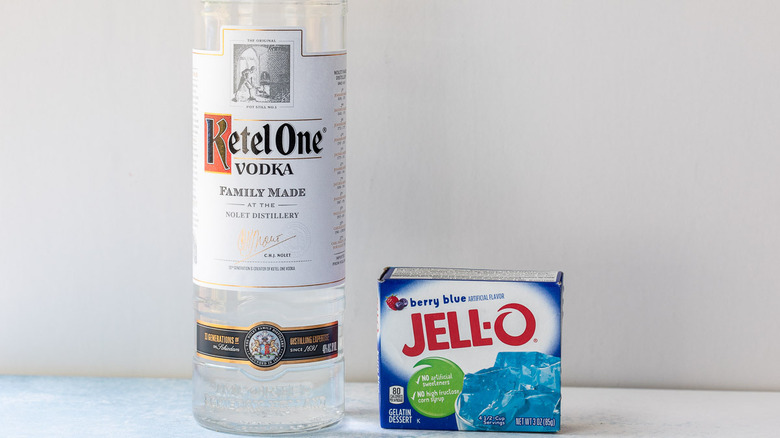 Molly Pisula/Mashed
These fun shots require very few ingredients: ½ a cup of vodka, one 3-ounce packet of Jell-O, and 1 ½ cups of water. There's plenty of room to experiment though, starting with the Jell-O flavors. Pisula recommends making an assortment of colors, but consider the taste as well. She shares, "My personal favorite flavor is grape, though I do love the blue raspberry as well!"
As for the liquor, Pisula explains, "If you don't want to taste the alcohol, vodka is the best choice since it won't add much flavor to the Jell-O." However, she suggests trying white rum, wine, and tequila, or even opting for flavored vodka like vanilla, berry, or coconut to add a twist. If you want to take these shots up a notch, she says that increasing the vodka amount to ⅔ of a cup works, but more will get in the way of the Jell-O properly setting.
Boil the water and combine it with the powder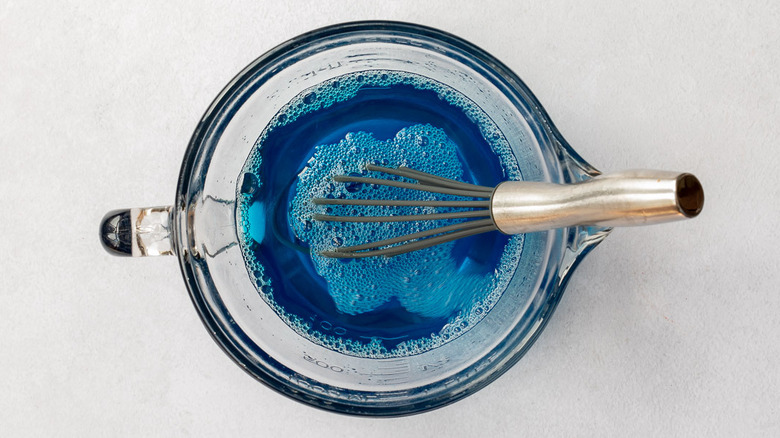 Molly Pisula/Mashed
Start by measuring out 1 cup of water and boiling it in the microwave for around 3 minutes. (You can boil it on the stovetop too, but Pisula opts for this quick hack to simplify the process.) She does, however, warn to double-check that the cup is heat-resistant and adds, "I like to use a thick glass measuring cup." This makes it easy to mix everything together directly, and the spout facilitates transferring the shots into each serving cup. Alternatively, if you have a mixing bowl with a spout, you can pour the boiling water into it.
Next, empty the powdered Jell-O mix into the boiling water. Using a whisk, mix the contents for about 1 minute to properly dissolve the Jell-O. 
Add the vodka and more water, then portion out the shots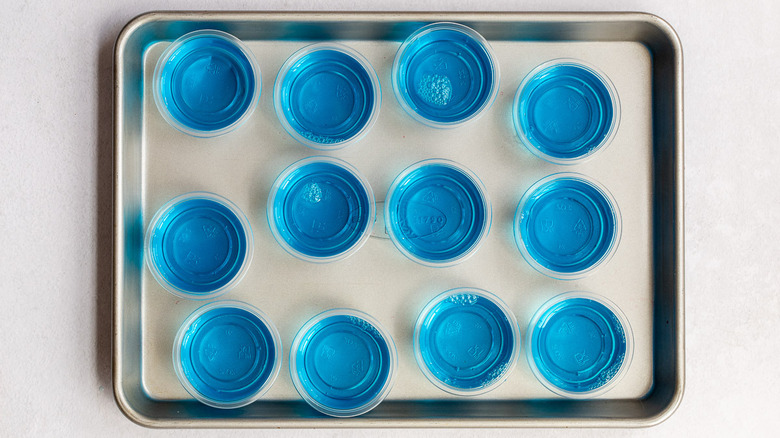 Molly Pisula/Mashed
You've made the Jell-O, now it's time to add some vodka. Whisk ½ a cup of liquor into the mix as well as ½ a cup of cold water. You'll need a dozen 2-ounce shot glasses (small plastic cups work fine) to distribute the concoction. Pisula recommends to "put [the] plastic cups onto a baking sheet before filling them, so you can move them into the fridge easily." One by one, carefully pour the mixture into each cup (here's where the spout comes in handy). 
Pisula notes, "Some people suggest spraying the cups with nonstick spray to make the Jell-O shots easier to remove, but I find that it doesn't make much of a difference." If you can skip an extra step, why not?
Let the shots set in the refrigerator, then serve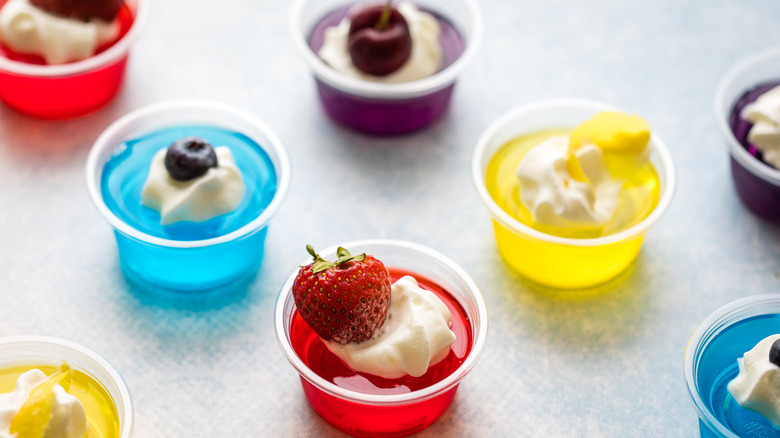 Molly Pisula/Mashed
Transfer the baking sheet into the refrigerator for two hours, or until the shots have set. Patience is key and Pisula warns, "Don't be tempted to put [them] in the freezer to set more quickly — it won't work and will just create an unappealing slushy texture and a frozen film across the top."
Once they're ready, she suggests to "get fancy by topping with whipped cream and berries or other garnishes." Use a spoon to scoop the shots into your mouth and enjoy! If there are any shots left sitting around after two hours, be sure to refrigerate them as they will start to soften. If you have any extras or want to make these ahead of time, Pisula says that they can be stored in the fridge for around a week. 
Easy Jell-O Shot Recipe
Get the party started with these fun and easy Jell-O shots.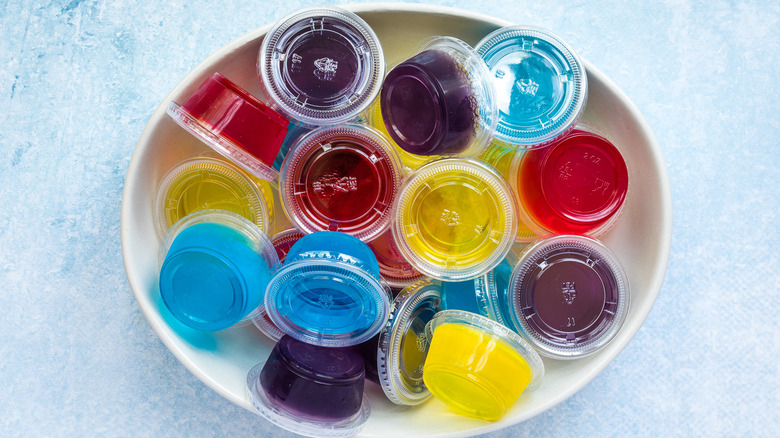 Ingredients
1 packet Jell-O
½ cup vodka
1 ½ cups water, divided
Optional Ingredients
whipped cream, for garnish
berries, for garnish
Directions
Bring 1 cup of water to a boil for about 3 minutes in the microwave in a glass heatproof measuring cup.
Add the contents of the Jell-O packet to the boiling water.
Whisk for about 1 minute, until the Jell-O powder dissolves.
Whisk in the vodka and ½ cup of cold water.
Pour the mixture into 2-ounce cups.
Chill the shots in the refrigerator for about 2 hours, until they have set.
Garnish with whipped cream or berries, if desired.
Nutrition
| | |
| --- | --- |
| Calories per Serving | 48 |
| Total Fat | 0.0 g |
| Saturated Fat | 0.0 g |
| Trans Fat | 0.0 |
| Cholesterol | 0.0 mg |
| | |
| --- | --- |
| Total Carbohydrates | 6.4 g |
| Dietary Fiber | 0.0 g |
| Total Sugars | 6.1 g |
| Sodium | 34.3 mg |
| Protein | 0.6 g |