Tangy Ponzu Sauce Recipe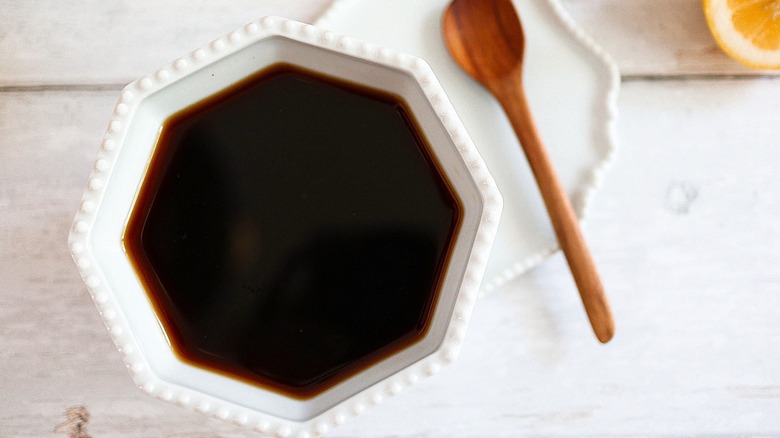 Cecilia Ryu/Mashed
Ponzu is a Japanese sauce that's become quite popular around the world in recent years, and it is now widely available on store shelves in America and beyond. Still, it's always fun to try your hand at making your own condiments if you can find the necessary ingredients. Should you not be familiar with ponzu already, recipe developer Cecilia Ryu describes it as "a Japanese citrus and soy-based dipping sauce."
While Ryu admits that ponzu's meant to be made with yuzu, a specific citrus commonly used in Japan and Korea, she realizes this fruit isn't always easy to find in other parts of the world. Her workaround? "I feel that Meyer lemons have a very similar fragrance to yuzu," she explains. You could also use a half-and-half mixture of lemon and mandarin orange juices; a combo of lemon and lime juices also makes a great yuzu substitute.
Whatever you use, once you have your citrusy base, you're just a few steps away from a delicious dipping sauce!
Track down your tangy ponzu sauce ingredients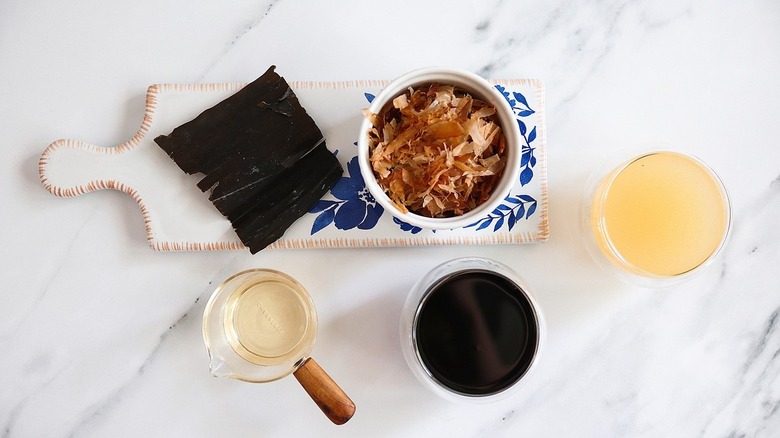 Cecilia Ryu/Mashed
In order to make this ponzu sauce, you will need the aforementioned fresh juice (or juice combo) as well as soy sauce and mirin. You'll also need kombu (dried kelp) and katsuobushi (made of dried bonito flakes). These may not be available in a many grocery stores in America, but if you live near an Asian grocery that carries Japanese products, you might try there. If not, you can certainly buy these products online. They'll add great umami to all sorts of dishes.
Combine the ingredients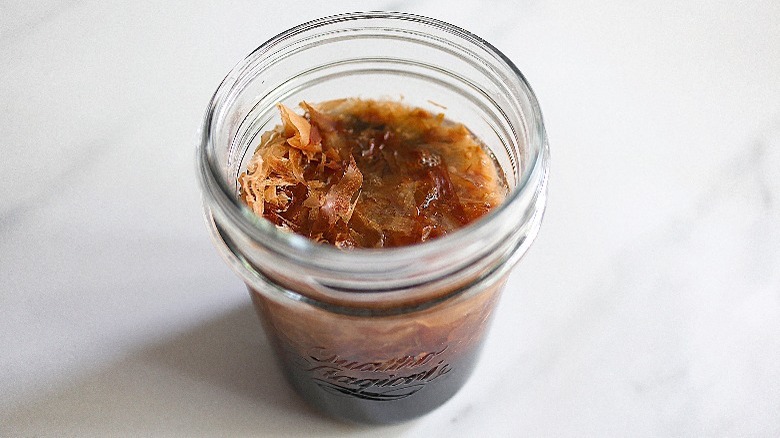 Cecilia Ryu/Mashed
Mix all of the ingredients (but reserve a couple tablespoons of the citrus juice) in a jar or container. Cover it, then let the mixture sit for 5 to 10 minutes. Don't leave the sauce for longer than that, though. "Katsuobushi has a very strong, sometimes overpowering flavor, so I would not recommend soaking for too long," Ryu explains.
Strain the sauce and add extra juice
Cecilia Ryu/Mashed
As a final step in preparing the sauce, run it through a fine mesh strainer to remove the kombu and katsuobushi. Stir in the remaining juice, then your ponzu's good to go. Ryu does say, though, that "the tartness of the sauce can be adjusted to taste [by] simply add[ing] more Meyer lemon juice." For a sweeter sauce, you can also add some mandarin orange juice.
Use your ponzu as a dip or marinade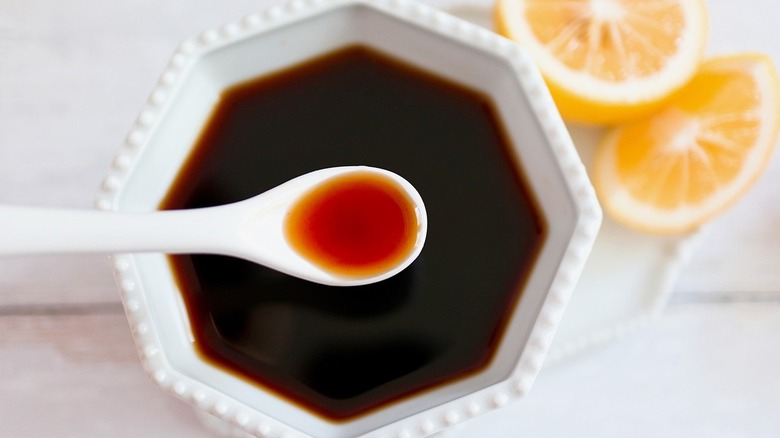 Cecilia Ryu/Mashed
So now you have your ponzu; how do you plan to use it? Ryu tells us, "I always serve ponzu sauce as a dipping sauce for meat, especially when eating shabu shabu." She mentions that it also makes a good dip for dumplings and sashimi.
That's not all you can do with ponzu, though. It makes a great marinade or sauce ingredient, and can be used just about anywhere you'd use soy sauce. You've got plenty of time to think of great ways to use it, though, as it's not the type of thing that's going to spoil anytime soon. Ryu suggests that it should be okay in the fridge for a month, as long as it's covered.
Tangy Ponzu Sauce Recipe
Ponzu has everything: it's salty, it's tangy, and it's sweet. It makes a great condiment for sushi, dumplings, and more. Learn how to make your own version.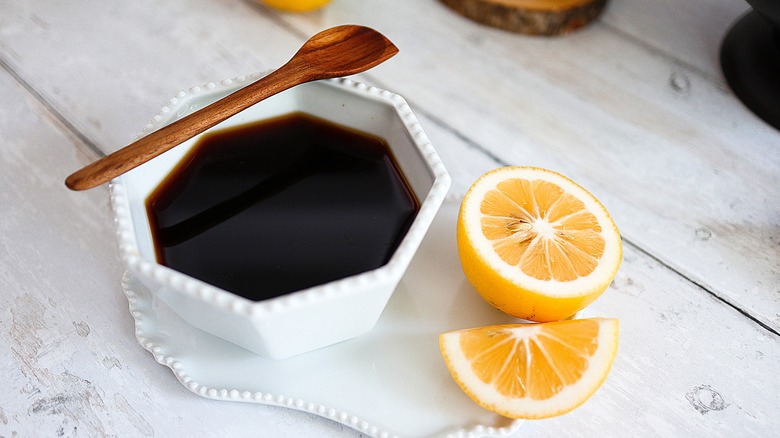 Ingredients
½ cup soy sauce
⅓ cup mirin
3-inch square piece of kombu
¼ cup bonito flakes (katsuobushi)
½ cup plus 2 tablespoons fresh Meyer lemon juice (about 5 lemons in all), divided
Directions
Combine all of the ingredients except for 2 tablespoons of lemon juice in a jar or container.
Cover the mixture and let it sit at room temperature for 5 to 10 minutes.
Strain the mixture; discard the kombu and bonito.
Stir the remaining lemon juice into the sauce.
Ponzu sauce can be stored in a covered container in the refrigerator.
Nutrition
| | |
| --- | --- |
| Calories per Serving | 113 |
| Total Fat | 0.8 g |
| Saturated Fat | 0.2 g |
| Trans Fat | 0.0 |
| Cholesterol | 0.3 mg |
| | |
| --- | --- |
| Total Carbohydrates | 12.0 g |
| Dietary Fiber | 2.5 g |
| Total Sugars | 2.0 g |
| Sodium | 3,566.8 mg |
| Protein | 6.9 g |