Aldi Just Released A Summer-Ready Boozy Cold Treat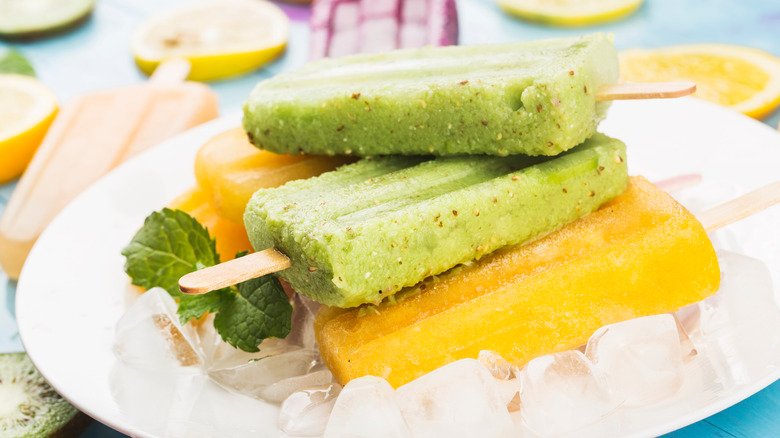 yuda chen/Shutterstock
There are a few things that get us through the scorching and sweaty summer days. When you are a kid, popsicles are the secret ingredient that helps you beat the heat. Unlike a heavier ice cream alternative, popsicles are frozen snacks that practically double as a refreshing beverage — what more could you want? Whether you are loading up your freezer with real-fruit popsicles or sweet and savory ice pops, these icy snacks are guaranteed to keep children cool and content all summer long. As for the adults? After the end of a long hard day, sometimes you want something with a little kick. More often than not, it's hard to top a summer cocktail. From frozen mojitos to frozen honeydew margaritas, there are so many frozen cocktails you should be making this summer.
What popsicles are to kids, frozen cocktails are to grown-ups. But what if you could have both rolled into one? Aldi just released a cold and boozy treat that may appeal to adults who have an affinity for this nostalgic childhood snack (via Instagram).
Aldi's Daily Poptails come in three fruity flavors
It may have been a while since you picked up a Popsicle. Maybe it's because you've outgrown this nostalgic summertime treat, or maybe it's because most popsicles are missing something that appeals to your more adult palate. If you identify with the latter, this simple ingredient will take your store-bought popsicles to the next level.
Aldi's latest summer treats also possess a more mature ingredient: alcohol. Dubbed Daily's Poptails, these alcohol-infused freezer pops are naturally flavored wine products. User @adventuresinaldi shared a picture of this recent find on their Instagram. This particular box of Daily's Poptails is a variety pack with three different flavors included: Strawberry, Green Apple, and Watermelon. 12 pops are included in each box for a total of $15.99.
Even if you haven't heard of boozy popsicles before, it's not the first time a product like this has been created and there are many popular alcoholic popsicles.