This Simple Ingredient Will Take Your Store-Bought Popsicles To The Next Level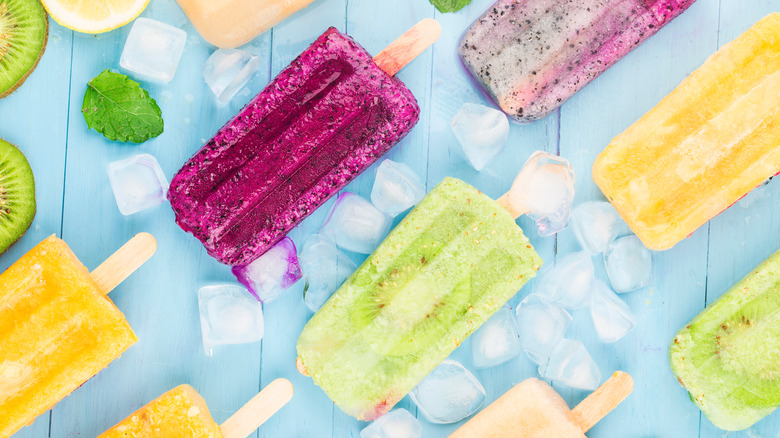 Shutterstock
Nothing screams summer like popsicles. Don't get us wrong. We love ice cream, but on those days when the sun is beating down and you are sitting by the pool, an icy cold popsicle from the freezer makes everything better. According to Fill Your Plate, we have Frank Epperson to thank for this frozen creation. As the story goes, an 11-year-old Epperson left a cup of soda on the porch one night and, when he went outside the next morning, it had frozen around a stirring stick. Epperson was quite the entrepreneur. He purposefully made a batch of his ice pops and sold them to his classmates. Popsicles quickly became a "thing" and the young man patented his treat in 1923. Today, more than 2 billion of these refreshing frozen anytime desserts are sold each year.
And whether you are a fan of the traditional Popsicle brand and can't get enough of the cherry flavor or love the Jell-O Pudding Pops from your youth, there are plenty of store-bought popsicles to satisfy your need for a cool treat. But, if you want to take your store-bought popsicles to the next level, Lifehacker is spilling the tea on the trending "it" ingredient that will do just that. And the great news about this ingredient is that you probably already have everything you need for it in your spice cabinet.
Chili salt is a popsicle game changer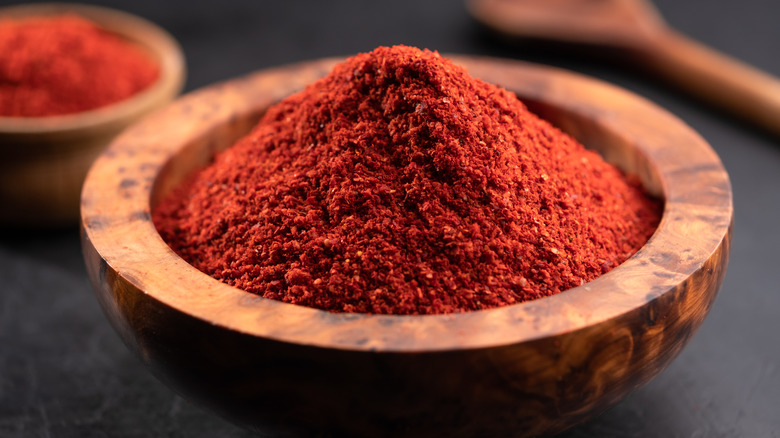 Shutterstock
Lifehacker shares that the brand Outshine has produced a mango popsicle covered lightly in a "mixture of chili powder, salt, and crystallized lime" called tajin or chili salt. The sweet taste of the juicy popsicle against the salty, fiery powder, and the sweet, but tart lime creates a fiesta of fireworks for your taste buds that makes you want to truly savor your frozen treat. As the site points out, adding tajin to fruit is not a new practice. If you are from the West Coast, you know it as both commonplace and oh so delicious. 
The crimson powder mixture is the savory addition that your popsicles are calling for, and don't worry if you can't find the Outshine pops or the tajin in your local store. Lifehacker notes that you can make this salty, fiesta-inspired concoction yourself, and encourages popsicle lovers to experiment to find just the right blend to create your DIY tajin. With the vast number of flavors of popsicles out there — pineapple, mango, strawberry, and watermelon, just to name a few — there are plenty of opportunities to customize this spicy mix to perfectly fit your popsicle preference. So, the next time you pickup some popsicles, make certain you have all the ingredients you need to make your own chili salt, too.