How Del Monte Slipped Into A New Guinness World Record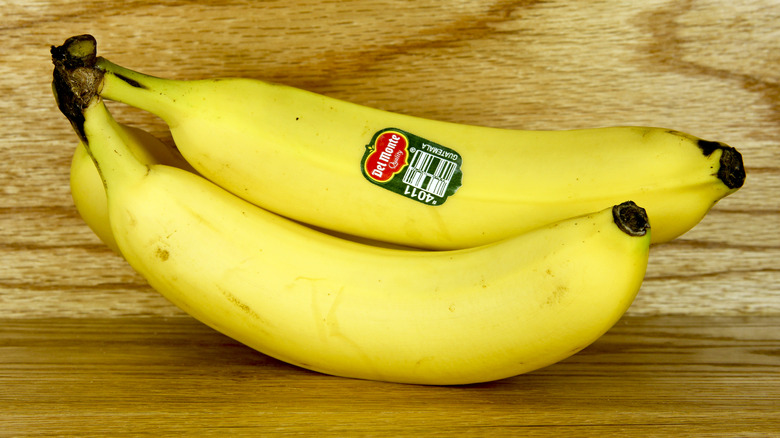 dcwcreations/Shutterstock
When it was announced that Del Monte had recently secured a Guinness World Record, curious minds couldn't help but wonder what mammoth fruit-and-veggie feat the produce giant had managed to accomplish. After all, there are some pretty remarkable "personal bests" just waiting to be beaten, including a bunch of Guinness World Records you probably didn't know existed, and a surprising number of them involve freshly-grown foods. 
In October 2021, a man from Australia broke the Guinness World Record for the "Most Types of Fruit on a Single Tree" after he grafted five different types — "plums, apricots, almonds, peaches, and cherries" — to his tree. This past February, a farmer in Israel grew the world's heaviest strawberry, which weighed in at a whopping 10.19 ounces (via Food & Wine). Back in 2014, a gardener from Niagara Falls, Canada managed to nurture a record-breaking zucchini to just over 8 feet, 3 inches in length. And in December 2021, a British man consumed 132 blueberries in a mere 60 seconds.
Considering the company deals with a plethora of canned fruits and vegetables, fruit juices, ketchup, fruit cups, and fresh items like bananas, melons, and pineapples, it's impossible to guess what record Del Monte managed to conquer. Thankfully, it's no secret.
This record involved over 77,000 pounds of bananas
It took three full days to construct and involved 211,200 bananas, but Del Monte and its retail partner, Jewel-Osco, broke the Guinness World Record for the "World's Largest Fruit Display," Food & Wine reports. Yup, 77,365 pounds of the yellow fruit were stacked outside a grocery store in Westmont, Illinois. This display kicked the previous record's butt, which was set in Louisiana in January of this year. That effort involved 40,013 pounds of oranges and lemons and was secured by Sunkist and Rouses Markets, per Guinness. 
So what do you do once you have a giant wall of bananas sitting on asphalt? According to Produce Blue Book, you give them away to anyone who'll take them, including customers, attendees, and the local food bank. Many of these lucky recipients likely went home and whipped up some tasty banana recipes. But why choose bananas in the first place? Jewel-Osco's produce sales manager told Food & Wine that they have over 140,000 bananas on hand every day and that they're "easily our top selling item." 
That's a whole lot of bananas. "Banana." That's a funny word, isn't it? Well, whether it propels you into your best Minion impression, makes you belt out a Gwen Stefani song, or gives you a hankering for a banana split, one thing remains true. The next time someone breaks the record for the "world's largest fruit display," it's going to involve a heck of a lot of fruit.