Hershey's Is Launching A New Dairy-Free Chocolate Bar
The Hershey Company has been around for approximately 128 years. Established in 1894, this iconic chocolate brand has helped the United States see itself through the Great Depression and two world wars. It's a go-to candy for Valentine's Day. In fact, per Time, America loves Hershey's Kiss flavors so much, that these bite-size pieces of chocolate are woven into the fabric of our favorite holiday where Cupid is the star. Statista shares that, in 2021, Hershey made $8.97 billion and is considered one of the largest chocolate makers in North America. The company has definitely proven its longevity and staying power.
Over the years, it has launched and acquired its fair share of chocolate bars and candy, including cult favorite Reese's peanut butter cups, York Peppermint Patties, and the 5th Avenue Candy Bar. Hershey is definitely a force in the confectionery industry, which is why it is notable that, per Food Dive, this sweets company with a giant footprint is joining competitors like Lindt, which switched out dairy for oat milk, in pursuit of a chocolate bar suitable for those who cannot eat dairy products.
The demand for plant based foods is growing, and Hershey's is on it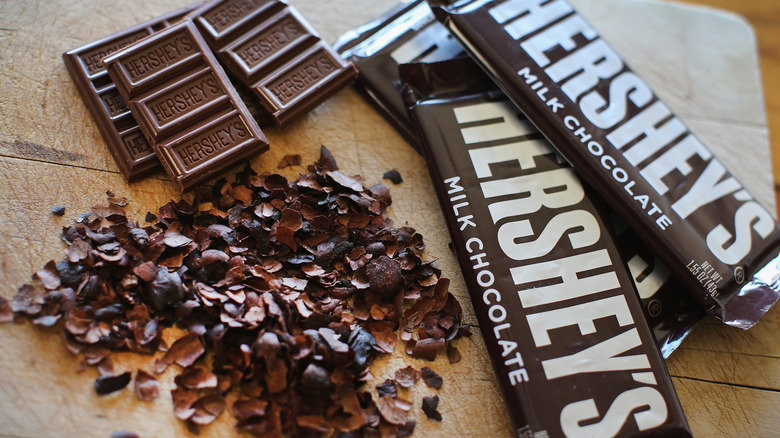 Scott Olson/Getty Images
Food Dive reports that Hershey's just filed a patent application for a non-dairy chocolate bar, and also revealed that roasted grain flour is the ingredient that will be used in place of milk protein to create a chocolate that is dairy-free. While the company notes in its patent that most dairy-free chocolates — which use "solids derived from nuts and oil seeds" — tend to have a "waxy" mouthfeel, Food Dive goes on to explain that the special grain flour does a better job of mimicking traditional milk chocolate.
That Hershey's sees reason to expand its vegan chocolate lineup is exciting news for dairy-free sweets lovers. Of course, if you are a student of the "if it ain't broke, don't fix it" philosophy, this change might be less exciting for you. However, with the plant-based industry raking in an eye-popping $7.4 billion in 2021, per the Plant Based Food Association, and more than 79 million households in the U.S. purchasing plant-based food products, it is clearly a market with a lot of delicious potential.
This isn't Hershey's first foray into dairy-free chocolate. Food Dive notes the candy company launched an Oat Made chocolate bar last year. Both the dark bar and the creamy almond and sea salt bar were well received, per The Impulsive Buy.