Instagram Is Raining Hearts On Duff Goldman's Special Message To His 'Sweet Muffin'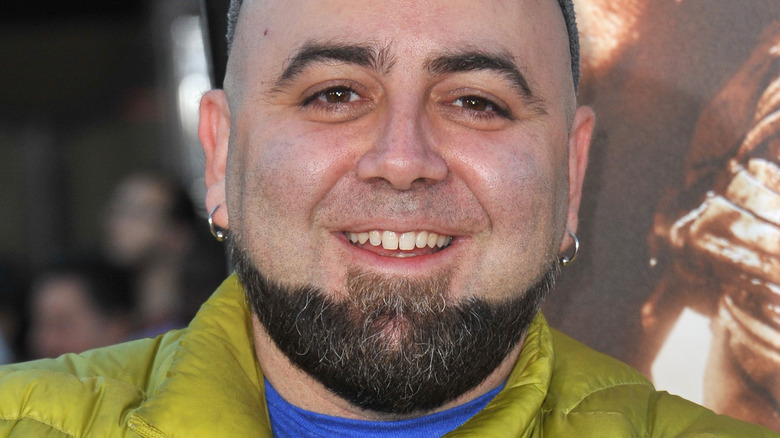 Featureflash Photo Agency/Shutterstock
On the list of things you probably didn't know about Goldman, it might surprise you to learn that his culinary skills aren't limited to all things cake. During an appearance on WGN Radio, the former "Ace of Cakes" star revealed that since becoming a dad, he has liked o make food at home for his family and that his wife, Johnna, is "his muse." He even shared that during one episode of his new show, "Ace of Taste" – where he cooks up "hearty" and "family-friendly" meals, per Food Network - he made all of his wife's favorite recipes. Goldman is truly a family man, devoted to his better half and their baby girl, Josephine.
And he isn't afraid to express his feelings. During an interview with People, Goldman couldn't help but allow his affection for his spouse to spill over, saying, "My wife and I are just insanely in love. We're crazy about each other. We're always together. Even before the pandemic, we were just always together." Too cute, right? Well, now, Goldman has taken to Instagram to celebrate the mother of his child, and IGers are raining hearts on the truly sweet message he posted to his "sweet muffin."
Goldman wished his 'sweet muffin' a happy birthday
Duff Goldman posted a throwback photo on his social media of Johnna holding their baby and captioned the picture with these loving words: "Happy birthday sweet muffin. You're the best mommy and wife we could ever hope for." Instagrammers have given the post more than 13,600 likes and echoed Goldman's sentiment with their own celebratory wishes. One follower warmly wrote, "This is such a beautiful picture of such a beautiful soul. Happy Birthday to a wonderful lady...mama..wife and friend i hope your day is everything you deserve and then some." Agreed.
Josephine's cute little smile was the icing on the muffin. Perhaps that's why one fan exclaimed, "Happy Birthday, Johnna! (Adorably priceless photo!)." Nancy Fuller - the Food Network "grandma" whose pic with Goldman's daughter melted Twitter - also had something sweet to say: "Oh Sweetpea ...how I miss you." The loved-up couple is raising their little family in Topanga Canyon, California, according to People, and recently celebrated their third wedding anniversary. One of the keys to their relationship is silliness. Goldman told People, "We're really goofy with each other, and now the baby's really goofy, too." All we have to say is, Duff Goldman, please don't change.