Twitter Melts As Duff Goldman's Daughter Appears In Adorable Photo With Food Network 'Grandma'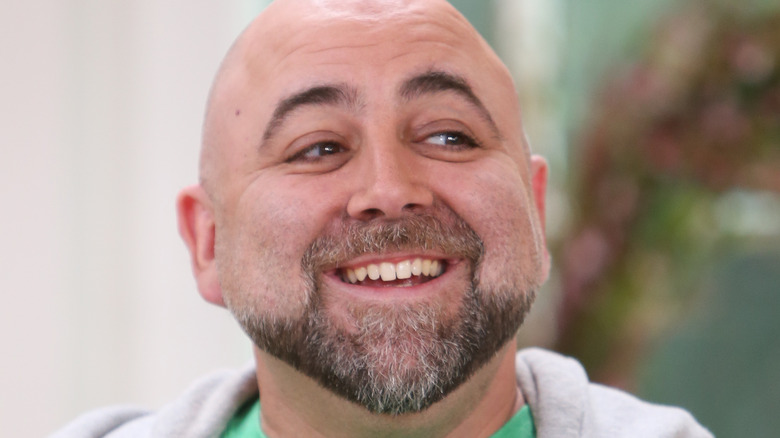 Paul Archuleta/Getty Images
Celebrity cake maker Duff Goldman may have laned of the sweetest gigs around designing cakes for his Charm City cake shop and working for Food Network, but that's not the title that has the former "Ace of Cakes" star kvelling. Per Today, the cake master and his wife welcomed their child in January of this year, and the proud papa cannot seem to share enough about how happy he is or how much he loves his baby girl.
Goldman took to Instagram to announce baby Goldman's birth back in February writing, "I have no words to describe this blessing. @johnnapgoldman and I made a baby! Her name is Josephine and she is the most beautiful thing I've ever seen in the whole world."
But Goldman's sweet post did not end there. He continued with praise for his wife, "Some friends have told me that the love I'll experience when looking at my daughter will be different than anything I've ever experienced and they were totally right. My muffin was amazing and I am in awe of how strong and natural and intuitive she is. She's a natural mom no doubt. We made a family! I have a whole little family!"
Clearly, the onetime graffiti artist who makes his cakes in reverse is smitten with his baby girl. And this girl-dad's latest tweet has Twitter melting.
Duff Goldman called Nancy Fuller grandma
Nancy Fuller, who has worked alongside Goldman on Food Network's "The Holiday Baking Championship" has been posting pictures of herself holding baby Josephine who apparently visited the set while they filmed. Fuller is also quite taken with Goldman's new addition. In one tweet, Fuller posted a photo of her holding the baby with one arm and holding a tube of lip gloss in her hand with the caption: "I'm teaching Duffs baby all about makeup! She's so perfect! Auntie Nancy [heart emoji] @duffgoldman."
But it's Fuller's latest tweet that has us melting. The host of "Farmhouse Rules" shared the cutest photo of her forehead pressed lightly against baby Josephine's and on Josephine's sweet cheek is a lipstick mark from Fuller kissing her. Fuller tweeted, "Josephine's first lipstick and my favorite moment on set of #holidaybakingchampionship." But it's Goldman's response that has everyone awing and one person calling the picture "too precious." Goldman retweeted the post, writing, "Josephine [heart emoji]'s grandma Nancy @nancyfullerco."
The Twitterverse quickly responded to this moment with one fan writing, "This is the sweetest picture I have seen in a long time. Also, so looking forward to the holidays now." While another tweeted, "Awww so cute!!!!!!!!! I love it!" We are definitely feeling those vibes too.