Here's What Carrie Underwood Eats Before Her Shows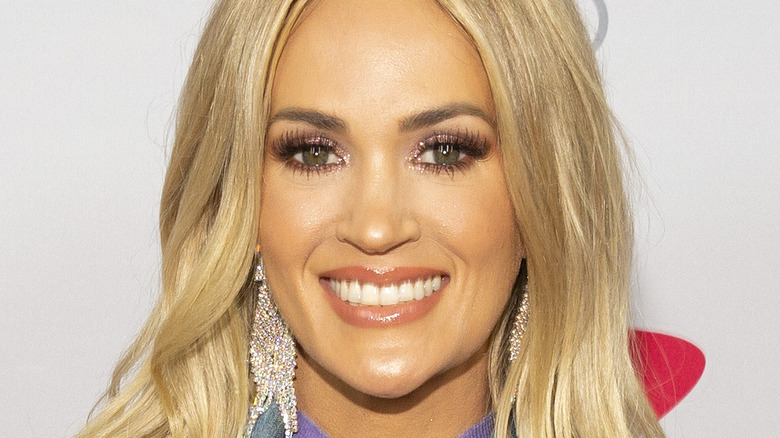 Barry Brecheisen/Getty Images
Carrie Underwood, a mom and widely celebrated, Grammy-winning country singer, is known for being a fitness enthusiast with her own line of workout apparel. Fans may wonder how she manages to stay energized for concerts and gym sessions amid her huge workload, and one of the main explanations is her relationship with food.
Underwood has shared that she pays close attention to what she eats — she told Self in 2012 that she eats "95% vegan" out of concern for where her food is sourced and "how clean it is." These days, the "American Idol" winner seems to be on a similar semi-vegan diet plan. Underwood is set to start her new Denim & Rhinestones Tour that will kick off in October in South Carolina, with the final leg scheduled for March of 2023 in Seattle (via Rolling Stone). As for what she'll be eating on the road? We already know which snack Carrie Underwood always keeps in her purse, but the singer has also revealed what she eats throughout the day before her shows.
Underwood prepares for concerts with veggies, beans, and eggs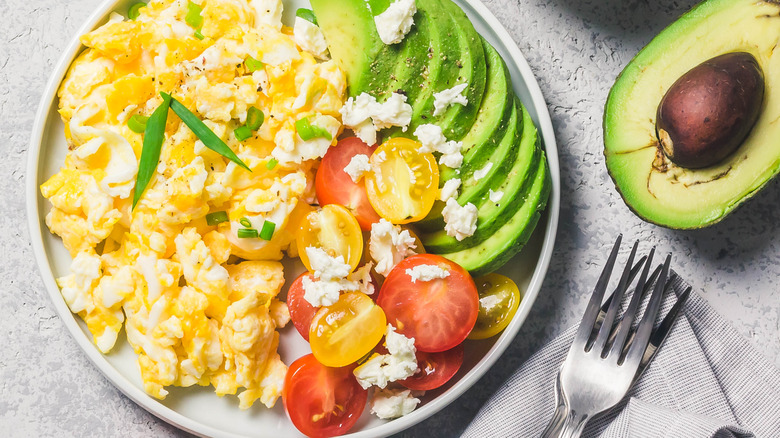 Irina Rostokina/Shutterstock
In the morning before a show, the country singer is a fan of breakfast bars made with raw ingredients like nut butter, she told Audacy Check In, and changes up her flavor choice based on her mood. Lunch is reserved for something plant-based, as well; Underwood said she dines on lupini beans; different types of vegetables; creamy, chickpea-based hummus, and Tuno, a fishless tuna imitation made of soy with yeast and sunflower oil.
Since Underwood's pre-show breakfast and lunch are made of plants, you might be wondering what composes the 5% of her non-vegan diet. The artist's Achilles' heel, it turns out, is a light dinner of scrambled eggs and half an avocado, which she says makes her feel fueled for a performance but not too full. As for the treat she might enjoy after shows or between tour dates, that might be cheese. Underwood told E! News that the creamy dairy product is her "vice" — perhaps not surprising since the glorious concoction made from milk contains casein, a protein that "releases casomorphins, which are plant compounds that trigger dopamine production in your brain," per Healthline. However, Underwood says that she enjoys cheesy foods in moderation, a practice that just might keep her motivated on her upcoming tour.