Maneet Chauhan's Strawberry Snack Has Everyone Licking The Plate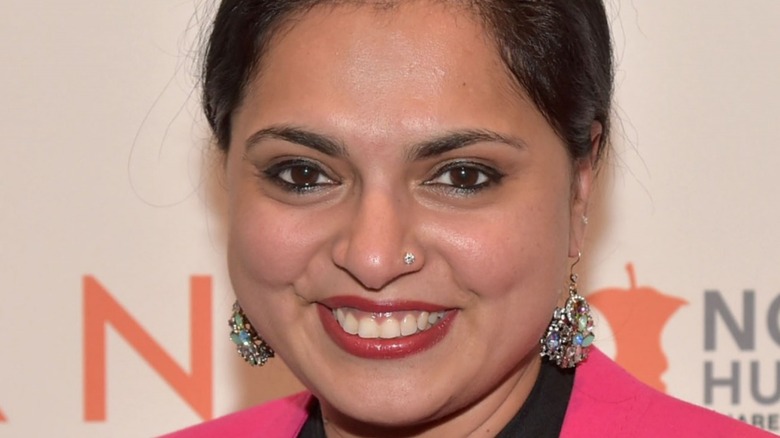 Theo Wargo/Getty Images
Maneet Chauhan knows how to transform some of our favorite seasonal foods into a snack that will have you licking your plates, fingers, and the crumbs from your mouth. The Indian American chef is a huge fan of one of her native country's street foods, known as chaat. Per Kitchn, "chaat" means "to lick," and while it is a word that is often used when discussing snack foods, Bon Appétit shares chaat is really so much more. The food site explains there are five elements to any food categorized as chaat: a carb, a sauce, something with a crunchy texture, some type of veggie, and the highly aromatic chaat masala spice blend.
In short, chaat is an anytime food that can be made with a variety of ingredients, as evidenced by Chauhan's riff on chaat shared by Yahoo. In her recipe, the Food Network star uses inspiration from Indian cuisine to make a snacky salad, consisting of seasonal ingredients that taste their best when warm weather fills the days. Instead of using a traditional carb as the foundation for her chaat, the celebrity chef utilizes a spiced-up rhubarb chutney to create a "sweet and savory" dish you just might want to be serving up at those backyard parties all summer long.
This Chauhan original chaat is colorful and tangy
Krichevtseva/Shutterstock
Chauhan's strawberry-rhubarb chaat, per Yahoo, incorporates a fiery five-spice blend for umami, plus the sweet goodness of brown sugar and the acidic complexity of ginger, chili powder, and vinegar to make the taste of the rhubarb chutney really pop. She then mixes fresh strawberries with mint, lime, and salt to go on top of the chutney. Finishing it off is some masala boondi, which Chauhan likens to a spiced "puffed chickpea cereal," for crunch. The vibe of the complete chaat captures both the colors and textures you might picture when you think of summer. 
The "Chopped" judge clarified to Yahoo that "you do not get strawberry-rhubarb chaat in India" — rather, this is her own twist on the snack. According to Saveur, Chauhan has some nostalgic feelings about chaat. The chef said, "Chaats are something I grew up with. They take me back to being young. They were street food and [our parents] wouldn't always want us eating them. But I was obsessed." If you find yourself craving Chauhan's strawberry-rhubarb chaat, you may also want to try her pineapple version made with fewer ingredients for an even speedier summer snack.