Easy Negroni Cocktail Recipe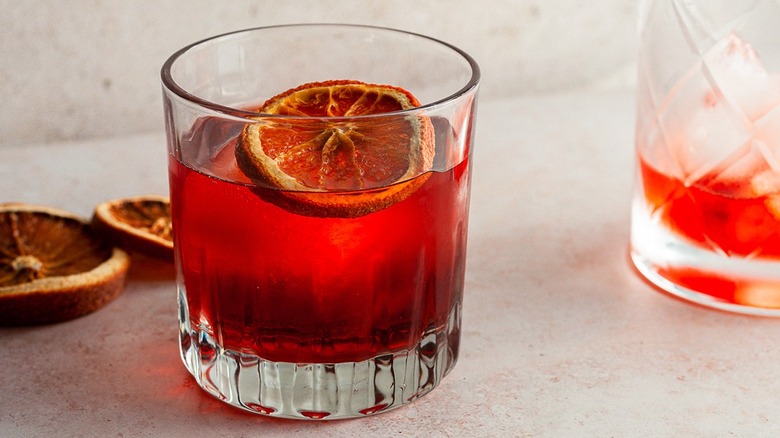 Christina Musgrave/Mashed
While the negroni has been around for quite a while now, this once-obscure Italian drink really only became popular in the U.S. in more recent years. An interesting development in light of the fact that, as recipe developer Christina Musgrave points out, "Negronis are very bitter." Prior to this point, many popular cocktails had a sweet (Cosmo) or sour (appletini) flavor profile, but hey, there's plenty of room to add a bitter one as a main contender, too!
Why, then, the sudden surge in popularity for the Negroni last decade? Vogue speculates that there are two factors contributing to its success. For one thing, its garnet hue looks stylish on Instagram. The second, and most likely main reason, however, may be that it's a part of the "all things bitter" trend that has people chugging IPAs, downing kale smoothies, and claiming to enjoy chocolate containing not a smidge of sugar. While many people undoubtedly do prefer bitter to sweet, others might see it as a kind of challenge. After all, just about anyone can enjoy a sweet, creamy white Russian, but it's not quite so easy to sip a bitter brew such as the negroni with a smile on your face. Should you be up for the task, Musgrave assures us "this is the classic Negroni recipe."
Assemble the ingredients for a classic negroni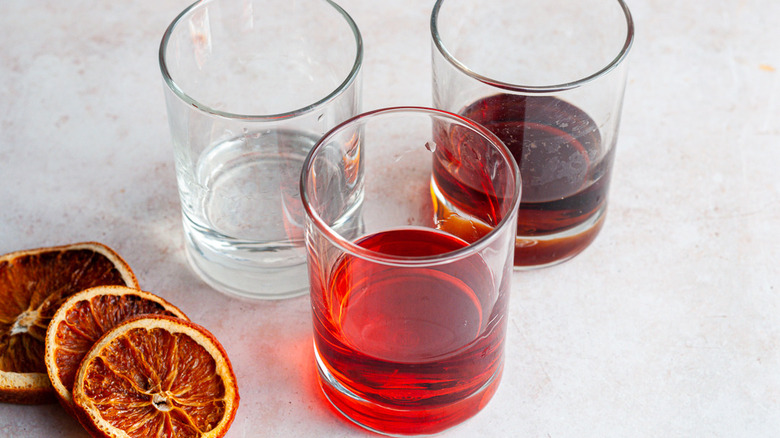 Christina Musgrave/Mashed
To make a negroni, you just need three ingredients: gin, Campari, and sweet vermouth. You'll also be using ice to chill the drink and you may want some kind of garnish, too (more on these below).
If you'd like to add your own spin to the negroni without changing it into another drink altogether, the best way to do this is by choosing a flavored gin. An orange gin to match the garnish would be nice, as would a lemon one, and even a pepper or ginger-flavored gin could work, as well.
Combine the ingredients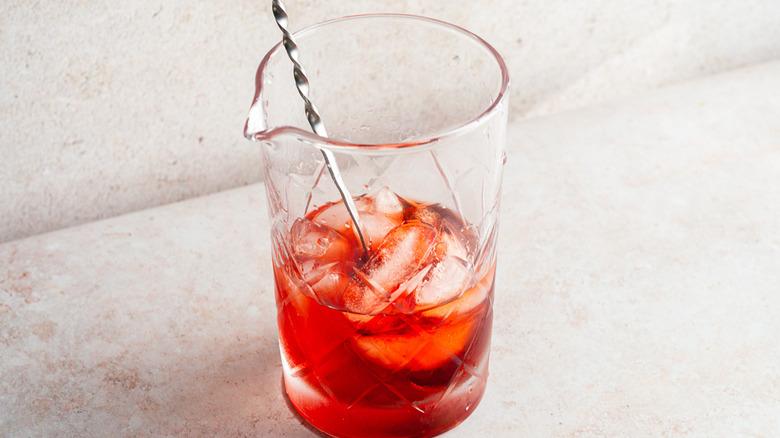 Christina Musgrave/Mashed
You will not need any special equipment to make the negroni, as standard kitchen tools will do just as well. Measure out equal parts of gin, campari, and vermouth into a glass, cup, jar, or what have you -– the type of vessel does not matter at this point. Don't worry if you have no jigger, as 2 tablespoons equals 1 ounce. Add a few ice cubes to the drink, then stir it all up.
Pour the drink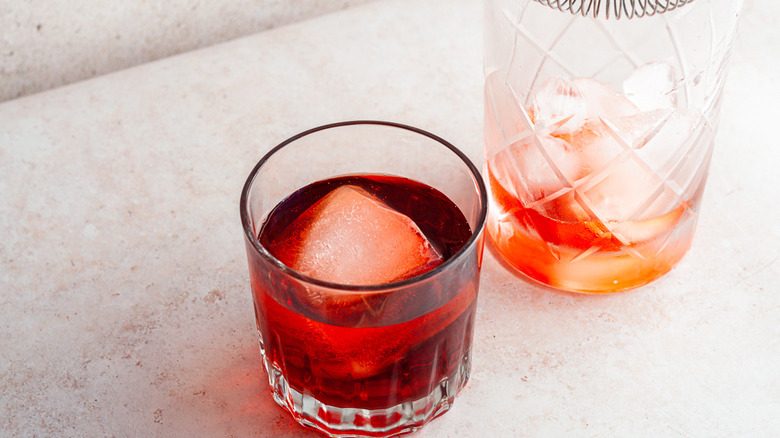 Christina Musgrave/Mashed
Strain the drink into a serving glass. Musgrave explains that "negronis are typically served in a rocks glass with ice," but says that if you prefer yours straight up, you could use a coupe glass. A martini glass would also work for an ice-free drink.
As for the strainer, if you've got a cocktail strainer, definitely use that — but just a simple kitchen strainer will get the job done here.
Garnish your negroni with something citrusy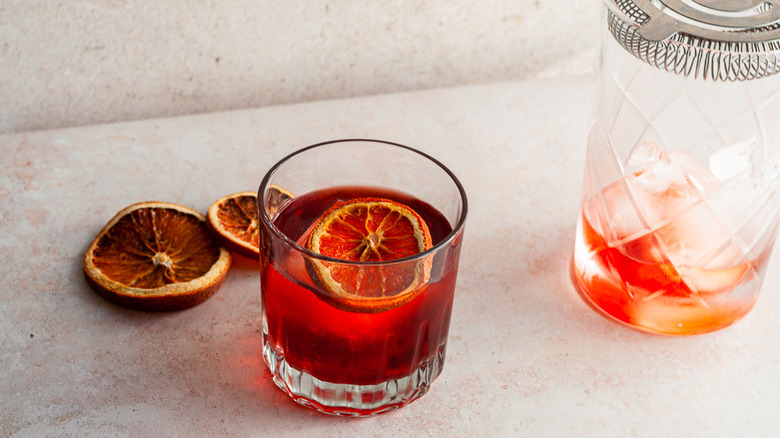 Christina Musgrave/Mashed
Musgrave likes to decorate her negroni with a dehydrated orange slice, a trendy garnish that will make the drink look especially good on Instagram. If you'd like to go for a cheaper, easier option, though, you can go with a classic fresh orange wheel instead. Musgrave also allows that "you could use an orange or lemon peel to garnish, as well."
Easy Negroni Cocktail Recipe
If you're a fan of a bitter cocktail, then you'll love this easy negroni recipe.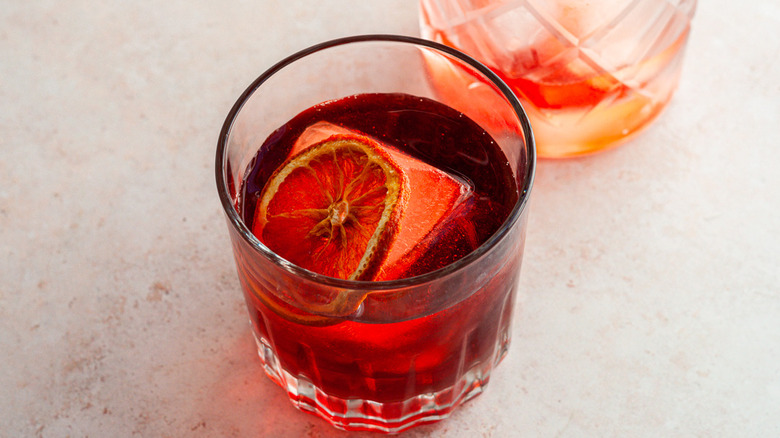 Ingredients
1 ounce gin
1 ounce Campari
1 ounce sweet vermouth
Optional Ingredients
1 dehydrated orange wheel, for garnish
Directions
Combine the gin, campari, and vermouth in a jar or glass, and stir together over ice.
Strain the negroni into a clean cocktail glass.
Garnish the cocktail with a fresh or dehydrated orange wheel, or a twist of peel.
Nutrition
| | |
| --- | --- |
| Calories per Serving | 163 |
| Total Fat | 0.0 g |
| Saturated Fat | 0.0 g |
| Trans Fat | 0.0 |
| Cholesterol | 0.0 mg |
| | |
| --- | --- |
| Total Carbohydrates | 0.8 g |
| Dietary Fiber | 0.0 g |
| Total Sugars | 0.2 g |
| Sodium | 2.3 mg |
| Protein | 0.0 g |