To Elevate Your Next Negroni, Try This Twist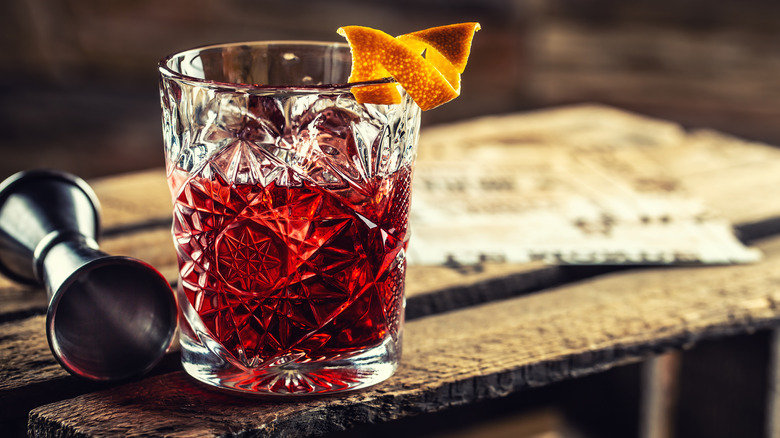 Marian Weyo/Shutterstock
In the world of mixology, negronis are having a moment. Made of equal parts gin, Campari, and sweet vermouth and garnished with an orange twist, the negroni is a bitter but balanced drink. However, the gin — usually a classic London Dry — is often overlooked as an opportunity to be creative with flavor. Infused or flavored gins can add specific, strong tasting notes to the drink while remaining true to the equal parts ratio. To celebrate Negroni Week (September 13-19), we're spotlighting some of the great gins out there that can enhance this classic cocktail.
The negroni's orange peel garnish adds a light orange essence. Why not develop that element by using an orange flavored gin? Tanquerey's Flor de Sevilla is made with the delicate essence of bittersweet Seville oranges and heightens the orange flavor in the negroni, and Whitley Neill's Blood Orange Gin, made with Sicilian blood oranges, adds a stronger orange flavor profile.
For another type of twist, try swapping out the orange for lemon. Use a lemon-flavored gin like Malfy's Gin con Limone or Sipsmith's Lemon Drizzle. Or for something completely different, the new Drumshanbo Gunpowder Irish Gin Sardinian Citrus is made with gunpowder tea and pompia (Citrus monstruosa), a large, rare fruit from Sardinia that's somewhere between an orange and a grapefruit (via Wiley Analytical Science Magazine).
There's a lot of opportunity to be creative
With so many flavored and infused gins on the market right now, the negroni possibilities are practically endless. For drinkers that like a little heat, Tamworth Distilling in New Hampshire produces their Emshika's Garden Thai Chili Gin, which would add a touch of sweet-hot spice. The Cathouse Pink Pepper Gin from All Points West brings a delicate pink peppercorn spiciness, and the hot pepper-infused Ginfuego by Lee Spirits has a more vegetal, somewhat smoky pepper flavor, according to The Gin Is In.
Not into extra citrus or spice? Consider the stone fruit. Damson plums, commonly grown in hedgerows in England, produce sweet-tart infused gins. The "tartly sweet and herbaceous" Garden Damson Gin from Tamworth Distilling would be a good balance against the bitterness of Campari. Alternatively, Spirit Works Distillery points out that their Sloe Gin — sloes being a relative of damsons — can even replace sweet vermouth.  
For something even more unexpected, use Lee Spirits' Cocoa Gin to make their Cocoa Negroni. While that may sound overly sweet, it's made with cacao nibs, which have a more bitter, nutty, and fruity flavor than chocolate does.
And if you don't feel like gin? Replace it with rye whiskey or bourbon for the first cousin cocktail of the negroni: the Boulevardier (via The Whiskey Advocate).