How To Pick Out A Hell's Kitchen Winner, According To Ariel Fox - Exclusive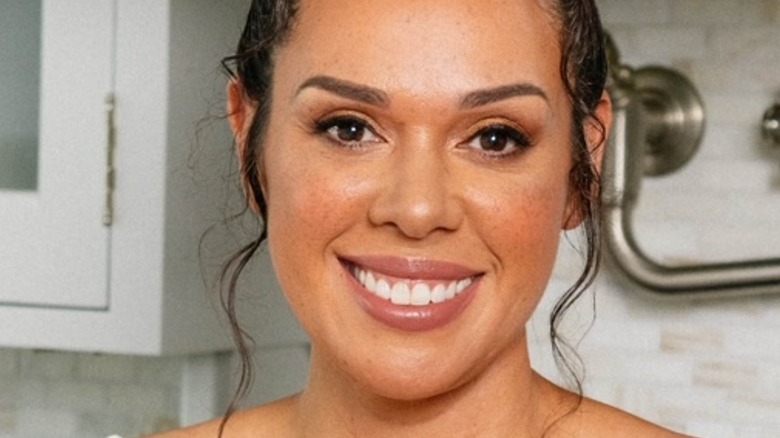 Ariel Fox
Two-time "Hell's Kitchen" survivor (and 2018 season champion) Ariel Fox may be a guest judge on "Beat Bobby Flay," however — as she exclusively dished to Mashed, she said, "I don't think I'm done with competing." This is an all-points bulletin directed at anybody who comes up against Fox in the future: Watch out. Fox is a challenge-seeker and has already aced the MasterClass on winning culinary competitions while competing on Gordon Ramsay's flagship show.
"I played it way too safe the first time," the chef once told journalist Steve Adubato. In that first attempt in Season 6, Fox came in third. She didn't make the mistake of not stepping out of her comfort zone again. After all, being comfortable doesn't get you $250,000 and an executive chef job offer. Ramsay once told Fox News that top contestants on his show need "attitude," "confidence," and "bravado, because you're in that kitchen on a nightly basis, and you're up against it." For her part, Fox doesn't disagree. In fact, she's perfected a "method" for picking out winners from a pack of contestants. It's not perfect, but the chef assured Mashed, "I'm usually pretty spot on."
Hell's Kitchen's champions share these traits
Only 60% of winning "Hell's Kitchen" is about culinary skills, Ariel Fox exclusively told Mashed. Want to pick out a frontrunner early on in the show? Fox added you should pay attention to "the way [contestants] carry themselves and how they're moving in the kitchen and how they work." Anyone who's going to make it to the final four in the competition will exhibit "a level of leadership without needing to assert leadership," according to Fox. "Everybody gets nervous, but you can tell [when someone has] a little bit of confidence."
Talent and confidence in the kitchen will only, unfortunately, take you so far. The other 40% of winning "Hell's Kitchen" is also "how entertaining people are, because it is television," Fox posited. "The front runners are also big personalities. You have to have both. In this business, it's full of personalities. That plays [a part] as well. It's confidence, motion, the overall vibe."
Ariel Fox's new book, "Spice Kitchen: Healthy Latin and Caribbean Cuisine" is available for preorder now and will be available wherever books are sold on August 23.