Homemade Poultry Seasoning Recipe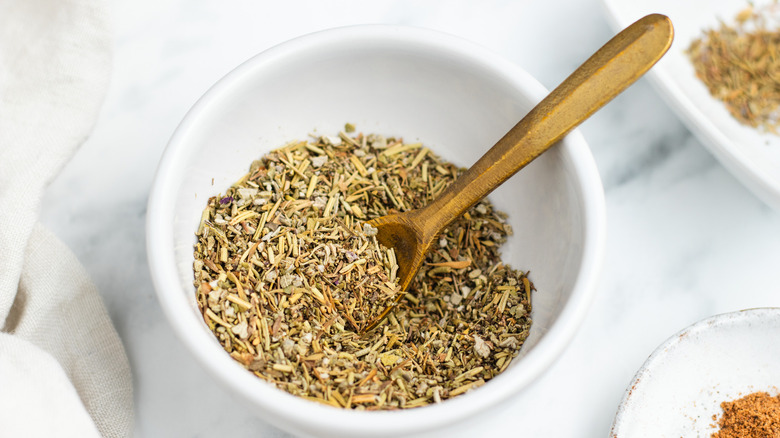 Catherine Brookes/Mashed
Remember all those hours you spent playing around with spices when you were a kid? Maybe in your family you called it playing in the mud kitchen, or maybe you were making witch's brews, or maybe you were performing science experiments. Regardless, the formula is usually about the same: a kid mixes together everything from marjoram to garlic powder to paprika to ground mustard, stirring in water and ending up with ... a really disgusting messy goo.
As it turns out, blending spices together into something foul is easy, but blending a group of spices into something delectable is hard. Which is why it's best to leave it to the experts like Catherine Brookes of Blue Sky Eating. She has come up with a poultry seasoning blend that will take your turkey from tepid to terrific and your chicken from basic to the best you've ever made. And this seasoning works with just about any poultry recipe, too — Brookes says it's great for grilling, roasting, pan frying, or baking.
Gather your ingredients for homemade poultry seasoning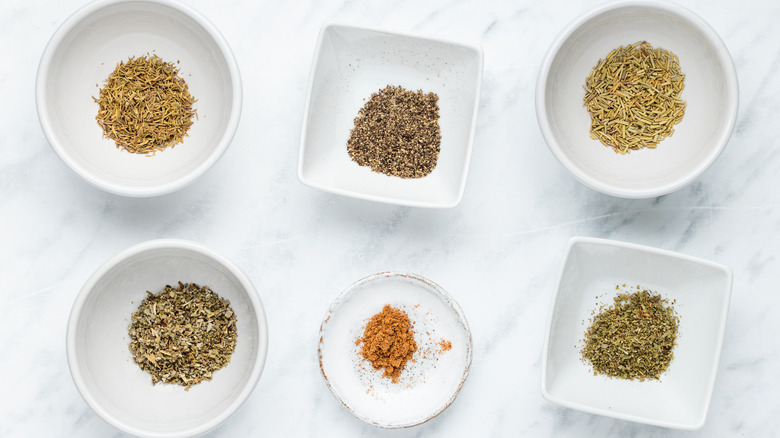 Catherine Brookes/Mashed
This perfect poultry spice blend calls for dried rosemary, dried sage, dried thyme, marjoram, nutmeg, and black pepper. Asked about the "standout" ingredient in the mix, Brookes calls to an unlikely player, saying: "I think I'd frame nutmeg as the stand out ingredient here. It adds an aromatic flavor that you might not typically think to add to meat, but it works really well alongside the other herbs."
Just make sure you pay close attention to your ratios, because Brookes also adds, "I think it's good to note that you only need a small amount of nutmeg for the flavor to come through, so don't overdo it."
Blend the spices, then enjoy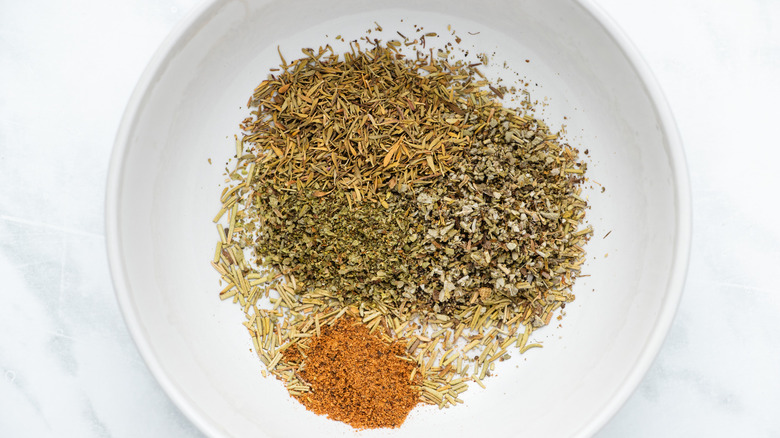 Catherine Brookes/Mashed
Once you've carefully measured out the right amount of each of the herbs and spices, your work is almost done. Simply add all the ingredients to a mixing bowl and mix them well to combine. You're done — enjoy!
"It can be difficult to know which herbs and spices work well together and how much of each to use, so I wanted to come up with a foolproof recipe that you can mix up in advance and use as a go-to." 
A note on storing poultry seasoning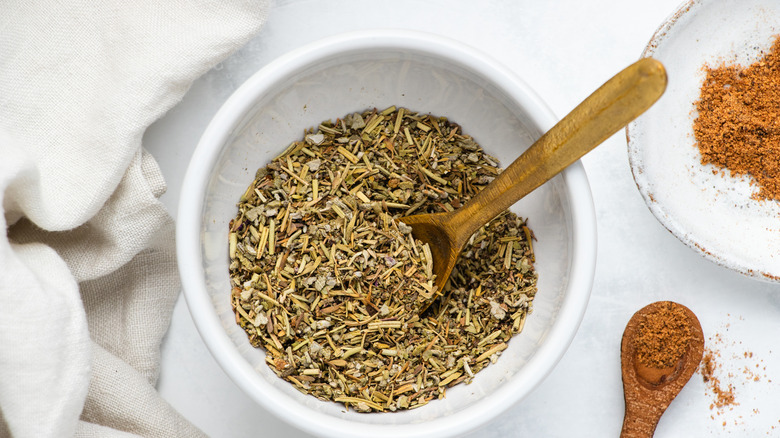 Catherine Brookes/Mashed
Spices have a long, stable shelf life, but they do expire, and when they do, they can ruin the taste of a dish rather than amplifying it. For this blend of seasonings Brookes says, "You can store it in an airtight jar [and] it should be good for at least six months, but I would refer to the original jars that each spice came from."
Pro tip: Spend a few bucks and get fresh spices before you make this blend, or else it will only last as long as the oldest spice you use.
Homemade Poultry Seasoning Recipe
You don't have to buy pre-made poultry seasoning at the store. Instead, use the spices you already have in the kitchen to whip up a homemade poultry seasoning.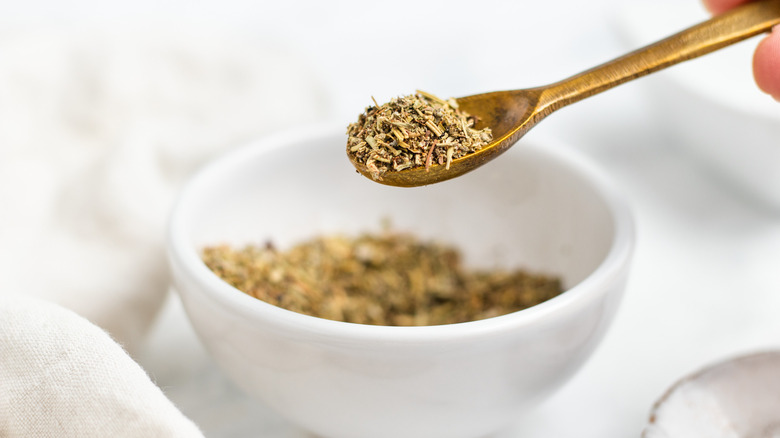 Ingredients
1 teaspoon dried rosemary
2 teaspoons dried sage
1 teaspoon dried thyme
¾ teaspoon marjoram
¼ teaspoon nutmeg
½ teaspoon black pepper
Directions
Add all the ingredients to a mixing bowl.
Mix well to combine.
Rub onto meat before cooking.