Classic Margarita Cocktail Recipe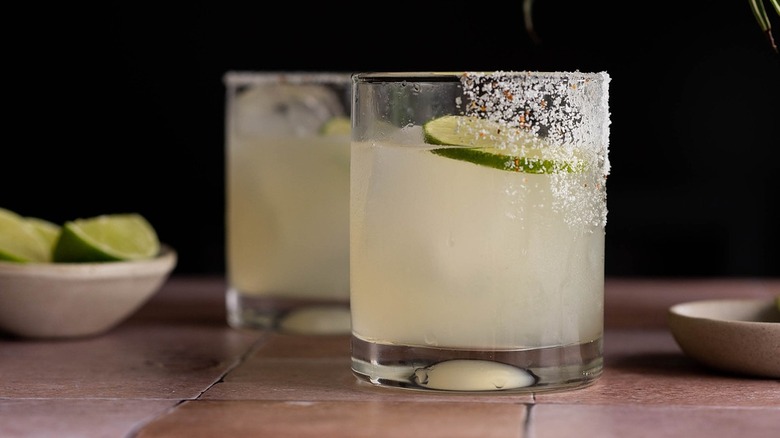 Michelle McGlinn/Mashed
Tequila lovers rejoice, because this classic margarita recipe is as good as it gets. As recipe developer Michelle McGlinn explains, "A good, fresh margarita is a perfect balance of sweet and sour that is complemented by its salty rim." And this classic recipe hits each of these flavor profiles with just the right nuance, making for a perfectly smooth sipping experience. "I'm guilty of having used margarita mixes and bottled lime juice — but the taste is much, much better with fresh limes and agave," McGlinn says.
While it's tempting to reach for a bottle of the pre-mixed stuff when it comes to making margaritas, it doesn't take much more effort to make a fresh version. So put that bottle of sugary margarita mix to rest and opt for this recipe for a homemade classic cocktail. Pair this margarita with some tacos, chips and guacamole, or just sip it when the thought of smooth tequila sounds particularly good — you can't go wrong with a cocktail this tasty. 
Gather the ingredients for a classic margarita cocktail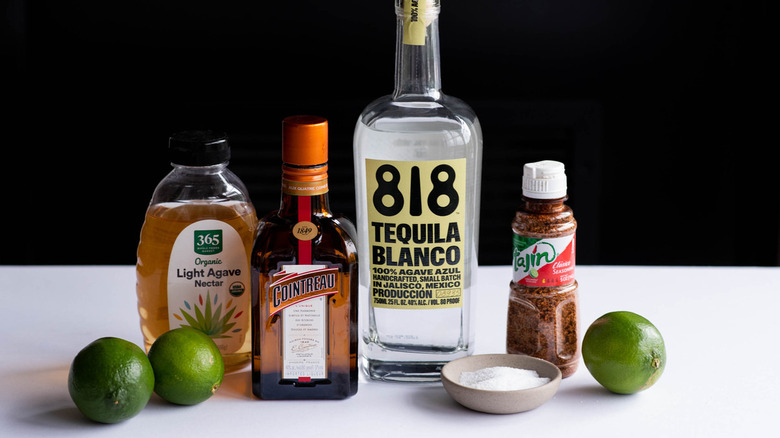 Michelle McGlinn/Mashed
To make a classic margarita, you'll need some tequila, of course, and McGlinn uses tequila blanco. You'll also need some freshly squeezed lime juice, triple sec (McGlinn uses Cointreau), agave nectar, and salt and tajin for the rim, along with a lime wedge for garnish. 
While this is a classic margarita, McGlinn does notably use tajin on the rim, which gives it a special flair and adds "a little chili-lime flavor." 
"I also love the way the flecks of red look in the salt," she adds. McGlinn also notes that you could use honey instead of agave nectar, "but agave nectar is made from the same plant as tequila, so it's more traditional in mixology to use agave nectar to pair flavors." And finally, she says that you could swap in or simply add Mezcal to the mix "for a smokey flavor," but only do so if you love Mezcal, as it will pack a biting flavor punch. 
Rim the glass with salt and tajin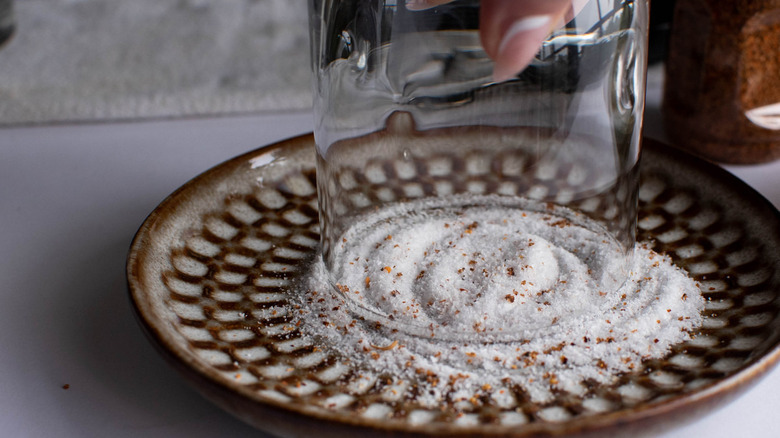 Michelle McGlinn/Mashed
Any great margarita starts with a salted rim, and this one is no different! First, run a lime wedge around the rim of a glass, then stir the salt and tajin together on a plate. Dip the rim of the glass into the salt mixture, spinning the glass so that the entire surface is covered in it. If you're making a second cocktail, repeat the process with the second glass.
Add the margarita ingredients into a shaker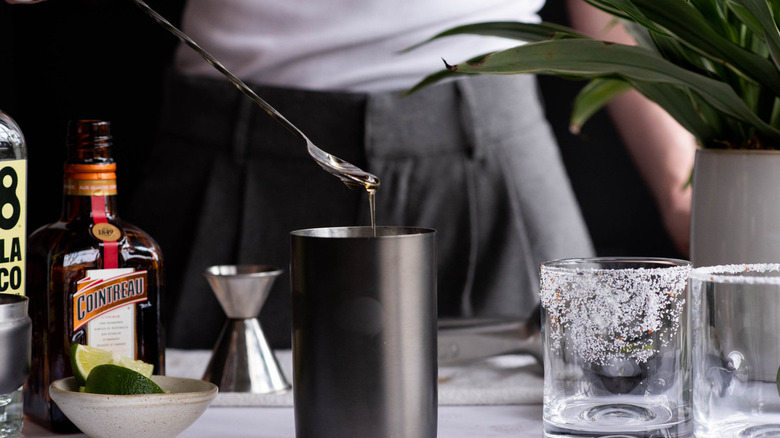 Michelle McGlinn/Mashed
Now it's time to shake up the cocktail itself. Add some ice and the tequila, lime juice, triple sec, and agave into a shaker. Close the shaker, then shake it vigorously for 10-15 seconds — it should feel cold by the time you're done shaking. 
Strain the margaritas into glasses and enjoy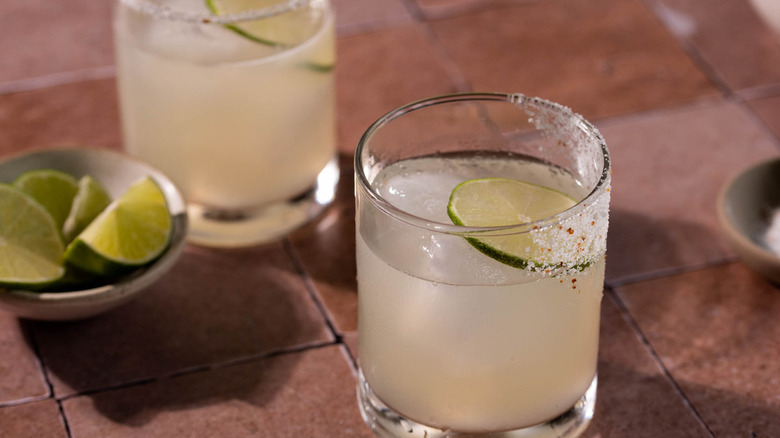 Michelle McGlinn/Mashed
All that's left to do is strain the cocktail into the prepared glasses (or singular glass, if you just want one strong margarita), add some ice in, garnish with a lime wedge, and serve. As you sip, you'll notice all of those wonderfully fresh flavors that McGlinn was describing, and you'll also contemplate how you could ever go back to store bought margarita mix. 
As for food pairing options, McGlinn notes that there really is no better option than Mexican food. "There is no better pairing for a margarita than salty chips and spicy salsas," she says, noting that the salty and spicy flavors go well with the sweet and sour ones that the margarita offers. "Other specific dishes I like margaritas with are fish tacos, tacos al pastor, flautas, and gorditas," she adds.
Get creative with your margarita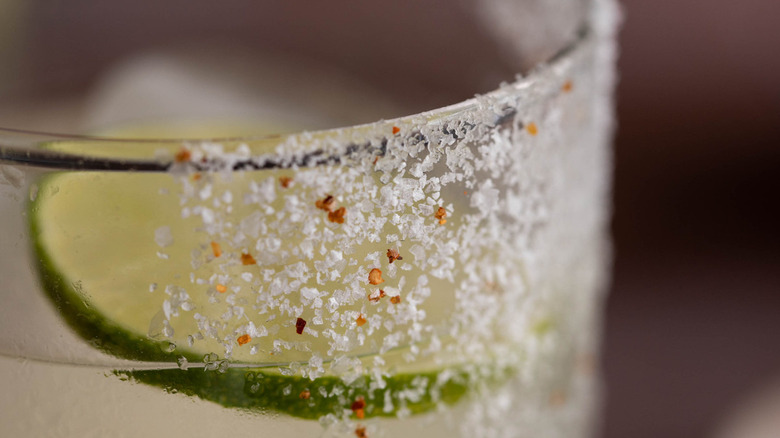 Michelle McGlinn/Mashed
The only thing that could possibly be better than a classic margarita is one that has some flair. If you're looking to get creative with your cocktail, McGlinn has you covered. "You can also add jalapeños for a spicy margarita, pineapple juice for a tropical version, or hibiscus syrup for a fun summery variation," she suggests. "I'd also recommend adding a topper of soda water in summertime for a refreshing, light, and bubbly margarita spritzer." There really are countless variations to try, so once you nail the classic version, you can explore different add-ins best suited to your taste. 
Classic Margarita Cocktail Recipe
When it's time to serve up a Mexican dinner, you can't go wrong with whipping up a batch of these classic margarita cocktails, too.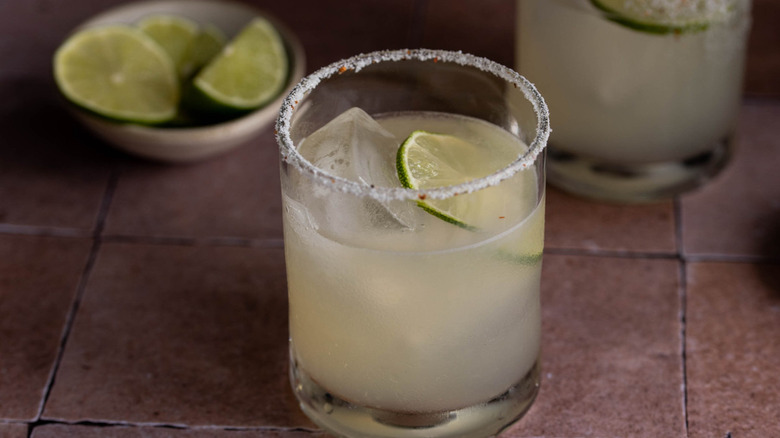 Ingredients
2 lime wedges, for rim and garnish
salt, for rimming
4 ounces tequila blanco
2 ounces lime juice, freshly squeezed
1 ounce triple sec, such as Cointreau
1 ounce agave nectar
Optional Ingredients
sprinkle of tajin, for optional rim
Directions
Using a lime wedge, run the juice from the lime around the rim of each glass.
Stir together the salt and tajin (if desired) and spread the mixture on a small plate. Dip the lime-rubbed glass into the tajin salt.
Fill a cocktail shaker with ice. Pour the tequila, lime juice, triple sec, and agave over the ice and close the shaker. Shake vigorously until cold, about 10-15 seconds.
Strain the drink into glasses and add ice. Garnish with lime.
Nutrition
| | |
| --- | --- |
| Calories per Serving | 214 |
| Total Fat | 0.0 g |
| Saturated Fat | 0.0 g |
| Trans Fat | 0.0 g |
| Cholesterol | 0.0 mg |
| | |
| --- | --- |
| Total Carbohydrates | 14.0 g |
| Dietary Fiber | 1.1 g |
| Total Sugars | 10.7 g |
| Sodium | 283.2 mg |
| Protein | 0.2 g |