Fast Mexican Black Beans Recipe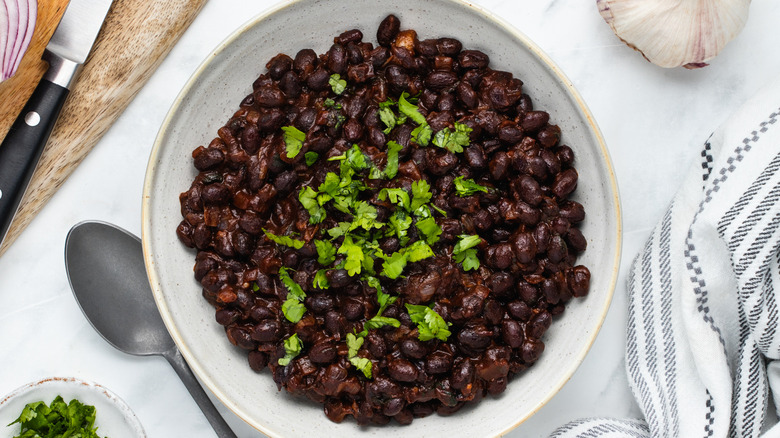 Catherine Brookes/Mashed
Whether you're looking for a full meal or side dish, beans — any type of beans – are always the answer. The tasty morsels are protein-packed and ready to take on just about any flavor profile. They're most delicious, of course, when you take a savory approach, and even better when you throw in a little spice. That's exactly the approach that recipe developer Catherine Brookes took with her quick Mexican-style black beans recipe. She describes the end result as being "smoky and spicy with a hint of garlic and tomato."
While the flavor of these beans is undeniably great, that's not the only thing to love about this recipe. It's very easy to make, and unlike many bean recipes, this one comes together quickly; we aren't lying when we call this a "fast" recipe! "I love how the addition of just a few simple cupboard ingredients can transform a simple can of beans into a delicious and flavorful dish," Brookes adds. She's right — the recipe itself revolves around a simple and inexpensive can of beans, and the other ingredients just might live in your pantry already, too. Dress the beans up with a garnish of fresh cilantro, serve them as part of a bigger meal, or simply eat them as a quick and nutritious snack — there's no going wrong with a dish this timeless.
Gather the ingredients for fast Mexican black beans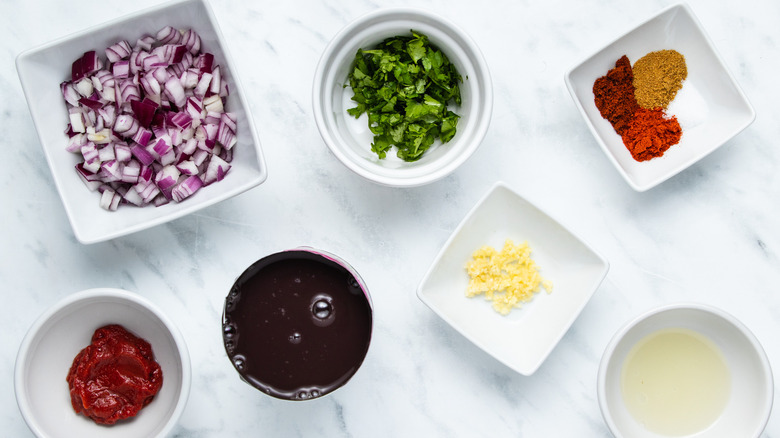 Catherine Brookes/Mashed
To make these Mexican-style black beans, you'll (naturally) need a can of black beans, which are the star of the show. While you may be accustomed to draining cans of beans, Brookes' recipe utilizes the unique method of not draining them, something that she says "thickens up the dish and adds flavor." So you've got the undrained beans, but you'll also need olive oil, finely diced red onion, crushed garlic, cumin, smoked paprika, chili powder mix, salt, tomato paste, and some fresh chopped cilantro.
Start with your aromatics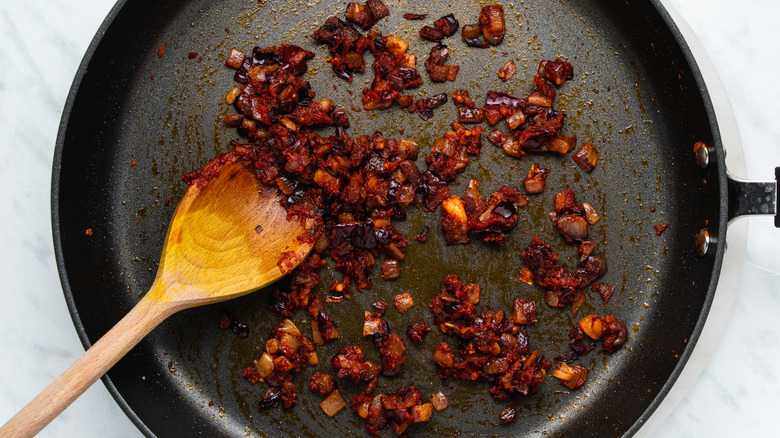 Catherine Brookes/Mashed
Start out this recipe by heating the olive oil in a large saucepan, then add in the diced onion. Allow the onion to sweat for about 5 minutes. At that point, add the crushed garlic, and cook it with the onion for about a minute — be sure to stir constantly, because no one likes burnt garlic.
Now, it's time to season this dish up. Throw in the cumin, smoked paprika, chili powder, salt, and tomato paste. Stir everything together and make sure that the seasonings and tomato paste are evenly distributed, then continue cooking for another 3 minutes. You'll notice the tomato paste starting to darken. 
It's time to add in the beans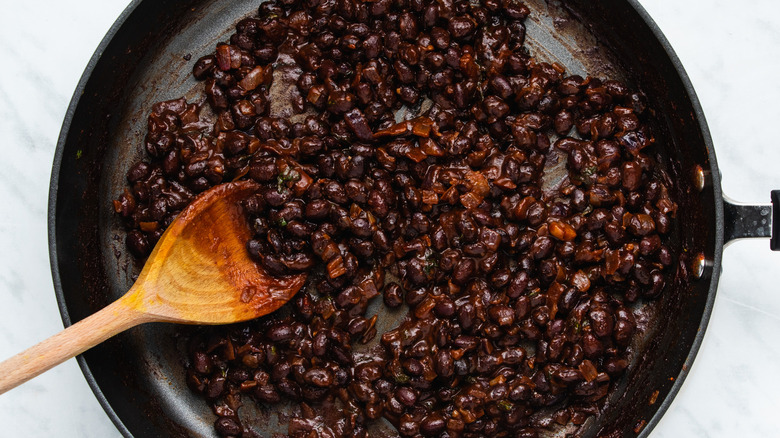 Catherine Brookes/Mashed
Pour the can of black beans into the pan — and remember: Don't drain them! You can also add in the chopped cilantro at this point, stir everything together, then bring the dish to a boil. Once you're there, lower the heat to a simmer, and allow the beans to continue simmering for 15 minutes.
Serve your Mexican black beans with extra cilantro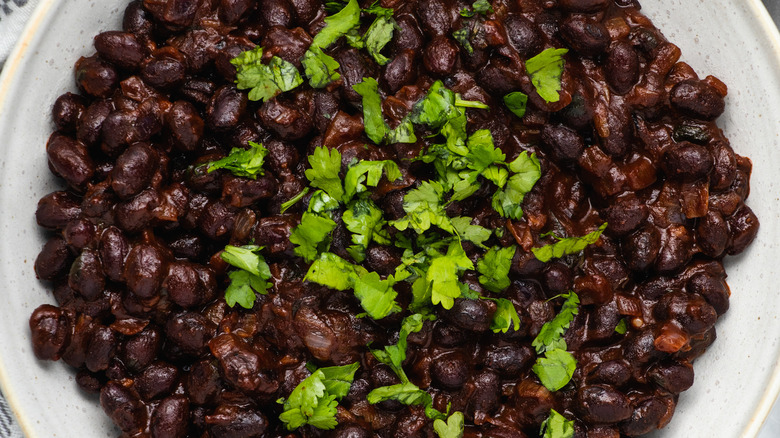 Catherine Brookes/Mashed
Once the beans are done simmering, you can portion them out into individual servings. Top off each bowl with some more cilantro, then dive right into this smokey, savory, and subtly spicy dish — which just so happens to be vegan! These beans are great on their own, but they'd go great with any number of Latin-American dishes. And, if you have leftovers, Brookes notes that you can store them in the fridge for up to 2 days. 
Fast Mexican Black Beans Recipe
These savory, smoky beans are great on their own, but they also work as a side for any number of dishes. Not only are they versatile; they're quick to make!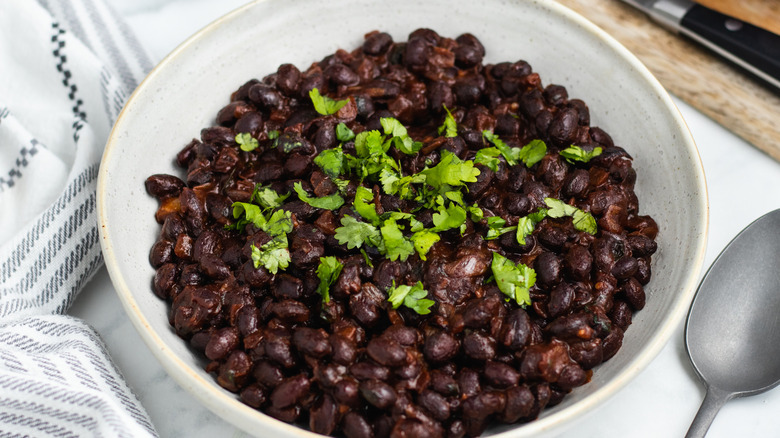 Ingredients
1 tablespoon olive oil
½ red onion, finely diced
3 cloves garlic, crushed
½ teaspoon cumin
½ teaspoon smoked paprika
½ teaspoon chili powder
¼ teaspoon salt
1 tablespoon tomato paste
1 (14-ounce) can black beans, undrained
2 tablespoons fresh chopped cilantro, plus more for garnish
Directions
Heat the olive oil in a large saucepan over medium.
Cook the onion until softened (about 5 minutes), then add the garlic and cook for another minute, stirring constantly.
Add the cumin, smoked paprika, chili powder, salt, and tomato paste to the pan. Give everything a good stir and cook for another 3 minutes.
Add the undrained black beans and cilantro (reserving some for garnish). Stir well, bring to a boil, then reduce heat to low and let simmer for 15 minutes.
Transfer the beans to your serving bowl of choice. Garnish with extra cilantro.
Nutrition
| | |
| --- | --- |
| Calories per Serving | 136 |
| Total Fat | 3.9 g |
| Saturated Fat | 0.6 g |
| Trans Fat | 0.0 g |
| Cholesterol | 0.0 mg |
| | |
| --- | --- |
| Total Carbohydrates | 19.8 g |
| Dietary Fiber | 7.6 g |
| Total Sugars | 1.5 g |
| Sodium | 292.7 mg |
| Protein | 6.6 g |