This Is The Busiest Day Of The Year At Cracker Barrel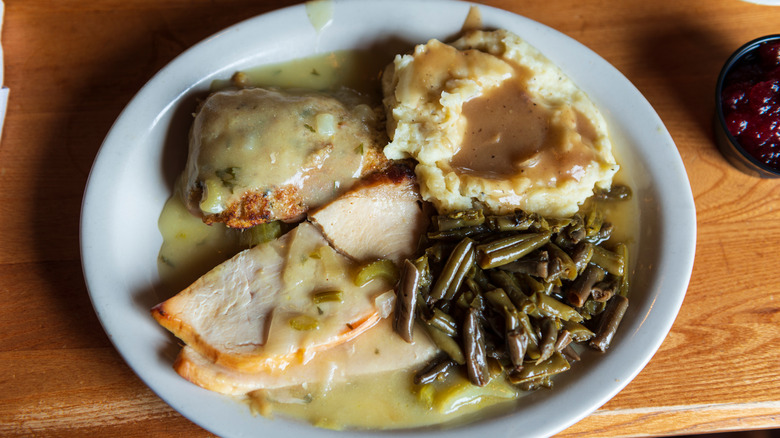 Barry Fowler/Shutterstock
The friendly folks at every Cracker Barrel restaurant across the nation take pride in serving up classic American dishes with an extra helping of Southern hospitality. Not only that, stepping into a Cracker Barrel is like stepping into a time capsule rooted in tradition and decorated with rustic keepsakes, evoking memories of a simpler time. This provides the perfect cozy environment for communities to share a meal with their loved ones. Shoot the breeze as you sit on the porch in one of their iconic rocking chairs, play a chummy round of checkers, visit the Old Country Store, or sit near the crackling fire as you enjoy a hot plate of food with family. What's not to love?
For over 50 years, Cracker Barrel has sought to preserve the country lifestyle for the traveler who may just be passing through, as well as families who simply just love being together. It's often quite busy at the restaurant, but there is actually one special day that draws the most business to the popular chain, giving locals the opportunity to enjoy a hearty meal with great company.
What's on Cracker Barrel's Thanksgiving menu?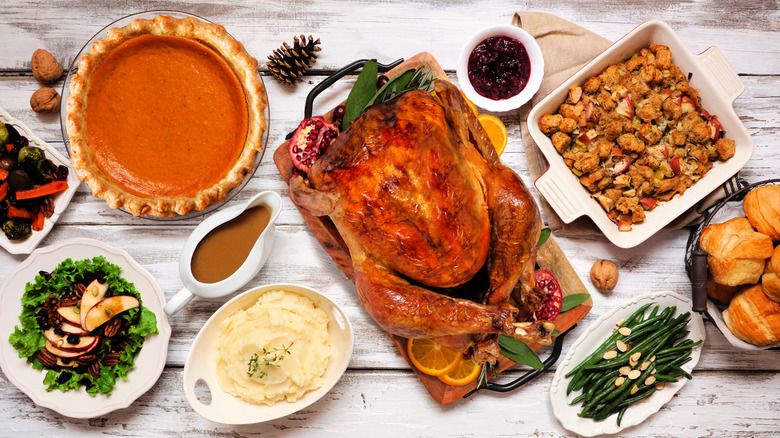 JeniFoto/Shutterstock
If you're in need of a break this Thanksgiving from spending half the day in the kitchen cooking for the whole family, consider spending it at Cracker Barrel. But be sure to plan ahead! In a 2018 press release, the popular chain disclosed that Thanksgiving Day is, by far, the busiest day of the year for business. It was estimated that Cracker Barrel would bake over one million pies that year and serve a whopping 650,000 pounds of turkey to those looking for a delicious, hassle-free traditional holiday meal without the mistakes everyone makes with classic Thanksgiving dishes. The release also specified some rather appetizing details on the types of Thanksgiving meals guests could indulge in.
Cracker Barrel's Thanksgiving meal options are fully prepared and can be heated and served at home in under two hours. Simply give 24-hour notice for your order and choose between the smaller Family Dinner or the Feast, which provides for a large group of 8-10. For a meal that requires no effort on your part, you can pick up the "Hot n' Ready" Thanksgiving meal. This option features holiday classics like turkey with all the trimmings and sweet potato casserole (via Cracker Barrel). Still have room for dessert? Choose any of the assorted pies on the menu to top off your meal ever so sweetly. If you're looking to dine in for Thanksgiving Day, make sure you call ahead to reserve your spot.