How To Get A Free Sandwich 'Every Time,' According To A Former Chick-Fil-A Employee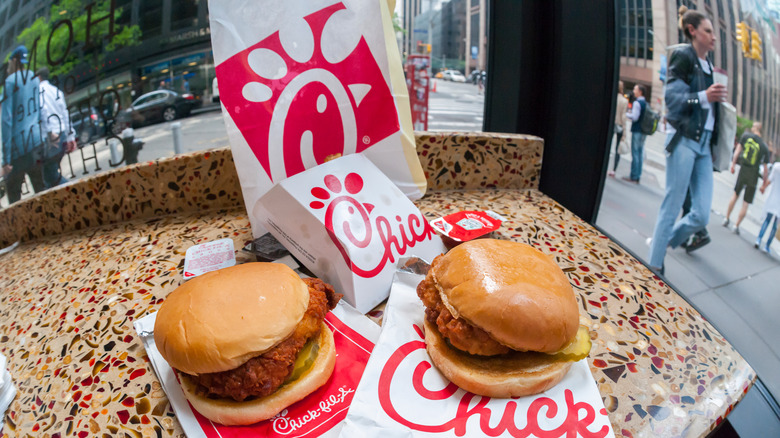 rblfmr/Shutterstock
Nothing says "small victory" than scoring a free meal from your favorite restaurant. Maybe you got lucky and won a free dinner in a drawing. Maybe you saved up enough points on the restaurant's loyalty app to score yourself a free burger or some fries. Either way, you certainly aren't complaining.
But restaurants giving away free food doesn't happen as often as you may think. It's usually after you spend a certain amount of money, and there can be strict criteria about just how how you can get your free meal, such as "buy one, get one free" coupons. In fact, restaurants offer free food as a lure, according to Gourmet Marketing, enticing customers to place orders in the first place (or at least to get people talking about the restaurant to bring in more traffic).
This doesn't mean the system is foolproof for the corporations, however. For example, customers may remember McDonald's 1984 Olympics promotion, in which they would get free food if the United States won any medals (per LAist). It was McDonald's misfortune — and customers' good fortune — that the Soviet Union boycotted the Olympics, leaving the Americans to bring home the gold and then some. McDonald's handed out everything from Big Macs to sodas for free, leading to millions of dollars in lost profits for the fast-food chain.
Now, a former Chick-fil-A employee has offered a way for chicken sandwich fanatics to "beat the system" and get a free meal every time they visit the fast-food hotspot.
You can supposedly get a free Chick-fil-A sandwich if you lodge an app complaint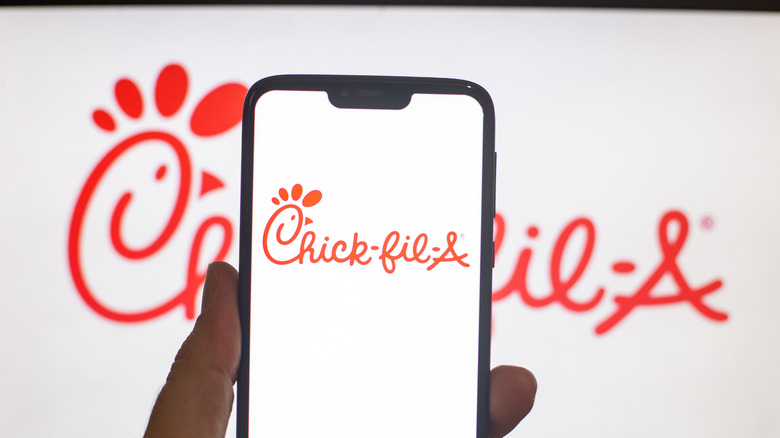 RoberioJr/Shutterstock
According to a TikTok video by Olivia Roberts, a self-identified former Chick-fil-A employee, the secret to getting a free sandwich is simple. Place a complaint with the restaurant, and you'll be compensated with a voucher for a chicken sandwich. You should lodge a complaint through the mobile app, however, according to Roberts, because "complaining in-person gets you annoyed."
Olivia also revealed other supposed "menu secrets," such as the fact that you can actually get more than one sauce as well as the somewhat subjective revelation that "it's no one's pleasure" and that Chick-fil-A employees "hate their jobs and the weird rules they follow."
Chick-fil-A is well-known for its customer service — it ranked number one in the field in 2021 by Reader's Digest and in 2019 by Business Insider — so it wouldn't be a surprise for the company to reimburse a customer if they had a "poor experience." While getting a free sandwich by making up a minor complaint may sound harmless for some, it may be a bit of a moral grey area for others. Some may not want to take advantage of this generosity, while others may not mind making up a white lie or two to get free lunch.
And if your moral compass is a bit stronger than you thought, you can still enjoy the taste of a Chick-fil-A sandwich anytime by following Mashed's copycat Chick-fil-A recipe that tastes like the real thing.
Dress up like a cow — or just order through the app
Let's say you're not one to lie about something even as minor as an imaginary complaint, but you still want that free chicken sandwich. You can still get one without any moral guilt — you'll just have to dress the part.
Cow Appreciation Day is widely recognized at Chick-fil-A. Should any customer arrive at their local Chick-fil-A dressed in a cow costume on Cow Appreciation Day, they'll receive a free entrée. Children can also participate; they'll get either a free breakfast item or a free Kid's Meal. Unfortunately, though, Cow Appreciation Day is canceled for 2022.
And if your cow costume doesn't fit you anymore, you can use the tried-and-true method of using the Chick-fil-A One app to get your free sandwich. The loyalty app lets customers earn points, which they can then cash in for rewards. As you get more points, you unlock new "tiers," each of which allows special perks such as "bonus point opportunities, voting opportunities, and surprise rewards," according to Chick-fil-A. Once you reach the "Silver" membership tier, you can even share rewards with friends and family.
"This app works great for ordering ahead and saving my favorite foods. They give away free food and reward points add up quickly," app users Lars/Erica Nelson wrote on the Google Play store. One complaint, however, was that they wished the app would allow users to cancel items and get their points back should they make a mistake.