Vanilla Fruit Dip Recipe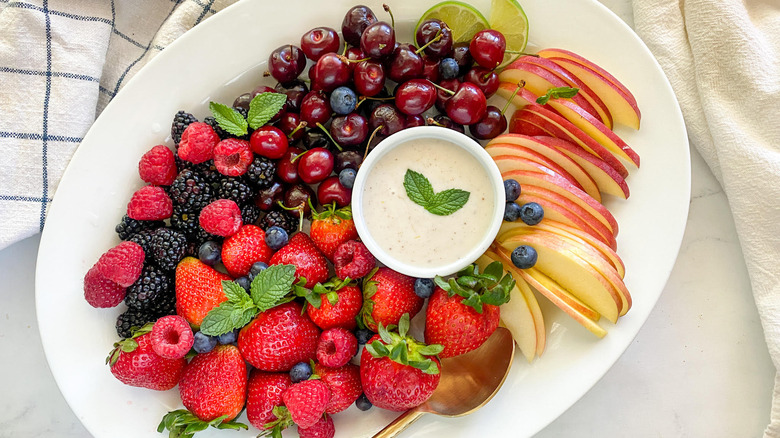 Miriam Hahn/Mashed
One of the things that differentiates fruits from vegetables (besides certain botanical characteristics that we're not going to get into here) is the fact that many fruits tend to have more natural sweetness than do vegetables. For this reason, some people serve up fruit as a dessert, which is something that may not play too well with those who tend to think of dessert as something like cookies, cake, or ice cream and would prefer that a fruit dessert be more along the lines of apple pie.
One way you can make plain fruit more dessert-like is to enhance it with a dip. Recipe developer Miriam Hahn considers that "presentation is key" when it comes to convincing people to eat healthier foods, and she feels that this vanilla fruit dip makes for a "beautiful presentation" that will "entice [people] to eat tons of fruit." The dip itself is also on the healthy side, as it is made from yogurt with only a small amount of honey to sweeten it.
Gather the ingredients for the vanilla fruit dip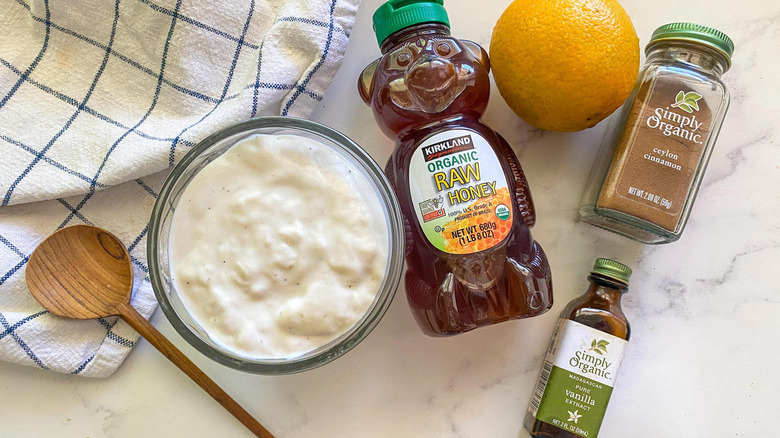 Miriam Hahn/Mashed
You won't need too many ingredients to make this dip. The main ingredient you'll need is vanilla-flavored yogurt of any type (Greek, low-fat, non-dairy, or any other type you please). To flavor it, you'll use honey, orange zest, vanilla extract, and cinnamon.
Hahn likes to use raw honey in this dish, considering it to be her "secret ingredient" as she feels the minimal processing it undergoes makes it healthier than standard honey so it's her "go-to sweetener of choice." 
Zest the orange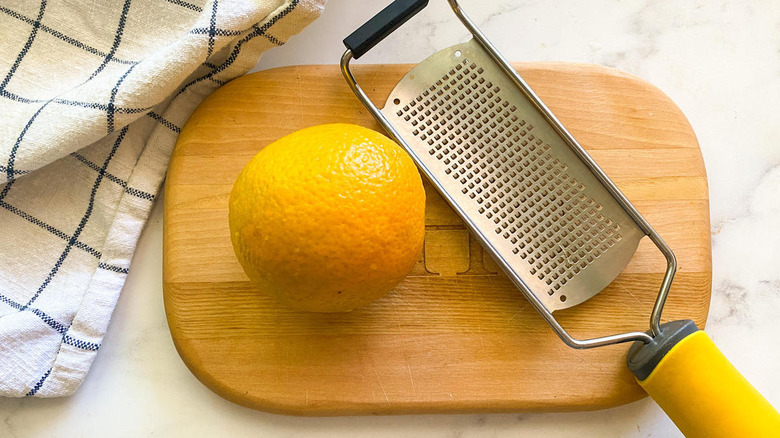 Miriam Hahn/Mashed
While you need one orange to make this dip, you'll only be using the zest, so do not peel or cut the orange! Instead, use a box grater or a zester to remove just the orange layer of the peel, but try not to grate too deeply into the bitter white pith. 
Once your orange is denuded, stick it back in the fridge for future snacking or juicing, as there's no point in wasting all the good stuff inside. In fact, you could remove the rest of the peel, separate the orange into segments, and use the segments to dunk in this dip once it's done.
Combine the yogurt with the flavorings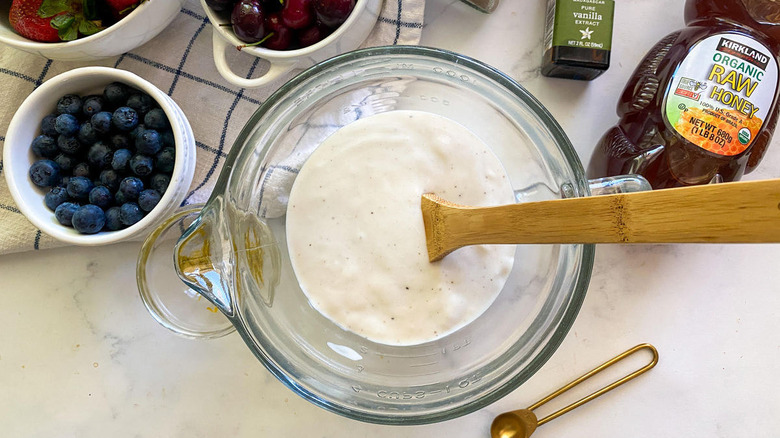 Miriam Hahn/Mashed
Mix the yogurt together with the orange zest and the rest of the ingredients (the cinnamon, vanilla extract, and raw honey). Taste it and add additional cinnamon or sweetener, if desired. Cover the yogurt dip, then refrigerate it for at least an hour before using. The reason for chilling it, Hahn says, is that it "let[s] the flavors meld." She also feels that the flavored yogurt "tastes better with the fruit when it is cold." If you want to decorate the dip before eating it, Hahn suggests using mint leaves, lime slices, and an extra dash of cinnamon.
Serve the yogurt dip with fruit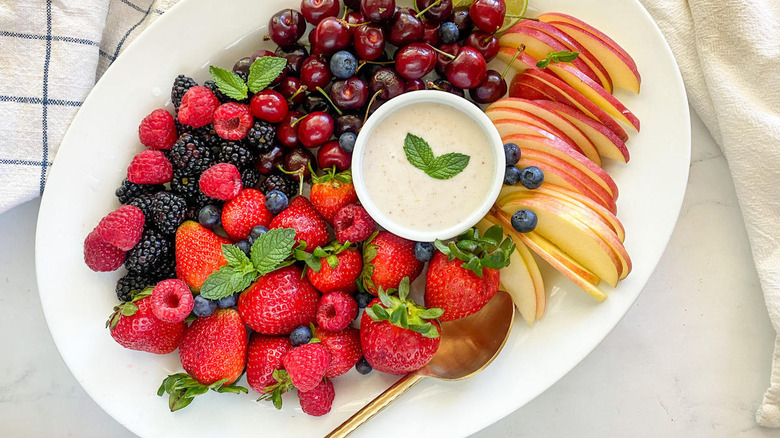 Miriam Hahn/Mashed
This dip can be used with a variety of different fruits, including the aforementioned orange slices as well as pineapple chunks, strawberries, or apple chunks. Hahn says "You can also scoop out some of the fruit dip in a small bowl and top it with fruit and eat it with a spoon," and suggests that it can also work as a dip for graham crackers, cookies, or pretzel sticks, or be used to top pie or oatmeal.
Vanilla Fruit Dip Recipe
When you're looking for a dessert on the lighter side of things, try making this delicious, yogurt-based vanilla fruit dip to pair with fruits and berries.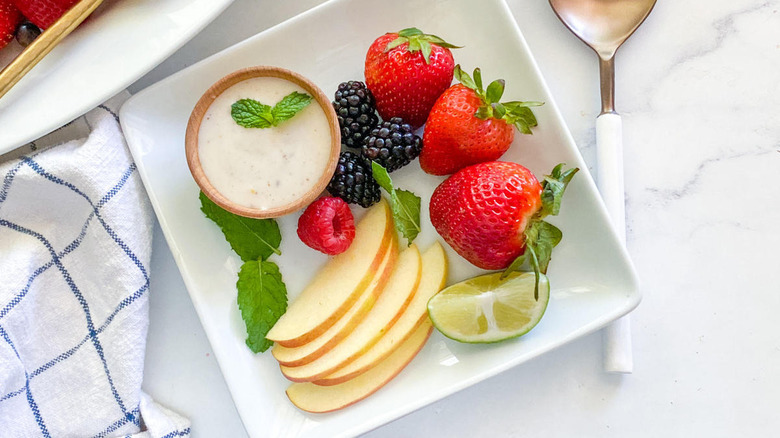 Ingredients
2 cups vanilla yogurt
zest of one orange
2 tablespoons raw honey
¼ teaspoon cinnamon
¼ teaspoon vanilla extract
Optional Ingredients
mint, for garnish
lime, for garnish
additional cinnamon, for garnish
Directions
Put the vanilla yogurt in a medium-sized glass bowl.
Zest the orange and mix it into the yogurt.
Stir the rest of the ingredients into the yogurt.
Cover the yogurt dip and refrigerate it for at least an hour.
Garnish the dip with a dash of cinnamon, fresh mint, and lime slices, if desired.
Serve the dip with fresh fruit.
Nutrition
| | |
| --- | --- |
| Calories per Serving | 102 |
| Total Fat | 1.0 g |
| Saturated Fat | 0.7 g |
| Trans Fat | 0.0 g |
| Cholesterol | 4.1 mg |
| | |
| --- | --- |
| Total Carbohydrates | 19.7 g |
| Dietary Fiber | 0.6 g |
| Total Sugars | 19.1 g |
| Sodium | 54.2 mg |
| Protein | 4.3 g |