How You Can Watch The 2022 Nathan's Hot Dog Eating Contest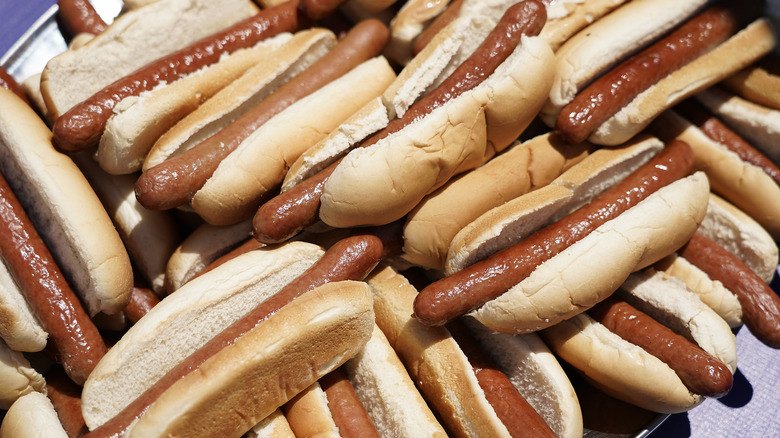 John Lamparski/Getty Images
Not everyone possesses stellar athletic prowess. If you were the kid who could never make it past the first foot on the climbing rope, composed flowery forged notes to excuse you from gym class, and simply couldn't master the art of the baseball glove, you may be relieved to know that your dreams of mastering a "sport" haven't been completely dashed. It turns out that the ability to eat volumes of food quickly is now a sport. And if you become a speed-eating success, you just might land yourself a six-figure salary. 
Yes, six figures! According to Celebrity Net Worth, a competitive eating superstar can bring home an annual income of between $250,000 and $500,000. After all, these extraordinary eaters not only secure sizable prizes, but these wins can lead to impressive sponsorship deals as well. And one of the best-known eating competitions is Nathan's Famous International Hot Dog Eating Contest. Traditionally held at Nathan's restaurant, this Coney Island event typically attracts about 35,000 people anxious to see who will nosh their way to victory (per NY1). 
While joining the throngs at this Brooklyn location to watch participants gorge upon Nathan's Famous hot dogs sounds like fun, it isn't possible for everyone. So, how can you watch this event without hopping on a plane headed for the Big Apple?
This year's female hot dog-eating contest could see an upset
Thankfully, this Independence Day contest will be aired on ESPN at noon ET and 9 a.m/ PT (per Gambling Sites). And this year's duel promises to be a humdinger with World Champ, Joey Chestnut, feasting his way to a fresh World Record (an astonishing 76 wieners and buns) to win Nathan's 2021 hot dog eating contest and a possible upset in the female race (via Nathan's Franks).
Nathan's website adds that Miki Sudo, the highest-ranked female competitor, returns this year after taking 2021 off to have a baby, meaning last year's winner, Michelle Lesco, will have her work cut out for if she hopes to maintain her title. Gambling Sites states Lesco is a "huge Underdog to the No. 5 ranked MLE eater, Miko Sudo," but as the saying goes, "Everyone loves an underdog," making this a fascinating rivalry. According to Sporting News, there are $40,000 worth of prizes up for grabs with rewards going to the top five hot dog-gobblers. The first place male and female finishers will also receive the highly coveted Mustard Belt and a whole lot of bragging rights. 
If you think you've got what it takes to become a top hot dog-devouring dude or diva, you'd better start practicing. Demolishing dozens of dogs isn't as easy as these competitors make it look. In the meantime, put on your Uncle Sam hat, grab a cold brew, and enjoy the live action on ESPN.