GBBO's Prue Leith's Secret To Baking A Perfect Cake Is So Simple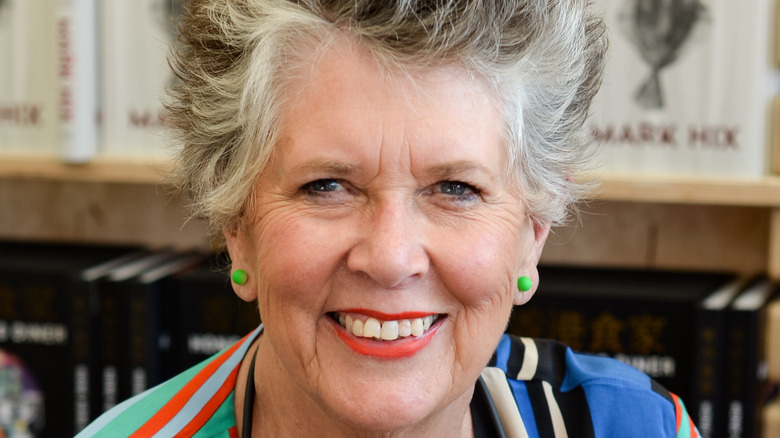 Mark Anton Smith/Shutterstock
Dame Prue Leith is a gastronomy expert, restaurateur, writer, and beloved TV show judge (via IMDb). She was also the judge for the Queen's Platinum Jubilee recipe contest, which now has a winner: Jemma Melvin, who'd made an impressive lemon curd swiss roll trifle. You probably know Leith from the popular cooking competition show "The Great British Bake Off" (known in the United States as "The Great British Baking Show"), in which she judges the best bakes and showstoppers with a little help from her co-judge Paul Hollywood and hosts Noel Fielding and Matt Lucas. 
The fantastic four film the show inside the famous white tent in the British countryside, along with new contestants that change with each season of the show and compete in tests of baking skill. The GBBO is so prized in the eyes of contestants that there is no cash prize or cookbook deals -– instead, the prize is a cake stand trophy and a big bouquet of flowers (per iNews). But in order to win, the contestants must bake perfect creations in succession, including cakes — and Prue Leith revealed a simple secret to baking a perfect cake.
Measure and weigh everything and follow the recipe closely if you want a perfect cake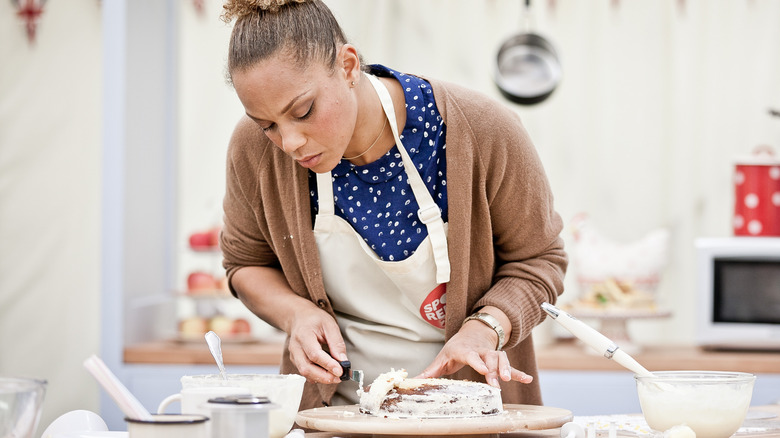 Comic Relief/Getty Images
In an interview with Hello! Magazine, GBBO judge Prue Leith talked about the friendships from the show, her husband John, her opinions on food, and most importantly, the secrets and hacks for baking a perfect cake. She says that the most important thing when baking a cake is to measure and weigh every single ingredient and follow the recipe to a T, which means that we have to be absolutely precise and accurate (via Writing Explained). In the world of baking, there's no room for cheating or making up your own rules as you bake. Baking is closer to science than jazz.
Leith claims that a good set of kitchen scales will make the absolute difference between an "okay cake and a beautiful one." If you mix up all of the ingredients randomly, put them in the machine, and expect to win the GBBO, think twice: the chances are that it will turn out okay, but the cake won't be as beautiful as it needs to be. So the next time you're baking a cake and want the best results, make sure to get your kitchen scales out and measure each ingredient precisely if you want your friends and family to be impressed with your baking skills.