Cracker Barrel Brought Back An 800-Calorie Dessert For The Summer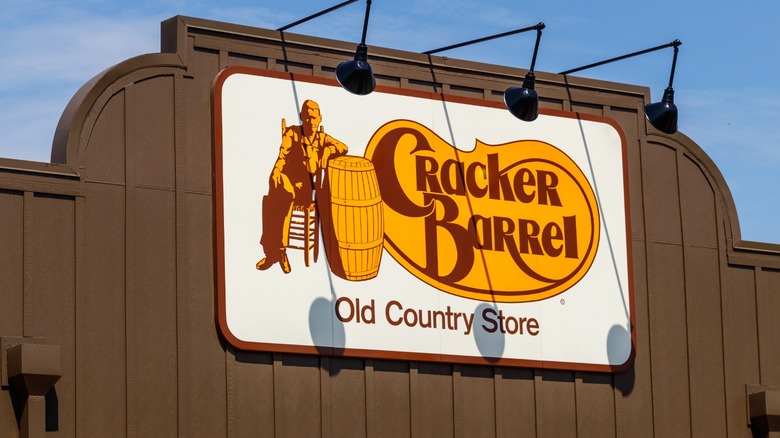 Jonathan Weiss/Shutterstock
Summertime is all about being outside, lounging by the pool, and of course, enjoying all the summery foods that only come around during the season. When it comes to desserts, anything topped with fresh fruit is a winner, especially when it's hot outside. Cracker Barrel is well aware of this and is upgrading its summer menu with some nostalgic deliciousness.
The Southern-style restaurant delivers when it comes to fan favorites, especially when it involves desserts. While the donuts may not be at the top of the list, the double chocolate fudge coca-cola cake is one of the best things you can order from Cracker Barrel. Who wouldn't love a homemade cake made with real coca-cola topped with vanilla ice cream? If health is what you're after however, opt for the fresh fruit instead. This tasty fudgy cake comes in at a whopping 790 calories (per VeryWell fit).
Speaking of high calories dishes, there is one sought-after dessert that's making a return to the restaurant, and Cracker Barrel fans are ready to dive back into enjoying a decadent summer treat.
Strawberry shortcake makes a comeback
Brand Eating recently noted that along with its infamous three-cheese squash casserole, Cracker Barrel is bringing back its Strawberry Shortcake to jazz things up this summer. The last time this fan-favorite graced the restaurant menu appears to be in 2015 when the company posted a picture of the dessert on its Facebook page. With 1,000 likes, the response from users was unanimously positive with comments such as "Had one in July for my birthday it was delicious" and "Had it...love it!!!"
According to the restaurant's website, this tasty summer dessert is made with rich pound cake, bright summer strawberries, vanilla ice cream, and fresh whipped cream equating to 800 calories of deliciousness. Cracker Barrel lovers are beyond ready to see its return to the menu.
To hone in on the seasonal craze, Cracker Barrel posted a video of the layered summery dessert in April to its Instagram feed and the response from restaurant-goers expressed extreme excitement. One user commented "It took almost 20 years to return to the menu!!!" while others mentioned it's been 11 years since berrylicious treat made an appearance.
While there are many dishes at Cracker Barrel that have yet to make a comeback, like the infamous applesauce and fried catfish sandwich, the strawberry shortcake is no longer one of them.