The Bizarre Way Jack White's Guacamole Recipe Was Revealed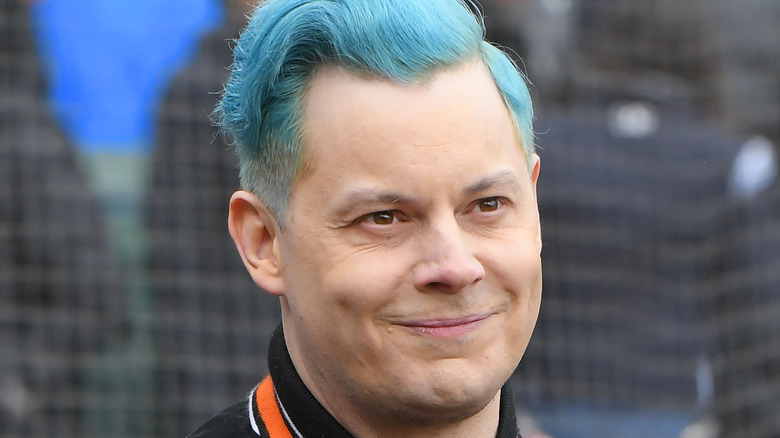 Mark Cunningham/Getty Images
Many famous musicians, actors, and other entertainers request particular meals or drinks, snacks, and even decor backstage to help them prepare for their upcoming performance. Riders — which are essentially sets of (often wildly specific) contractual demands stars make to their host venues — can sometimes reveal a lot about someone. For example, Lady Gaga prefers her dressing room to come with a full smoothie station, two bottles of white wine, and veggie dogs. In 1982, Van Halen notoriously requested a bowl of M&M's ... with all the brown candies removed, per Business Insider.
One multi-instrumental rocker typically known for his modest, quiet, and easygoing character — yet has a head-scratching rider — is Jack White. The Detroit native's impressive resume includes a number of illustrious bands, plus a successful solo career. He's also the co-founder and owner of Third Man Records, an independent record label in Nashville. When White is on tour, one of his rider items is a bowl of guacamole. Pretty standard wish, right? Well, here's the kick: He orders it a very certain way.
Jack White's unique guacamole recipe unveiled
Tatiana Volgutova/Shutterstock
As it turns out, obtaining Jack White's guacamole recipe was part of his contract for a show that he played at the University of Oklahoma in February 2015. And let's just say White and his crew weren't too pleased with the school newspaper, "The Oklahoma Daily," which published the tour rider. Allegedly, the paper had the right to leak the information due to the Freedom of Information Act, Consequence reports.
Now that the cat's out of the bag, to make White's special guac you'll need these basic ingredients: ripe avocados, serrano peppers (not unlike Danny Trejo's recipe), tomatoes, lime juice, half of a yellow onion, and cilantro. However, he's quite particular when it comes to his guacamole-making method, as NPR reports. To clarify: Each of the eight avocados must be divided in half, then cubed three to four times with a butter knife. The avocado must be scooped out with a spoon. White prefers it extra chunky! He also likes to be served his guacamole at 5 p.m. And whatever you do, don't make it too far in advance and be sure to save the pit. 
Business Insider also reveals other items in White's rider, including a dozen chicken wings, eight champagne flutes, eight wine glasses, and eight highball glasses (all made with real glass), and hummus and pita chips. Apparently, though, White loathes bananas, according to the line that reads, "PLEASE NOTE: This is a NO BANANA TOUR. (Seriously.)"