Taco Bell's New Breakfast Box Is An Unsung Morning Hero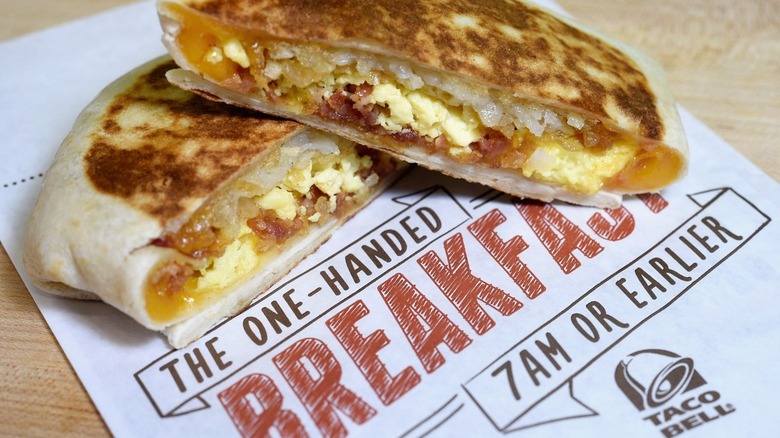 Joshua Blanchard/Getty Images
Taco Bell has a reputation as a late night destination, but why wait until the evening to treat yourself when you can do it first thing in the morning? Taco Bell's breakfast menu went live across the nation back in May 2014 (via Taco Bell's official website). The fast food chain came out the gate hot with the Waffle Taco, A.M. Crunchwrap, and Cinnabon Delights. The brand was able to adapt existing beloved items to feature breakfast ingredients, and fans were here for it.
Everything was going well for this new mealtime at Taco Bell until the coronavirus pandemic in 2020. Chains across the country adjusted their hours during lockdown, and Taco Bell breakfast was an unfortunate casualty because less people were picking it up on their way to work (via Nation's Restaurant News). In October 2020, the brand was able to slowly reintroduce breakfast, and even gave out free burritos in 2021 to remind people of the once beloved morning meal (via PR Newswire). Now, with unprecedented inflation, Taco Bell is coming in clutch with an incredibly economical breakfast box.
Taco Bell's breakfast box is loaded with fan-favorite items for only $5
There aren't many places you can get breakfast for $5 in 2022, so the new breakfast box from Taco Bell is an incredible value. Especially in a time where we are all trying to save a few extra bucks here and there. The breakfast box comes with a breakfast quesadilla, hash browns, 2 Cinnabon Delights, and choice of medium fountain drink or hot or iced coffee (via Nerdbot).
What a lot of people love about Taco Bell is the endless ways to customize the menu items, and this breakfast box is no different. Customers have their choice of a bacon, sausage, or steak quesadilla and can add on extra cheese, potatoes, and sauces. Additionally, for only 10 cents more, you can upgrade the coffee to a Cinnabon Delights Coffee to complement the dessert portion of your breakfast. This combo box is essentially a three course meal and a drink for $5, which makes us feel like we have briefly escaped the inflation nightmare of 2022.